How Henry Cavill's Superman Will Change In Zack Snyder's Justice League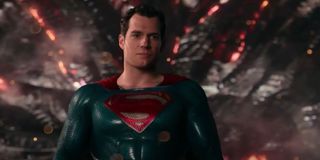 Superman was the superhero selected to kick off the DC Extended Universe in 2013 with Man of Steel, and he returned three years later to fight Gotham City's Dark Knight in Batman v Superman: Dawn of Justice. While that movie ended with Henry Cavill's iteration of Kal-El/Clark Kent dying in battle against Doomsday, it was made abundantly clear that the Kryptonian hero would return, and sure enough, he was resurrected during the events of Justice League. Next year though, Zack Snyder's Justice League, a.k.a. the Snyder Cut, will provide a different account of Superman being brought back to life, among many other things.
Over the last several weeks, CinemaBlend's own Sean O'Connell and Hannah Saulic have been going over how each of Justice League's starring heroes will be different in the Snyder Cut compared to their depictions in the theatrical cut. Today, we finally turn our attention to Superman, and while the broad strokes of the character's journey look to be the same, there will be some key differences along the way.
Let's start by addressing one of the biggest elephants in the room when discussing Justice League's theatrical cut: Mustachegate. When Henry Cavill shot his Superman scenes during the movie's principal photography, naturally he was clean-shaven. However, when the Joss Whedon-helmed reshoots came around, Cavill was in the middle of shooting Mission: Impossible - Fallout, and he grew a mustache for the role of August Walker. Executives at Paramount Pictures refused to let Cavill shave his mustache, so he had to shoot all his new Justice League scenes with the facial hair intact, and the VFX team digitally removed it after the fact.
Unfortunately, the result was that Superman's upper lip looks incredibly weird during most of his scenes in Justice League's theatrical cut. Because Zack Snyder won't be using any of Joss Whedon's footage in his version of Justice League, fans can rest easy knowing that there won't be any digital weirdness on his face in the Snyder Cut. That means it'll be a lot easier to take Superman seriously when he wakes up angry and fights the other Justice Leaguers.
But that's just a mild aesthetic change; what abut Superman's actual character arc will be different in Zack Snyder's Justice League? Well for one thing, after coming to his senses and reconnecting with Lois Lane and Martha Kent in Smallville, Superman will go to the Fortress of Solitude to don a black suit rather than his traditional red and blue duds. The theatrical cut opted to put Superman back in his regular costume right away to fit within the movie's lighter and more hopeful tone.
By bringing back the black suit, the Snyder Cut is following the precedence set by the original Death of Superman storyline, particularly when it comes to the transition period between his rebirth and return to superhero work. In other words, after the movie's main conflict is over, Clark will return to wearing his traditional costume and officially become the "true" Superman, with viewers having previously seen his origin story in Man of Steel and watched him become conflicted in Batman v Superman: Dawn of Justice.
That looks to be the main difference we can expect in Superman's journey during Zack Snyder's Justice League, but it's not the only one. For example, during Superman's rampage post-resurrection, the Snyder Cut trailer indicates that Lois Lane will make her way to the battle on her own after seeing Clark in the sky, as opposed to Batman specifically bringing her in as part of his contingency plan. Also, during his battle with the League, don't expect Supes to ask Batman if he bleeds, an off-putting callback to Batman v Superman: Dawn of Justice that Joss Whedon threw in. Jay Oliva has also described Superman's behavior towards the end of the Snyder Cut as being "unhinged," indicating that he'll be way more of a badass when he comes to blows with Steppenwolf.
That accounts for the main changes we can expect from Henry Cavill's Superman in Zack Snyder's Justice League, but should any other integral details about him pop up before the four-part miniseries premieres on HBO Max next year, we'll be sure to let you know. As for what's in store for Superman after the Snyder Cut, although Man of Steel 2 no longer seems to be on the table, reportedly Cavill is in talks to reprise the role in a movie led by a character he ties with, such as Aquaman or Shazam.
Your Daily Blend of Entertainment News
Connoisseur of Marvel, DC, Star Wars, John Wick, MonsterVerse and Doctor Who lore. He's aware he looks like Harry Potter and Clark Kent.
Your Daily Blend of Entertainment News
Thank you for signing up to CinemaBlend. You will receive a verification email shortly.
There was a problem. Please refresh the page and try again.