Vulko: What You Need To Know About Willem Dafoe's Aquaman Character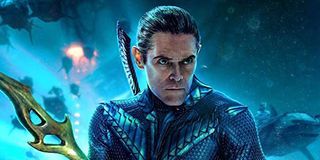 We're a little over a month until Aquaman finally dives into theaters, and DC and Warner Bros's marketing for the movie has done a good job of establishing most of the movie's main players. But one character who hasn't gotten that much attention is Willem Dafoe's Nuidis Vulko. While Dafoe's involvement in Aquaman has been public knowledge for a long time, it was only until recently that we got a good look at the DC Extended Universe's version of Vulko, and the final Aquaman trailer that dropped today provided the first up-close footage of the character. Now that Vulko has been properly "introduced," it's a good time to go over who he is and why he's important to the Aquaman mythology.
Created by Bob Haney and Howard Purcell, Nuidis Vulko was introduced in 1967's The Brave and the Bold #73 as Atlantis' chief scientific adviser and arguably its most famous political figure outside of the monarchs themselves. In the pre-New 52 continuity, Vulko met Aquaman, a.k.a. Arthur Curry while they were both being held in an Atlantean prison, although Vulko had known Arthur's mother, Atlanna. When the two men escaped imprisonment and Arthur took the Atlantean throne, he made Vulko his regent.
Among Vulko's notable acts during his first couple decades of existence included helping Aquaman and The Atom repel microscopic invaders coming from a single droplet of water, ruling over Atlantis for a time and outfitting a harpoon to replace Aquaman's missing hand, which had been bitten off by piranhas. But Vulko wasn't always by Arthur Curry's side. At one point he abandoned the king and joined an underground city, though he eventually returned. Then during the Obsidian Age, when all of Atlantis was transported back in time thousands of years, the continent was subsequently raised and sunk again, and then taken over Gamemnae, Vulko was among the individuals who sentenced Aquaman to die.
The pre-New 52 Nuidis Vulko died when The Spectre, God's spirit of vengeance, destroyed Atlantis and most of its citizens while he was temporarily unhinged and convinced all sources of magic needed to be eliminated, including Atlantean sorcerers. However, the ghost of Vulko later became a mentor to the second Aquaman, Arthur Joseph Curry (similar name as his predecessor, but definitely a different individual). Once the New 52 rebooted the DC universe in 2011, not only was Vulko restored to life (and made younger), he became a significantly more important character in Aquaman's life.
In this continuity, like his earlier iteration, Nuidis Vulko was Atlantis' chief scientific adviser, only when he failed to prove that Orm, a.k.a. Ocean Master, Arthur Curry's half-brother, killed his mother, he was forced to flee Atlantis before Orm's loyalists could arrest him. Vulko subsequently began a new life in Norway, but years later, he was found by a young Arthur Curry, who'd been raised on the surface and was now interested in learning about his Atlantean heritage.
Thanks to Vulko, Arthur Curry visited Atlantis, learned about its history and discovered that he was the first-born to Queen Atlanna, thus making him the rightful heir to the Atlantean throne. Vulko was rather insistent that Arthur become Atlantis' king, as he feared Orm would lead the underwater nation to ruin, but instead, Arthur left Orm in charge, provided that he didn't invade the surface.
Now here's where things get interesting, and quite possibly could foreshadow what's in store for Willem Dafoe's Vulko in the Aquaman movie. During the Throne of Atlantis crossover storyline, Orm declared war on humanity after the missiles aboard a United States nuclear submarine malfunctioned and were launched at Atlantis. Using Atlantean technology, Orm and his followers then flooded many of the United States' biggest cities and invaded. Vulko jumped into action and helped Aquaman and the Justice League, but we later learned that he was the one who instigated this war between Atlantis and the surface.
Having grown tired of his life of exile and wanting Arthur to finally become king of Atlantis, Vulko engineered this conflict so that Arthur would have no choice but to overthrow Orm, even going so far as to use the Scepter of the Dead King (which he'd hired Black Manta to steal) to control the monstrous Trench and bring them into this mess. Vulko's plan worked, as Arthur did indeed defeat Orm and take back the throne, though he dragged Vulko back to Atlantis and threw him in a prison cell for his crimes. Since then, while Vulko keeps insisting that he's looking out for Arthur's best interests and remains loyal to him, Arthur is still distrustful towards his former ally, seeing him as nothing more than a shrewd political manipulator.
Which brings us to Willem Dafoe's Nuidis Vulko, who was originally supposed to be introduced in Justice League last year, but had his scenes cut out. As seen in the trailer, Vulko helped the young Arthur Curry channel his special abilities and train in Atlantean combat. Director James Wan said back in July that he sees Vulko as having a Mr. Miyagi/Daniel LaRusso or Obi-Wan Kenobi/Luke Skywalker relationship with Arthur.
Aside from being one of Arthur Curry's allies, we don't really know what to expect from Nuidis Vulko in Aquaman, although given his comic book history, I can't help but wonder if he's a secret threat. Ocean Master is Aquaman's main villain and Black Manta the secondary antagonist, but what if Willem Dafoe's Vulko has worked behind the scenes and is ultimately responsible for the events unfolding the way they do. Like his comic book counterpart, Vulko's actions would presumably, in his eyes, help Arthur in the long run, although since they would also result in countless casualties, you can bet our intrepid superhero would not be on board with Vulko's schemes.
On the other hand, maybe Aquaman is going in a different direction with Vulko. Maybe he is a legitimate ally to Arthur Curry through the entirety of the movie, or maybe he's a full-blown villain, and the reason he wants Arthur to recover that trident is so he can deliver it to Orm, as Vulko, for whatever reason, no longer sees Arthur as capable of effectively ruling Atlantis. With so little footage of him to work off of, it's hard to say one way or the other, but I doesn't look like we have to worry about Vulko not getting that much screen time.
We'll see what Aquaman has in store for Nuidis Vulko and the movie's other characters when it arrives on December 21. In case you're wondering what else the DCEU has coming down the pipeline, check out our DC movies guide for that information.
Connoisseur of Marvel, DC, Star Wars, John Wick, MonsterVerse and Doctor Who lore. He's aware he looks like Harry Potter and Clark Kent.
Your Daily Blend of Entertainment News
Thank you for signing up to CinemaBlend. You will receive a verification email shortly.
There was a problem. Please refresh the page and try again.