Star Wars' Mark Hamill Shares Funny Carrie Fisher Story Along With Throwback From Empire Strikes Back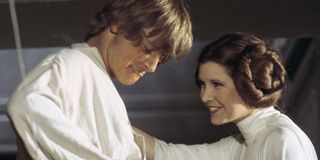 Mark Hamill has done a lot to help keep Carrie Fisher's memory alive in the years following her death. Sometimes that means posting tributes to her on big anniversaries. Other times, it means sharing behind-the-scenes intel about what it was like making Star Wars films with her. Now, he's shared a new memory that's as endearing as it is hilarious.
After a Twitter account dedicated to posting vintage pictures shared a set of images of Carrie Fisher and Mark Hamill on the set of Star Wars: The Empire Strikes Back, the actor happily retweeted it to share more context. The photos themselves are likely to spark a huge wave of nostalgia for Star Wars fans -- they offer up a lovely glimpse at what life was like for the actors behind the scenes of one of the biggest movie franchises of all time. However, his sweet explanation of the history behind them makes them even more meaningful. Take a look at his tweet below:
Even though the anecdote he shared was short, it reveals a lot about the kind of co-star Carrie Fisher was. At that point in their careers, she was a huge movie star thanks to the success of Star Wars, so it would have been easy for her to phone it in. Instead, this shows she was the type of person to stay present and support her castmates even when she wasn't working. The tidbit about the jacket also serves as a great reminder of what a fearless, unique spirit she had, even though that would be pretty hard to forget.
Mark Hamill has been at the forefront of sharing information that adds to Carrie Fisher's already unforgettable legacy. Last December, he shared a sweet tribute to her on the anniversary of her death -- something he's done in previous years, too. He also commemorated her on her birthday in October, stating that "the world will never stop" missing her.
In the past few years, Mark Hamill has shared countless anecdotes about the highs and lows of their Star Wars experience -- or chimed in to share happy memories. Given that it could be easy to focus on the tragedy surrounding her untimely death, his devotion to focusing on the best parts of her life is admirable.
Of course, Mark Hamill's social media accounts don't just exist to honor Carrie Fisher (though there would be no shame in that if it were the case). He's also used Twitter and Instagram to talk about important happenings in the world and also share the occasional Star Wars-themed meme. He's also offered support to her daughter, Billie Lourd, making it clear his affection did not stop with the actress but extends down her familial line, too. It's hard to blame him.
Your Daily Blend of Entertainment News