Mark Hamill Shares Lovely Photo Of Himself And Carrie Fisher On Her Birthday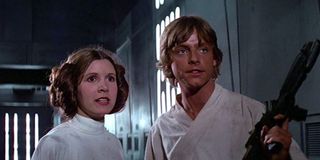 Since the first Star Wars movie, Mark Hamill has long had a personal connection with co-star Carrie Fisher. And even after her passing, he said he still likes to think of her in the present tense. Well, today is Carrie Fisher's birthday, and Mark Hamill honored that day with kind words and a lovely photo.
Carrie Fisher would have been 64 today. The intelligent and talented actress primarily known for playing Princess Leia in the Star Wars franchise left a powerful legacy that few will forget. To honor that, Mark Hamill took to social media to post a photo of the two together. Check it out:
Carrie Fisher was the daughter of Eddie Fisher and Debbie Reynolds, and she started acting at the age of 13. It wasn't until the age of 19 that she scored the role of Princess Leia in Star Wars, which her life changed forever.
There, of course, she met co-star Mark Hamill, and the two hit it off right away, making their on-screen chemistry truly work. After Star Wars' wild success, they worked together in three more Star Wars movies, with Star Wars: The Last Jedi being their last.
Perhaps one of the best parts about the latest Star Wars trilogy was getting to see Carrie Fisher play Princess Leia again and appear, however briefly, with her co-stars Harrison Ford and Mark Hamill. But she also worked with some newcomers, including Joonas Suotamo, the actor who took over as Chewbacca. Joonas Suotamo also honored Carrie Fisher's birthday on social media:
In the past, Mark Hamill has posted similar tributes to his Star Wars co-star. Last year, on the anniversary of her death, Mark Hamill shared several photos of Carrie Fisher to honor her memory, saying, "#CarrieOnForever." Plus, when visiting Star Wars: Galaxy's Edge for the first time, he honored both Carrie Fisher and Peter Mayhew with a touching and heartbreaking photo.
Mark Hamill's also spoken in-depth about his and Carrie Fisher's relationship and told some funny stories that involved them while on set. On one occasion, he said they got into a silly fight when they were told it would be revealed that Luke and Leia were related. Check it out:
Mark Hamill and Carrie Fisher also liked to goof off on set. Mark Hamill reminisced about this last year when a fan asked him about a photo of him wearing one of her robes. He said, "She LOVED I was willing to look ridiculous!"
After Carrie Fisher's passing, the filmmakers behind Star Wars: The Rise of Skywalker posthumously included her into the film, making it her last appearance as Princess Leia. At the time, Mark Hamill said he wished she was there with them, but also thought she would have approved of still being in the movie.
Happy Birthday, Carrie Fisher!
Your Daily Blend of Entertainment News