Hulu's The United States Vs. Billie Holiday Reviews Have Dropped, Here's What Critics Are Saying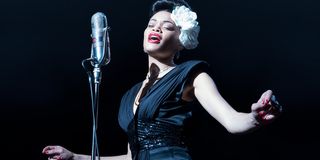 Andra Day, the powerful singer and songwriter famous for "Rise Up," is making her starring role debut in Lee Daniels' The United States Vs. Billie Holiday. The United States Vs. Billie Holiday stars Andra Day as Billie Holiday, the legendary jazz singer. The FBI targeted Billie Holiday for using narcotics, but they ultimately wanted to stop her from singing her song, "Strange Fruit."
The United States Vs. Billie Holiday releases on Hulu this Friday, February 26, and now that reviews have started to drop we're getting an impression of what critics are saying about Andra Day's leading lady debut.
CinemaBlend's very own Eric Eisenberg saw the film for the home team, and gave it 2.5 stars out of five. He praised Andra Day's performance as Billie Holiday in the film, saying that "she has all the confidence in the world and a strong dramatic presence," but also found the film to be scattered in its storytelling and style. He wrote,
Owen Gleiberman of Variety calls The United States vs. Billie Holiday "scattered but scorching." He notes that, though volatile, the movie lacks "a full dramatic center and the momentum that would flow out of it," which is perhaps the consequence of Trevante Rhodes' character, Jimmy Fletcher, having too passive of a role in the film –though Fletcher is the second biggest role. Gleiberman does praise Andra Day's performance, saying:
David Ehrlich of IndieWire also praises Andra Day's performance (which earned her a Golden Globe nod for Best Actress - Drama) as Billie Holiday, noting that "Day embodies Holiday as a portrait of courage in spite of everything else." He continues, complimenting Andra Day's strong performance despite Lee Daniels' "clumsy" storytelling. He describes Daniels' direction:
David Rooney of The Hollywood Reporter also praised Andra Day's performance in her first leading role, calling her "dazzling." Rooney also heavily criticizes the storytelling, describing it as "a mess." He continues, saying:
Leah Greenblatt of Entertainment Weekly notes a "tactile thrill" to Lee Daniels' visual set pieces "and a headlong propulsion to the story that only begins to slacken in the film's rickety final third." Greenblatt calls storytelling somewhat "messy," but praised Andra Day's portrayal of Holiday like other critics, saying:
Though the storytelling seems to be heavily criticized, Andra Day's first leading role has been widely praised.
The United States Vs. Billie Holiday releases on Hulu this Friday, February 26, so we'll have to wait until then to see how audiences react. We'll also have to wait until this Sunday, February 28th, to see if Andra Day brings home the Golden Globes for Best Actress in a Drama and for Best Original Song, "Tigress & Tweed," which she co-wrote with Raphael Saadiq. While you're waiting to see The United States Vs. Billie Holiday, check out the rest of the movies coming out this year.
Your Daily Blend of Entertainment News
Thank you for signing up to CinemaBlend. You will receive a verification email shortly.
There was a problem. Please refresh the page and try again.