Apple TV's Cherry Reviews Are In, Here's What Critics Are Saying About Tom Holland And The Russo's New Movie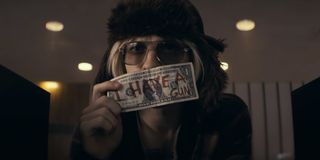 Tom Holland and the Russo brothers have teamed up once again, but this time it's not for a superhero movie. No, Cherry is very different than their MCU ventures.
Cherry stars Tom Holland as a former army medic who gets hooked on opioids to deal with his PTSD, and begins robbing banks to support his habit. Cherry is definitely a departure from the star's role as Spider-Man. It's directed by Joe and Anthony Russo, who have established themselves as legends of the Marvel Cinematic Universe, directing several of the most successful Marvel films, including Avengers: Infinity Warand Avengers: Endgame. Those two films also happen to be two of the highest grossing films of all time, which might have had a little something to do with how they made Cherry. The new movie also stars Ciara Bravo and Jack Reynor.
Cherry debuts in select theaters on February 26, and arrives on AppleTV+ on March 12. While you wait to see the film either in a theater or on the streaming service, check out what critics have said so far about the movie.
CinemaBlend's own Sean O'Connell saw Cherry, and was impressed, rating the film a four out of five stars. He noted Tom Holland's impressive range while also remarking on Ciara Bravo's "compelling" performance. He said:
David Rooney of The Hollywood Reporter was not as impressed with Cherry. He calls the cast "capable," but heavily criticizes the Russo brothers' direction. He points out that visual impact constantly drowns out any actual emotional involvement, noting that it's hard to get invested in any of the characters. He says:
David Ehrlich from IndieWire also heavily criticized the film, calling it a "scuzzy, interminable, and misjudged adaptation of (Nico) Walker's life story." He also calls Tom Holland "miscast," and though Ehrlich does commend Holland's commitment, he notes:
The harsh criticism seems to be a common theme. Though Owen Gleiberman of Variety does note that Tom Holland proves his skill set and wide range in Cherry, he says "there's no real danger to him." He calls the movie "inauthentic," and criticizes the Russo brothers for trying too hard to prove that they can direct more than superhero movies. He says:
Alonso Duralde of The Wrap commends Tom Holland, Ciara Bravo, and Jack Reynor for making the most of what they were given. He applauds the moments of emotional honesty in the film, such as Holland's call home from Iraq after his friend's death, calling it "tough and powerful to witness." But Duralde is also frustrated with the Russo brothers' storytelling, noting that they used addiction not "as a source of drama, character, or commentary, but more as a chance to gawk at tragedy." Duralde commented:
That older, better movies theme was also picked up on in the review from What To Watch. Author Leigh Monson argued the film takes inspiration from a ton of different places but never is able to mesh them together into anything that's satisfying or consistent. Here's an excerpt of the review...
On the whole, most critics seem to have more issues with Cherry than positive things to say about it, but audiences will have the chance to see for themselves when the movie opens in theaters on February 26 and is made available streaming on AppleTV+ starting March 12. In the meantime, you can check out other movies coming up this year on our 2021 Release Calendar, and also start mentally preparing for the recently-titled (for real) Spider-Man: No Way Home, which sees Tom Holland return as our friendly neighborhood web-slinger and will be in theaters at the end of the year.
Your Daily Blend of Entertainment News
Thank you for signing up to CinemaBlend. You will receive a verification email shortly.
There was a problem. Please refresh the page and try again.