Amy Poehler's Moxie Reviews Are In, See What Critics Are Saying About The New Netflix Film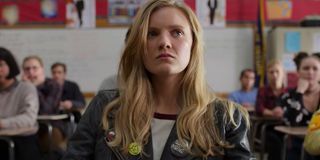 Amy Poehler's latest project is here. She directs Moxie, which hit Netflix on Wednesday, March 3. The coming of age film stars Hadley Robinson as Vivian, a seemingly shy 16-year-old, who is inspired by a new student and her mom's rebellious past to finally stand up against the sexism in her high school, and unexpectedly sparks a movement. In addition to directing, Poehler also plays Vivian's mother, and the movie also features Alycia Pascual-Peña, Lauren Tsai, and Josephine Langford.
Moxie has officially debuted on Netflix with a mid-week release, so let's see what critics have to say about it.
Our very own Eric Eisenberg saw Moxie, and rated it three stars. Though he commends Robinson's strong debut and "wonderful range," he criticizes the roles of the supporting characters, such as Patrick Schwarzenegger's jock, as too "familiar" and without enough actual substance. Eisenberg said:
Tomris Laffly of Variety has a somewhat middling opinion of Moxie. He calls Hadley Robinson's performance "zesty and graceful," but criticizes the lack of diversity in the film, noting that in some instances, diversity is only portrayed in a "limiting, box-ticking fashion." Laffly also argues that some of the most interesting and engaging characters and narrative threads are too quickly abandoned – but also commented on the positive aspects of the film, saying:
Inkoo Kang of The Hollywood Reporter was not very impressed with Moxie. Kang criticizes the underdeveloped characters and Robinson's portrayal of Vivian, noting that she plays the character "too much like a girl-next-door." Kang continues,
NPR's Linda Holmes considers the film a good introduction to gender issues, but also criticized the film. One such criticism was how it should have focused more on the diverse characters. Holmes said:
Pete Hammond of Deadline enjoyed Moxie. He commended Amy Poehler for her ability to make her cast "shine" and how the movie "navigates this world beautifully without ever resorting to stereotypes and making its protagonists thoroughly three dimensional." He also praised the casting of Robinson, whom he considers a true find as the main star. Hammond said:
Moxie sure seems to be meeting its fair share of criticism, so we'll have to see if audiences agree with critics or not. If you're interest has been piqued, give it a look now on Netflix.
In the meantime, check out the other movies releasing in March.