One Thing Uncharted's Tom Holland Hilariously Picked Up From Mark Wahlberg That Affected His Spider-Man 3 Performance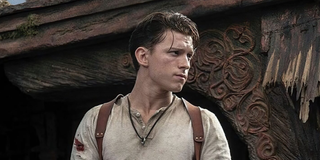 Tom Holland has had a busy last few years. In addition to his role as Marvel's newest face of Spider-Man, he has landed a number of more mature roles. Holland's film Cherry was released just last week and he has another, Chaos Walking, releasing this week. The actor has a number of future projects coming, and Holland recently finished filming with Mark Wahlberg in the film adaptation of the video game Uncharted. While the pair is an interesting one, Holland hilariously reveals that he picked up one thing from Mark Wahlberg while filming, and it may have impacted his performance filming Spider-Man: No Way Home.
Tom Holland reveals that he picked up a little bit of Mark Wahlberg's famous and infectious Boston accent. The British actor apparently started incorporating some Boston inflections in his American accent while filming Spider-Man: No Way Home, and Holland tells USA Today that his dialect coach had to tell him to stop. Here it is in the Marvel star's own words:
Boston is a long way from Queens, where Holland's Peter Parker is from. And while the accents may sound similar at first, they are two very different dialects - just ask someone from Boston. I mean I get it, try sitting through The Departed and NOT pick up Mark Wahlberg's show stealing accent. It must be even harder when he's right there in front of you. Nevertheless, it would be quite the character development for Peter Parker to start pulling out Wahlberg's tough guy from Boston act.
Tom Holland has been blessed in his still early career to have worked with so many big name actors, and he has developed strong bonds with some of them. He seemingly has a great relationship with Robert Downey Jr, both on and off screen, and the Iron Man actor has continued to encourage his on-screen protégé as his career has expanded past the MCU. It only makes sense that as Holland breaks into other franchises that he would continue to pick things up from other experienced and accomplished actors - maybe just not their accent next time.
Tom Holland's previously jam packed filming schedule is winding down quickly, as all his big projects seem to be finished filming. We are just beginning to see his labors of love, though, as Cherry is the only one currently released. We'll get more Tom Holland on the big screen with Chaos Walking this weekend and Spider-Man: No Way Home later this year. Moviegoers will see the result of Holland's team up with Mark Wahlberg in Uncharted at the beginning of next year. Unfortunately though, there will be no evidence of the Boston accent Holland picked up in any of the projects. What a shame.
Your Daily Blend of Entertainment News
Thank you for signing up to CinemaBlend. You will receive a verification email shortly.
There was a problem. Please refresh the page and try again.