Avengers: Endgame Directors Say It's Not The Endgame For Movie Theaters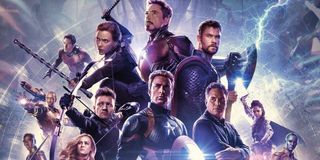 We've seen delays on films for a full year now, with No Time To Die's April 2020 release delayed back in March for the first of three times (so far). While some movies are still missing a release date, it seems like films are finally starting to come out more steadily in theaters. This is possibly inspired by last Christmas' film boost at the box office. Directors and fans of cinema alike are hoping the industry isn't dead, and Avengers: Endgame director Joe Russo definitely feels that we haven't seen the end times for theaters.
The Russo Brothers are one of the top directing pair in the game right now, with a few major Marvel films under their belt. Their MCU films were huge hits at the box office and having theaters back on track would certainly push future projects forward. Joe Russo is thinking positively for the future of movie theaters, and believes they will swing back hard. After all, everyone who hasn't been able to attend theaters are itching to go. In the Captain America: Civil War director's own words:
While it may foreshadow good things to come for movie theaters in the States, the win at the Chinese box offices doesn't account for some of the issues we are facing here. China has way more people than the U.S., so box office numbers could be inflated in that way. But even though China has a larger population, the U.S. reportedly has tens of thousands more current COVID cases. For that reason, the U.S. may still have a ways to go before theaters are running like they were before the pandemic.
Even though we may have to wait out the pandemic a little longer in this part of the world, that's not stopping Joe Russo from reminiscing about the time he was able to see one of his films on the big screen. In the same interview with Good Morning America, Russo says he really hopes to be able to see another of his films on the big screen and be able to watch people reacting to it in a theater, like he was able to do with his previous films. As he put it,
While that time Joe Russo is speaking of may come, it won't be soon enough for his film Cherry, which released to theaters (those that are open) last weekend and will hit Apple TV+ on March 12th. The Russo Brothers' future big name films like The Gray Man, starring Chris Evans and Ryan Gosling, and the sequel to Extraction, starring Chris Hemsworth, are actually dropping on Netflix. But maybe one of their projects to come will get the old school theater experience we are all missing. We've got our fingers crossed.
Constantly thinking about books, coffee, and the existential dread I feel from Bo Burnham's Inside. While writing I'm also raising a chaotic toddler, who may or may not have picked up personality traits from watching one too many episodes of Trailer Park Boys.
Your Daily Blend of Entertainment News
Thank you for signing up to CinemaBlend. You will receive a verification email shortly.
There was a problem. Please refresh the page and try again.