How To Watch Tom Holland's Cherry Streaming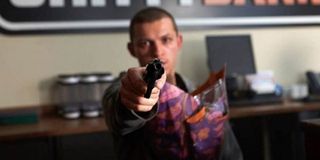 CinemaBlend participates in affiliate programs with various companies. We may earn a commission when you click on or make purchases via links.
By now, the world is used to seeing Tom Holland's portrayal of the "Friendly Neighborhood Spider-Man" in the Marvel Cinematic Universe (and the Sony Pictures Universe of Marvel Characters), but we are all about to see the crazy-busy actor take on a completely different role as a drug addict bank robber in the Russo brothers' crime thriller Cherry. But if you are in the camp that can't get to theaters starting Friday, February 26, fear not, as you will soon be able to watch Cherry streaming.
Below is a breakdown of when and where you can find Cherry streaming as well as other information about the film adaptation of Nico Walker's 2008 semi-autobiographical novel following a young man as he goes from college drop-out to Army medic whose PTSD leads to drug addition and a string of bank robberies.
Where Is Cherry Available Streaming
Starting Friday, March 12, you will be able to watch Cherry streaming on Apple TV+. The movie is included with the price of your monthly membership (or annual subscription), meaning you won't have to fork out any extra cash if you're already a member.
Cherry already takes up prime real estate on the Apple TV+ (opens in new tab) home screen a few weeks away from its release, so finding the title won't be all too difficult when it goes live on March 12. If it doesn't pop up, just do a quick search and you'll be watching Tom Holland re-team with Anthony and Joe Russo, though in a much different way than when we saw them last in Avengers: Endgame.
Sign up for AppleTV+ here (opens in new tab).
Will Cherry Be On Netflix?
Considering the amount of money Apple TV+ forked over to acquire the distribution rights for Cherry back in September 2020 ($40 million in case you're wondering), it doesn't look like we'll be seeing the movie on Netflix anytime soon. If you are looking for something to watch on the popular streamer, why not check out the Rosamund Pike-led dark comedy I Care a Lot streaming if you want to see characters with their own set of morals doing what they can to make a buck.
Here's What Fellow MCU Actor Robert Downey Jr. Had To Say About Cherry
With Cherry being the first non-MCU movie for the Russo brothers in a decade-and-a-half (2006's You, Me and Dupree in case you were wondering), it should come as no surprise that some of the actors who worked with them the most in the past would turn up to see early screenings of Cherry. Such is the case for Robert Downey Jr., who had this to say at a live Q&A panel following a January 2021 screening:
Well, that's certainly a lot coming from Robert Downey Jr. considering all of the great roles and films he's been involved with over the years.
If all of this makes you eve more excited to watch Cherry streaming, then good, because you'll be able to watch it for yourself on Apple TV+ starting Friday, March 12.
Philip grew up in Louisiana (not New Orleans) before moving to St. Louis after graduating from Louisiana State University-Shreveport. When he's not writing about movies or television, Philip can be found being chased by his three kids, telling his dogs to stop yelling at the mailman, or yelling about professional wrestling to his wife. If the stars properly align, he will talk about For Love Of The Game being the best baseball movie of all time.
Your Daily Blend of Entertainment News
Thank you for signing up to CinemaBlend. You will receive a verification email shortly.
There was a problem. Please refresh the page and try again.