Kelly Marie Tran Loves That Raya And The Last Dragon Changes The Idea Of A Disney Princess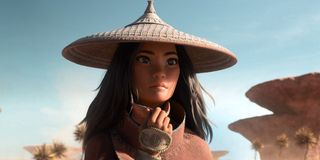 In the era of cancel culture, storytellers are being faced with the decisions of whether to follow the current trends and whether to acknowledge or denounce their previous work that didn't age well. Disney is one company that has figured out how to navigate this, and one example is the evolution of the Disney princess. Kelly Marie Tran, Disney's latest princess and star of Raya and the Last Dragon, loves the idea that this film changes the idea of a Disney princess.
We started with Snow White, where our princess slept and had to be awakened by a prince. Fast forward to Tangled, where our princess chose to leave her tower and held the power in the film but still needed a man's assistance. There's nothing wrong with either of these films - I'm a huge Disney fan and love practically all of them. I was even a little sad that Moana and Elsa didn't fall in love in their respective films. That being said, Raya is a brand new kind of princess, and here is what Kelly Marie shared with CinemaBlend about this:
Kelly Marie Tran's excitement about playing Raya radiates off of her and you can feel it when watching the movie, too. Not only is Raya wearing pants and going on an epic adventure that involves martial arts, but she is also Disney's first Southeast Asian princess. As Kelly Marie Tran stated, representation is so important because it allows young people of all different shapes, sizes and colors to see themselves as heroes, too.
The excitement goes so far beyond giving us another princess of color. Raya is relatable to people everywhere because of her weaknesses, as well as her strengths. She embodies the human experience in a way the princesses before her didn't explore. Qui Nguyen, one of the writers of Raya and the Last Dragon, elaborated on this with the following:
Raya and the Last Dragon is not at all a political film or one that's trying to make some grand statement, though its message still could not be more relevant. It tells the story of a land that's broken by lack of trust and validates all the things that break trust in relationships. This film illustrates the strength and bravery that one needs to rebuild that trust and delivers the message from a badass princess.
You can feel all the feelings with Raya and the Last Dragon now in theaters or streaming on Disney+ with Premier Access. If you're able, you can even see it in theaters and then go home and watch it repeatedly on Disney+. I'm not crying, you're crying!
Your Daily Blend of Entertainment News
Obsessed with Hamilton and most things Disney. Gets too attached to TV show characters. Loves a good thriller, but will only tolerate so much blood.