Parineeti Chopra: 6 Things To Know About The Star Of Netflix's Girl On The Train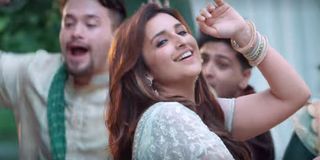 Parineeti Chopra may be a name that many North American audiences are just learning because of her performance in Netflix's The Girl on the Train. However, Parineeti is an international Bollywood star with over 31 million social media followers, a dedicated fan base, and nearly ten years of experience in the acting world. She's kind of a big deal. Parineeti Chopra made her film debut as Dimple Chaddha in Ladies vs. Ricky Bahl. She took a brief break from acting to work on fitness and her overall health, but Chopra has been pretty consistently acting since her 2011 debut, and she has won some acting awards, like the Apsara Award for Best Female Debut and the International Indian Film Academy award for Best Actress in a Supporting Role.
Despite Parineeti Chopra's many accolades, many people who don't watch Hindi or Bollywood movies have very little knowledge of Chopra's life and career. The Girl on the Train probably made you want to know more about her, so here are some interesting facts about Parineeti Chopra.
Priyanka Chopra Jonas Is Parineeti Chopra's Cousin
Priyanka Chopra Jonas is another actress who was an international superstar before crossing over to the North American market. There is no evidence that Parineeti Chopra plans to make films in the US now, but if she decides to make Hollywood movies, she has a good mentor with her cousin Priyanka.
Priyanka and Parineeti appear to be very close, often mentioning each other in interviews and posting images with each other on their various social media channels. They even lent their voices to the Hindi version of Anna and Elsa in Frozen 2. Parineeti revealed in an interview with FilmFare that she was one of the first people Priyanka called to share the good news of her engagement with Nick Jonas.
Parineeti has also been very supportive of their relationship. She even discussed in another FilmFare interview how she got to know Nick six to eight months before the wedding and how he was the perfect guy for her cousin. The two are so close that they're basically sisters and Parineeti even told Cosmopolitan that if she was a man, she would date Priyanka because she's the perfect mixture of intelligence and beauty.
Priyanka and Parineeti also have two other cousins in the film industry Meera "Nila" Chopra and Mannara Chopra. The Chopra family is full of talented actresses.
Parineeti Chopra Is A Classically Trained Singer
Parineeti Chopra made her film singing debut in Meri Pyaari Bindu. In an interview with Hindustan Times, Chopra talked about being nervous to sing in the film, but she was classically trained in singing. It was casually mentioned in a Film Companion Unfiltered interview with Meri Pyaari Bindu co-star Ayushmann Khurrana, but Chopra went more in-depth with her classical training in a Times Of India interview.
The article mentioned that she is a Hindustani classical singer and has a BA Honours in music. Chopra has discussed singing being a huge part of her life and being a big part of her upbringing. She also mentioned how important it was to establish herself as an actress before getting into singing.
Parineeti Chopra Credits Girl On The Train With Helping Her Find Herself As An Actress
In the FilmFare interview mentioned above, Parineeti Chopra mentioned how working on The Girl on the Train helped her find herself as an actress. She established a teacher-student relationship with the film's director Ribhu Dasgupta and it helped her figure out the types of movies that she wants to make in the future. She also mentioned in the interview how Girl on the Train and the upcoming Saina Nehwal biopic Saina are two of her most important projects to date.
She also had this to say about her films:
Parineeti Chopra also discussed with IndiaTv the liberation she felt playing her The Girl on the Train character.
Parineeti Chopra also added this about The Girl on the Train and how this role felt special to her.
The Girl on the Train and Saina are very important films in Parineeti Chopra's career evolution, so we can't wait to see what she does next.
Parineeti Chopra Spends Some Of Her Free Time Solving Puzzles
In an interview with Rajeev Masand, Chopra disclosed a few ways that she's been keeping busy during the Mumbai lockdown. She mentioned that reading is one of her favorite pastimes and that she likes more academic pursuits for entertainment, including putting together puzzles.
She has been putting together big jigsaw puzzles. She even showed Rajeev Masand the current one that she was trying to finish. Parineeti Chopra is very proud of her nerdiness.
Parineeti Chopra Developed a Passion For Badminton While Working On The Saina Nehwal Biopic
In the same interview with Rajeev Masand, Chopra talked about missing badminton. She had to learn how to play it and play it like Saina Nehwal for the film Saina. Saina Nehwal is a professional Indian badminton player who won over 24 international titles.
Parineeti Chopra shared that because of the lockdown in Mumbai, she hasn't been able to get on the badminton court to practice and she grew attached to the sport while filming and researching. In May 2020, she was yearning for the days when she could return to badminton practices.
In an interview with Bollywood Hungama, Parineeti Chopra also went into more details about playing Saina Nehwal. She discussed how it was her "most immersive process." Chopra discussed how she had to really study the badminton superstar for the role because she wanted to make it as authentic as possible. She said she watched as many videos of Nehwal that she could find, interviews, matches, and so-on.
Parineeti Chopra Wanted To Be An Investment Banker
Parineeti Chopra shared in an interview with The Hindu that she once aspired to be an investment banker in London. Chopra moved to the UK for a while, while attending the Manchester Business School. She gained a triple honors degree in Business, Finance, and Economics. The recession made Chopra return to Mumbai, and then she joined the Yash Raj Films company as a Public Relations Consultant.
She had no intentions of being an actress, but seeing the actors and actresses at Yash Raj Films made her change her perspective of the career. She said that at first, she had a negative impression of the acting world, but observing them made her think differently.
Parineeti Chopra will next appear in Saina, which has a theatrical release in India on March 26, 2021. You can catch her in Girl on the Train currently streaming on Netflix. Stream it here.
Spent most of my life in various parts of Illinois, including attending college in Evanston. I have been a life long lover of pop culture, especially television, turned that passion into writing about all things entertainment related. When I'm not writing about pop culture, I can be found channeling Gordon Ramsay by kicking people out the kitchen.