Universal Studios Parks: What's New And Coming In 2021 And Beyond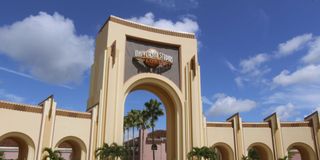 2020 was a year that took away many things that fans hold dear in their hearts, one of which was the ability to visit amusement parks. Big parks like Walt Disney World, Busch Gardens, and many others had shuttered their doors to protect the public from the spreading of the COVID-19 pandemic. And sadly, being able to relive our favorite films and TV shows were shut for a time as well, as Universal Studios Orlando, as well as the other parks, were closed.
However, the parks themselves have reopened and 2021 is looking like a bright year for Universal in terms of fans returning, and new stuff that they have coming to their properties. While Universal Studios Hollywood will continue to remain closed indefinitely with no opening date officially announced yet, the other parks have come out with multiple new pieces of news. From Orlando to Tokyo, here is what Universal Studios has coming in 2021, and beyond.
Jurassic World VelociCoaster Will Open In Summer 2021 At Universal Studios Orlando
It's been some time since the classic Jurassic Park coaster closed down in the Jurassic Park area of Universal Studio s Orlando. Many fans had wondered what would be replacing the iconic ride, and now, the replacement is coming sooner than all of us expected.
Even with COVID throwing a wrench into many plans, the new VelociCoaster will be opening up as soon as summer 2021 in Universal Studios Islands of Adventure.
This is the first time since the opening of Hagrid's Magical Creature Motorbike Adventure that a new ride has opened up in Universal Orlando, and with the planned sequel to the Jurassic World movies coming out in 2022, there's no better time to open up the new ride.
New Construction On CityWalk In Orlando
Alright, I love CityWalk. I really feel like it's the adult version of Disney Springs because there are plenty of bars, restaurants, and a nice movie theater to go to as well (even if Disney Springs has a movie theater too, I like this one more).
It seems that Universal is taking steps to expand it even more, with new photos popping up of construction, showing off what seems to be a large retail space that is currently being built. It's not known what this retail space might house but it's clear that the construction is moving quickly.
It's good to note that CityWalk already has quite a large retail space dedicated to Universal in place, so if this ends up being an upgrade to the previous store, one can only wonder what will occupy the old space. Or this might be a new restaurant to add onto CityWalk's repertoire of amazing food. Only time will tell.
Universal Is Opening Up A New Park In Beijing In 2021
As Universal continues to expand its parks to other countries, it was inevitable that it would end up in one of the biggest in the world. Beginning in May, Universal Studios Beijing in China will officially open to the public, a park that has been planned for years.
This new park will feature plenty of rides that fans know of like Jurassic World, but also new ones that are from movies such as the Kung Fu Panda series, and How To Train Your Dragon. The initial phase of this new park will include Universal Studios, as well as their own version of Universal's CityWalk for guests to enjoy prior to entering the park.
There are no word yet if there is going to be multiple parks like Universal Studios Orlando, but if this opening goes as planned, who knows what Universal might bring in the future to the new resort.
Super Nintendo World Has Opened In Japan
This was one of my big highlights when I first heard about this. As a big Nintendo fan and someone who basically spent her whole entire 2020 on her Nintendo Switch, I couldn't wait to see what Super Nintendo World had to offer in Japan.
Fortunately for Japanese residents, the new park has already opened for fans, as it's been in operation since February 4, 2021. However, U.S. residents will have to wait a little longer for a version of this to arrive in America, as COVID-19 delays are making it harder for construction to happen.
Fun fact – making this new themed area took around $578 million dollars, which was $120 million more than what Universal said it took to build the Diagon Alley portion of The Wizarding World of Harry Potter. So there's no denying that this new area had some serious work put into it.
C'est la vie. I suppose I'll enjoy the videos of other people getting to enjoy it first from the safety of my home.
Universal's Epic Universe Might Continue Construction In Orlando
Universal Studios Resort in Orlando announced way back in 2019 that they were going to be building a whole new theme park, one that was supposed allegedly to be their "most immersive and innovative yet" compared to their other parks there. The new park, under the name of Universal's Epic Universe, was to be bigger than the other theme parks and located right down the road from both Universal Studios and Islands of Adventure.
It was originally slated to open in 2023 with plenty of new rides and lands featuring all of our favorite movies, with construction continuing throughout the years. But now because of the COVID-19 pandemic, construction has halted on the new park. The launch date was pushed back to 2024, but things aren't looking too good for the new park in general.
Recently, Twitter posts from Bioreconstruct have shown aerial shots of the construction site for the new park, and it looks pretty abandoned. There doesn't seem to be any new construction on the ground, and everything seems to be a dirt path as of late.
There haven't been any updates on Universal's end as to when construction might continue or when an official opening date is set, but if there are other rides and theme areas opening in other parts of the world, it might not be that much of a hunch to think construction could start back up again. However, because nothing is confirmed yet, take everything with a grain of salt. All we can really do is wait. Who knows? Maybe by the time this park opens, we'll actually have the Avatar sequel we've been waiting for.
With all these big changes happening across the world to Universal, hopefully, soon that will be carried over to the United States as well. What are you excited about Universal Studios this year?
Your Daily Blend of Entertainment News
Big nerd and lover of Game of Thrones/A Song of Ice and Fire. Will forever hate season eight. Superhero and horror geek. And please don't debate me on The Last of Us 2, it was amazing!