Even Harry Potter's Daniel Radcliffe Has Trouble Believing The Cast Is Old Enough To Be Parents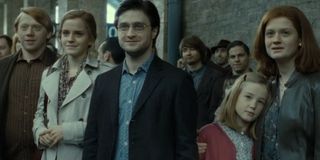 It's been almost 20 years since Harry Potter and the Sorcerer's Stone released in theaters. So, as you can imagine, all the original actors have grown up quite a bit since then, making them old enough to be parents. And if that surprises you, you're not alone; Harry Potter's Daniel Radcliffe is right there with you.
All of this comes on the heels of the recent report that Rupert Grint, who played Harry Potter's best friend Ron Weasley, had his first child with his partner Georgia Groome. Now, in an interview with Today Show Australia, Daniel Radcliffe expresses his disbelief that they can be parents now. Here's what he said:
As for Daniel Radcliffe, he does not have any kids yet. But, recently he showed Stephen Colbert his affinity for building pretty awesome Lego sets, so if he one day ever does decide to have kids, he's already got some cool dad skills.
Since saying farewell as Harry Potter in Harry Potter and the Deathly Hallows – Part 2, Daniel Radcliffe has moved away from big tentpole franchises and has instead been in several lower budget indie films, some of which are particularly wild.
His latest film is Escape from Pretoria, about a real prison break that happened in South Africa during apartheid, which he believes is a story more people should know about. And, for the past seven years or so, he's seemed to enjoy making these kinds of movies, shying away from hopping back into any franchises or remakes.
Though while promoting Guns Akimbo, he did joke that he might be interested in being part of the Fast and Furious movies, but only if they allow non-drivers in it. I mean, crazier things have happened in that franchise.
Of course, all Potterheads care about is if Daniel Radcliffe will resume playing what he's primarily known for—Harry Potter. Since he's now 30, there's only a few ways that could ever happen. For one, J.K. Rowling could always pen another sequel, perhaps of Harry Potter as an older wizard, but she's also said that's unlikely to happen.
The other, potentially more likely, option is that J.K. Rowling somehow writes an older Harry Potter into one of the Fantastic Beasts movie scripts as some kind of wild flash-forward. But, that assumes Daniel Radcliffe would even want to sign on for that, which he has stated before that he wouldn't.
While time has passed and Daniel Radcliffe has drifted apart from the other Harry Potter actors, it seems like they still get together from time to time. Perhaps in ten more years, it'll be one big family reunion.
Your Daily Blend of Entertainment News
Thank you for signing up to CinemaBlend. You will receive a verification email shortly.
There was a problem. Please refresh the page and try again.