Zack Snyder's Justice League Video Goes All In On Steppenwolf And Darkseid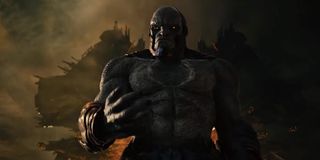 The marketing campaign for Zack Snyder's Justice League is in full force, as the highly anticipated director's cut prepares to make its debut next week. With this, Zack Snyder has spent the last few days highlighting different characters from the film with awesome new footage. While the main heroes have mostly been the focus, Snyder's latest tease now highlights the imposing villains -- Steppenwolf and Darkseid, and the footage goes all in on showing just how awesome they are.
Zack Snyder took to Twitter to share the Steppenwolf and Darkseid-centric teaser. The teaser shows off the newly designed Steppenwolf wreaking havoc on Earth and preparing the way for his master. We then get an even better look at the might of Darkseid. Check out the video for yourself down below:
Based on the video, it's safe to say that this definitely isn't the Steppenwolf fans saw in the 2017 theatrical cut of Justice League. That version of the character appeared to be somewhat tempered down, but Zack Snyder's iteration of the character doesn't pull any punches in his attempt to conquer Earth.
Meanwhile, Darkseid is shaping up to be just as powerful as we imagined he would be. It was particularly cool to see him enter the war between the Amazons, the Atlanteans, Olympian gods and others. In short, the ruler of Apokolips is a force to be reckoned with.
Many fans have been excited at the prospect of finally seeing Darkseid's formal introduction to the DC Extended Universe. Before he departed Justice League, Zack Snyder had been planting seeds for the extraterrestrial conqueror to face off with the superhero team. Unfortunately, his role was cut from the theatrical cut, and Steppenwolf replaced him as the film's primary antagonist. So this really has been a long time coming for the DCEU faithful.
With Steppenwolf and Darkseid taking center stage in the film, there will be a heavy emphasis on their relationship. Zack Snyder has referred to their relationship as "complex," also making mention of the fact that the two have a complicated history. Not only that but the two will also have a unique way of communicating with each other.
In addition to Darkseid and Steppenwolf, Zack Snyder's Justice League will also give audiences a better look at the planet of Apokolips. Previously released footage has shown Darkseid and his allies in what appears to be a great hall of sorts. Here, fans were able to get a better look at Darkseid's forces, including the one and only Granny Goodness.
This new footage is sure to get fans hyped for the fan-favorite antagonists, and it'll be interesting to see how their war with the Justice League plays out. Zack Snyder's Justice League hits HBO Max on March 18th.
Your Daily Blend of Entertainment News
Covering superheroes, sci-fi, comedy, and almost anything else in film and TV. I eat more pizza than the Teenage Mutant Ninja Turtles.
Your Daily Blend of Entertainment News
Thank you for signing up to CinemaBlend. You will receive a verification email shortly.
There was a problem. Please refresh the page and try again.