Justice League: Zack Snyder Teases Darkseid's Relationship With Steppenwolf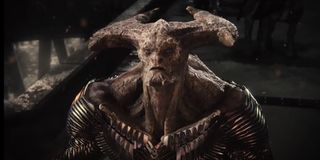 CinemaBlend participates in affiliate programs with various companies. We may earn a commission when you click on or make purchases via links.
As powerful as Darkseid is, he can't rule Apokolips and try to conquer the universe all on his own. So like any good boss, he delegates work, and among the minions who serve him is his uncle Steppenwolf. Unlike in the theatrical cut of Justice League, where Darkseid was only mentioned once, Zack Snyder's Justice League features Darkseid and makes it clear that Steppenwolf is carrying out his will on Earth. But how does their relationship in the DC Extended Universe compare to their dynamic within the traditional DC Comics mythos?
Evidently things aren't exactly stable between the two. During his appearance at IGN Fan Fest, Zack Snyder described Darkseid and Steppenwolf's relationship in his version of Justice League as "very complicated." He continued:
Zack Snyder didn't elaborate on what specific issues Darkseid and Steppenwolf have with one another, although regarding Darkseid, the filmmaker noted that something happened to the Apokoliptan tyrant in the past that really "hurt him" and "shaped him," and now he's looking to make it right. Perhaps Steppenwolf was involved with this past event, and Darkseid still hasn't entirely forgiven his uncle for the role he played in what unfolded. Or maybe Steppenwolf is dissatisfied with having to do his nephew's bidding. In any case, something went down between those two, and given everything that's expected to go down in Zack Snyder's Justice League (including Steppenwolf's altered fate), it's probably safe to say that their issues won't be healthily resolved by the time the movie's over.
Besides being reverted to his original design, seeing Steppenwolf's relationship with Darkseid is arguably the biggest difference with the character's depiction in Zack Snyder's Justice League compared to how he was shown in the theatrical cut. He'll still come to Earth with his Parademon army in search of the three Mother Boxes, but at least now it's obvious that this mission is in service for another rather than something Steppenwolf s doing for himself. Alas, Steppenwolf shouldn't count on Darkseid bailing him out when Batman, Wonder Woman, Aquaman, Flash, Cyborg and Superman interfere.
All this being said, it's unclear just how much screen time Darkseid and Steppenwolf share together in Zack Snyder's Justice League. Although the most recent trailer for the Snyder Cut showed a quick scene of Steppenwolf kneeling in front of someone that might look like a hologram of Darkseid at first glance, it's more likely that this is DeSaad, as Zack Snyder said back in November that the Apokoliptan sadist acts as the go-between between Darkseid and Steppenwolf. So it's entirely possible that the four-hour Justice League cut could unfold without Darkseid and Steppenwolf two having a direct conversation, but at least their relationship will be more than just the standard superior/subordinate dynamic.
Zack Snyder's Justice League drops in both theaters and on HBO Max (which you sign up for using this link) on March 18. Keep track of other forthcoming DC movies with our comprehensive lineup.
Connoisseur of Marvel, DC, Star Wars, John Wick, MonsterVerse and Doctor Who lore. He's aware he looks like Harry Potter and Clark Kent.
Your Daily Blend of Entertainment News
Thank you for signing up to CinemaBlend. You will receive a verification email shortly.
There was a problem. Please refresh the page and try again.