Zack Snyder's Justice League: 7 Questions We Still Have About The Snyder Cut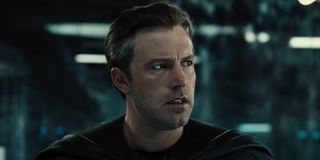 There was already much reason to celebrate when the existence of "The Snyder Cut" was confirmed. Fans' excitement would triple, however once the groundbreaking comic book movie event, officially titled Zack Snyder's Justice League, was given an official release date. Now, the return of Batman, Superman, Wonder Woman, and more of our beloved DC titans is now rapidly approaching, yet there is still much about it that remains a mystery.
This is not to say that Zack Snyder has been particularly tight-lipped over certain details about his revamped edition of the 2017 DCEU crossover film. In fact, he has been more than willing to reveal all kinds of information that easily could have been left to be discovered once it hits HBO Max on Thursday, March 18, 2021. Yet, in retrospect, I suppose there is not too much risk of spoiling a film that most audiences have essentially seen roughly a quarter of already.
Of course, there is still a fair amount of details surrounding Zack Snyder's Justice League that remain shrouded in mystery and we simply cannot wait until we learn the truth. Until then, it is always fun to speculate, just as we will do over these seven questions that have been ruffling our capes lately, starting with our thoughts on one of the more recent reveals.
What Do The Zack Snyder's Justice League Chapter Titles Mean?
On March 3, 2021, the official Twitter account of Zack Snyder's Justice League revealed the title cards for the film's individual chapters. This actually has us confused for a couple reasons, one being how some titles are somewhat easy to interpret ("Beloved Mother, Beloved Son" may refer to Cyborg and his late mother), but the meaning behind others, such as "All the Kings Horses," are a bit bit more cryptic.
Plus, there appear to be six chapters total, yet wasn't this movie announced as a four-part miniseries once before? It seems strange to reveal a six-part structure now after that initial report. Of course, whether or not that particularly fresh detail gets addressed is not as important as some that fans have waiting years to receive closure on.
How Will Zack Snyder's Justice League Address An Unanswered Man Of Steel Tease?
There is a scene in 2013's Man of Steel, the first installment of the DCEU, in which Clark Kent (Henry Cavill) finds two chambers in a crashed Kryptonian ship, one with a shriveled corpse and the other emptied. Ever since, fans have wondered who was in the open chamber and where they might be now and, in November 2020, Zack Snyder promised that "mystery" would be touched upon in his new cut of Justice League.
The question (among many) is if the Snyder Cut will offer a resolution to the Easter Egg or just another clue, saving the answer for a later installment. However, if the film does intend reveal former inhabitant of that sleep chamber, could it be General Zod's accomplice, Ursa, or maybe even Supergirl, whom the DCEU actually cast recently? Until the movie premieres, one can only dream.
How Will Zack Snyder's Justice League Address Batman's Knightmare?
Speaking of dreams, there is another big DCEU "mystery" that we actually do know will be addressed in Zack Snyder's Justice League. The director has teased, most notably through pictures on his Vero account, that Bruce Wayne's apocalyptic premonition involving an evil Superman and an onslaught of Parademons in Batman v Superman: Dawn of Justice (informally dubbed the "Knightmare") will make a reprisal in the Snyder Cut.
Yet, once again, the "how" of it all is lost on us. Outside of fan speculation, the true meaning of the Knightmare has never been fully revealed, so it is unclear if the same dream sequence will simply be expanded on or even become a reality in the Snyder Cut. If the latter is true, that could possibly mean that Darkseid will indeed prevail, with the help of his trusted minions.
Who Is Playing Granny Goodness?
The first teaser of Zack Snyder's Justice League confirmed that New God, Darkseid, is the main villain and would be accompanied by his best known right-hand man, DeSaad. However, the first real trailer for the cut (released Februrary 14, 2021) revealed that this was more than a devious duo, but an unholy trinity completed by Granny Goodness, but only to the most eagle-eyed viewers.
Seriously, you can barely tell that the elderly torture expert is even in the trailer, let alone see her face, and IMDb is no help either as her name and the actress who plays her are listed nowhere in the credits. Academy Award-winner Kathy Bates was previously rumored for the role in Ava DuVernay's New Gods movie, but the status of that adaptation is a whole different story. Honestly, I think I am OK with staying in the dark on this reveal, considering we already know where (or, more accurately, in whom) to find another favorite DC character.
How Much Will We See Of Martian Manhunter's True Form?
While the #ReleaseTheSnyderCut movement was still in progress, Zack Snyder confirmed a fan theory suggesting Harry Lennix's character General (and later Secretary of Defense) Calvin Stanwick is the Martian Manhunter in disguise. Upon the announcement of the Snyder Cut's release, the filmmaker revealed that the alien shapeshifter would make his proper DCEU entrance in the film.
However, I cannot help but wonder if his appearance will see him joining the Justice League in a fight or if the reveal of J'onn J'onzz in his true form will be nothing more than a cameo. Personally, I think I will be satisfied by whatever amount of screen time he receives since seeing him in a live action, cinematic setting will fulfilling enough.
What DC Character Cameos Could Appear In Zack Snyder's Justice League?
As previously mentioned, there are plenty more characters making their DCEU debuts in the Snyder Cut, such as Cyborg's mother Elinore Stone, Ryan Choi (Ray Palmer's successor to the Atom moniker), and Flash's love interest Iris West. A few people previously unseen in the theatrical cut will also appear, namely Willem Dafoe as Nuidis Vulko and Jared's Leto's Joker.
I do wonder, though, if these are really all the characters we should expect to see in Zack Snyder's Justice League. For instance, rumors have been swirling that Hal Jordan could appear as Green Lantern (just not Ryan Reynolds' version) and the chance of a familiar face like Margot Robbie's Harley Quinn is not out of the question, right? Even someone like Snyder who loves keeping fans in loop should understand there is a reason why Kevin Feige likes to keep things under wraps and my fingers a crossed that he might take advantage of that for this new cut, especially for any chance of a follow-up.
Up next: Who Is The Snyder Cut's Secret Hero Cameo? 12 Fan Theories
Is There Potential For A Snyder Cut Sequel?
That brings me to my next question regarding the chances of a follow-up. The potential for an official sequel is pretty up-in-the-air, due to conflicting testimonies on the matter, such as Kevin Smith's claims of a massive cliffhanger at the end of Zack Snyder's Justice League. If true, one would hope that teaser could eventually be resolved.
On the other hand, Zack Snyder himself has said that Warner Bros. has not expressed interest in greenlighting a sequel to the Snyder Cut, or at least with him involved. While that might be a bone of contention for some audiences, that does suggest the possibility of a Part 2 (or 7) is not completely lost. However, the director has also referred to this cut as an "Elseworlds" story, so the sequel might not count as canon either... unless fans say otherwise, of course.
You know, I am typically wary of films as heavily monitored in the moments leading up their release as Zack Snyder's Justice League has been, fearing that there will not be much left to the imagination. However, upon further analysis, it appears there is still much to look forward to in the regards to the unknown. Color me excited.
Jason has been writing since he was able to pick up a washable marker, with which he wrote his debut illustrated children's story, later transitioning to a short-lived comic book series and (very) amateur filmmaking before finally settling on pursuing a career in writing about movies in lieu of making them. Look for his name in just about any article related to Batman.
Your Daily Blend of Entertainment News
Thank you for signing up to CinemaBlend. You will receive a verification email shortly.
There was a problem. Please refresh the page and try again.