Harry Potter's Rupert Grint Reveals Hilarious Regret From His Time Working On The Franchise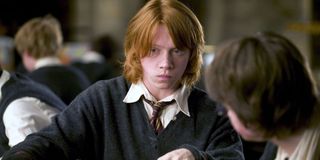 One of the magical things about the Harry Potter films is that through the 10 years of filming eight movies, pretty much all of the characters retained the same actors throughout the entirety of the series. For a lot of the characters (especially those of the Golden Trio), we watched the young actors grow up on screen - some of us even growing up with them. While magical to those of us watching through a screen, apparently it wasn't always like that for those who lived it. Just recently, Rupert Grint revealed one hilarious regret about portraying Ron Weasley all of those years in the Harry Potter franchise.
Rupert Grint looks a lot different now than he did when he first appeared on screen as Ronald Bilius Wealsey but, to hardcore fans, he'll likely continue to be that small, funny redhead. Grint has done a lot of his own notable work since then, but there's nothing like growing up with a character, especially when you can see it happen on screen. There is one thing, however, that Grint tells Dax Shepard in an episode of the Armchair Expert podcast that is a little bit of a regret, which the franchise has forever captured for all to see. Here it is in the actor's own words:
Ah, yes, who could forget those long red locks paired with his hand-me-down Yule Ball dress robes? It was definitely a look but, apparently, not one that Rupert Grint likes to look back on.. He admittedly has a point - the Harry Potter franchise is akin to a baby book for the stars. While that's part of the charm of the movies and fans love to look back and see the characters at all different stages of their young life, it must be pretty cringy for the actors themselves. I mean, there's a reason most of us have our yearbooks locked away tight.
Still, I would probably trade the cringe factor for the opportunity to grow up as an actual wizard in what is one of the world's most beloved franchises. Rupert Grint probably feels the same way, as he seems to have a pretty sweet life. Grint has worked on a number of projects since his time as Ron Weasley and most recently has had large roles in a number of series. He has also recently welcomed his first child with his partner, Georgia Groome, who is also an actor.
While rewatching the Harry Potter series must hit a little different for the stars, it's safe to say we are thankful for their sacrifice. Rupert Grint has plenty of cringy moments in the series, some of which we feel with him. It's easy for fans to rewatch the films as adults and put themselves into their younger selves' shoes, but we'll never really know what it's like for our most awkward years to be on display for the world to see and rewatch over and over. For that - we thank the stars for using their own youth to bring our childhood dreams to life on the big screen.
Your Daily Blend of Entertainment News
Constantly thinking about books, coffee, and the existential dread I feel from Bo Burnham's Inside. While writing I'm also raising a chaotic toddler, who may or may not have picked up personality traits from watching one too many episodes of Trailer Park Boys.