Justice League's Cinematographer Compares Zack Snyder's Battle Scenes To The Ones He Shot On Game Of Thrones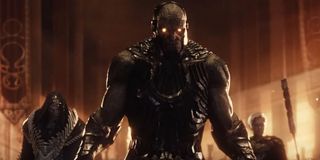 When it comes to epic battle scenes, you'd be hard pressed to find more impressive examples than from HBO's Game of Thrones. The hit show is known for its grand-scale battles that capture the brutal realities of medieval warfare. Cinematographer Fabian Wagner, who worked on some of the series most impressive battle scenes, recently compared his work on the George R. R. Martin's epic fantasy series to the battle scenes in Zack Snyder's Justice League.
During an interview with CinemaBlend, the cinematographer shed some light on his Game of Thrones inspiration and how it compares to the epic battles in Zack Snyder's Justice League. When asked about using his Game of Thrones experience on the set of the HBO Max exclusive, he had this to say:
Game of Thrones fans may recognize Fabian Wagner from the popular "Battle of the Bastards" episode, which he worked on as a cinematographer. He also tackled the large scale battles in "Hardhome"and "The Bells." Based on those episodes alone, I think it's safe to say that he knows a thing or two about directing badass battle sequences.
His involvement with Zack Snyder's upcoming Justice League makes perfect sense, too. Fans are already anticipating a much grittier version of Joss Whedon's 2017 film, as recently released teases don't shy away from the brutality. From the interview, it sounds like he's taken his Game of Thrones experience and worked it into Snyder's vision.
I know that I'm pumped. The steady stream of teases and trailers from Zack Snyder over the last few months have been fueling the hype train with every release. Although Zack Snyder's Justice League is set to release tomorrow, some fans have already seen the film due to a technical error on HBO's end. Even the world premier was marred by technical difficulties, which is no doubt frustrating considering the time poured into the project from fans and Snyder alike.
Zack Snyder's Justice League is releasing exclusively on HBO Max tomorrow (opens in new tab), a day that fans of Snyder's vision, and the director himself, have been waiting on for years. I wouldn't be surprised if fans saw Fabian Wagner's signature Game of Thrones touch shine through during the epic showdown between the Justice League and Darkseid's forces. After all, early reviews are looking pretty damn promising.
Your Daily Blend of Entertainment News
Into tracksuits by Paulie Walnuts, the Criterion Channel and Robert Eggers.
Your Daily Blend of Entertainment News
Thank you for signing up to CinemaBlend. You will receive a verification email shortly.
There was a problem. Please refresh the page and try again.