Steppenwolf Looks Deadly In New Snyder Cut Footage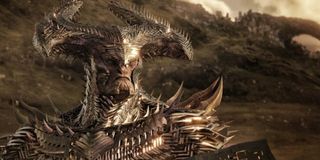 The long-awaited Zack Snyder's Justice League is nearly upon us. Since its announcement as an HBOMax exclusive in May of 2020, director Zack Snyder has been slowly teasing out bits and pieces of the upcoming feature on social media. The latest tease comes from the director's preferred social platform, Vero, and gives fans a look at what appears to be a much deadlier Steppenwolf than that featured in the 2017 cut.
Check out the clip of Steppenwolf facing off against warriors on horseback in the latest clip from the production of Zack Snyder's Justice League:
In the clip, an arrow-riddled Steppenwolf is seen being hounded by a band of horseback riders, presumably of Themysciran descent. After being pulled down, the supervillain violently cuts down a member of the outriders before slamming three more (and their horses) over his shoulder.
Fans may notice that there is quite a bit of blood in the initial swipe from his Electro Axe, which makes sense considering that Zack Snyder's Justice League will be rated R for violence and some language. Based on this clip, it looks like the director is taking that R rating and running with it.
The director's cut will offer fans a completely fresh look and new scenes that never made it into the original 2017 Justice League as well as additional footage that was shot in the last year. The Steppenwolf clip comes just after another Super Bowl-related tease released yesterday.
As we draw closer the March 18 release date, it seems like Zack Snyder has ramped up the hype machine. There has been a steady stream of sneak-peeks over the past week alone.
The director reportedly left production of the original Justice League 2017 after the death of his daughter and disagreements with the studio. Since his departure and the release of the Justice League theatrical cut, fans have assembled under the #ReleaseTheSnyderCut movement, which proved a major influence on WarnerBros decision to green light Zack Snyder's Justice League.
The extended version of the DC film will provide audiences with more of Ben Affleck, Gal Gadot, Henry Cavill, Ezra Miller, Jason Momoa and Ray Fischer in their respective hero roles. Some characters who were largely cut or had significantly reduced screen time in Joss Whedon's version will reportedly have more significant roles in Zack Snyder's Justice League, including Joe Manganiello's Deathstroke.
Fans will have to wait just a little bit longer before they can feast their eyes upon the long awaited cut from director Zack Snyder. However, I have little doubt that we won't be seeing more of these types of teases as we get closer to the release date. Until then, be sure to check out the latest on this year's upcoming releases with CinemaBlend's 2021 movie release calendar.
Your Daily Blend of Entertainment News
Into tracksuits by Paulie Walnuts, the Criterion Channel and Robert Eggers.