7 Great Oscar-Nominated Movies Available To Stream For Free On Plex Right Now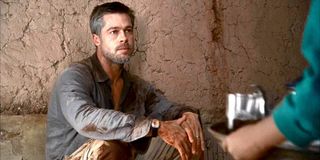 In the past, CinemaBlend has partnered up with the streaming service Plex to highlight the platform's best movies, its robust Live TV On Plex streaming function, and even the great TV shows you can watch there. Well, we're teaming up with the service once again, but this time to talk about a few of the great Oscar-nominated movies streaming for free on Plex. It is crazy that right now, without so much as spending a penny, you can watch Oscar winners like Chinatown, It Happened One Night, Babel, and more.
With the 93rd Academy Awards not too far off, now is the perfect time to take a stroll through some of the best films to ever be nominated and/or win some nice hardware at the annual ceremony. From gritty war dramas to enlightening (and frightening) documentaries, here's what's streaming for free on Plex.
It Happened One Night
It Happened One Night, the first of only three movies to win all five major awards at the Academy Awards (One Flew Over the Cuckoo's Nest and The Silence of the Lambs are the others), tells the story of reporter Peter Warne (Clark Gable) and heiress Ellen "Ellie" Andrews (Claudette Colbert) as the former attempts to get a big scoop while the latter attempts to reunite with her new husband. But as we all come to know in romantic comedies since the release of Frank Capra's 1934 timeless classic, things don't always end up going the way you originally thought, which just happens to be the case here.
Stream It Happened One Night on Plex.
I Am Not Your Negro
Inspired by James Baldwin's unfinished collection of notes and letters Remember This House, the 2016 Oscar-nominated documentary I Am Not Your Negro explores the history of racism and social justice in America as told through the late novelist's recollections of conversations and feelings on various civil rights leaders, including Medgar Evers, Malcolm X, and Martin Luther King Jr. Narrated by Samuel L. Jackson, this moving, poignant, and at times unsettling film was nominated in the Best Documentary Feature category at the 89th Academy Awards.
Stream I Am Not Your Negro on Plex.
Chinatown (1974)
Chinatown, Roman Polanski's iconic 1974 neo-noir mystery about a private eye by the name of J.J. "Jake" Gittes (Jack Nicholson) who finds himself caught in over his head in a deadly conspiracy involving violent criminals and corrupt public officials in sunny Los Angeles, earned 11 nominations at the 47th Academy Awards, including Best Picture, Best Director, Best Actor, Best Actress, and a number of other honors. And even though it only took home one Oscar (Best Original Screenplay), Chinatown remains one of the most influential movies of all time with modern-day filmmakers, like Matt Reeves with his upcoming The Batman, drawing on the timeless classic for inspiration.
Babel (2005)
A decade before he won Best Director awards at consecutive Academy Awards (Birdman and The Revenant), Alejandro González Iñárritu released the psychological drama Babel, which received a total of six nominations and one win (Best Original Score). Splitting its time between four interconnected storylines, the sprawling epic is told in a nonlinear chronological order (a hallmark of screenwriter Guillermo Arriaga) and shows just how our lives are tied to those of others more so than we could ever imagine, for reasons both good and tragic.
Jesus Camp (2006)
Heidi Ewing and Rachel Grady's 2006 documentary Jesus Camp provided for one of the most enlightening looks at faith-based church camps. Centering on the Kids on Fire School of Ministry, a charismatic Christian summer camp in Devils Lake, North Dakota, this Oscar-nominated documentary film explores a side of the Christian faith that doesn't typically receive any mainstream attention. And while some scenes throughout the movie are hard to take in, the directors do a phenomenal job of mastering a fine balancing act. Jesus Camp was beat out by An Inconvenient Truth at the 79th Academy Awards.
Monster (2003)
Not only one of the best Charlize Theron movies but also one of the best movies of the past 20 years, Patty Jenkins' 2003 biographical crime drama Monster is truly something to behold. Anchored by Theron's portrayal of notorious serial killer Aileen Wuornos, a former prostitute who murdered seven of her former clients between 1989 and 1990, the film touches on the crimes as well as the explosive trial that ended with Wuornos being sentenced to death. The film was only nominated for a single Oscar at the 76th Academy Awards, but that lone nomination resulted in Theron being named Best Actress.
The War Of The Worlds
The War of the Worlds, Byron Haskin's 1953 adaptation of H.G. Wells' classic sci-fi novel is a movie that still takes up residence in the hearts of countless film buffs, nearly 70 years after it was first released to terrified moviegoers around the globe. Nominated in to main categories — Best Film Editing and Best Sound Recording — the film wound up taking home an honorary Oscar for Best Special Effects.
Stream The War Of The Worlds on Plex.
All of those great Oscar-nominated movies and more are currently streaming for free over on Plex. If you want more Oscar coverage, don't forget to check out our list of all the 2021 Academy Award Nominations. And while you're there, go ahead and check out all the 2021 movie premiere dates that continue to be updated essentially every week now.
Philip grew up in Louisiana (not New Orleans) before moving to St. Louis after graduating from Louisiana State University-Shreveport. When he's not writing about movies or television, Philip can be found being chased by his three kids, telling his dogs to stop yelling at the mailman, or yelling about professional wrestling to his wife. If the stars properly align, he will talk about For Love Of The Game being the best baseball movie of all time.
Your Daily Blend of Entertainment News
Thank you for signing up to CinemaBlend. You will receive a verification email shortly.
There was a problem. Please refresh the page and try again.