Jeopardy Released A Video Hyping Dr. Oz As Guest Host, And Fans Were Not Happy About It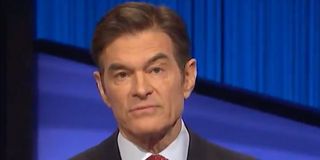 Jeopardy! has aired for over 8,000 episodes, with the majority hosted by the late Alex Trebek. Since his passing, many were left wondering who could possibly fill Trebek's shoes and become the new host of the iconic game show. The Jeopardy! team eventually decided that famous celebrities and former champions would be invited to sit in as limited time guest hosts. However, a recently released video featuring TV personality Dr. Mehmet Oz as an upcoming guest host has been met with some less than-stellar fan feedback.
When the official Jeopardy! Twitter account shared a video hyping up Dr. Mehmet Oz as the latest guest host, fans were quick to share their blunt thoughts on the video and the producers' decision to even invite the so-called doctor in the first place. Check out the initial tweet:
From the post, it looks like Dr. Oz is quite excited to host the coming episodes of the long-running show. On the other hand, some fans weren't nearly as happy. There were a number of tweets condemning Dr. Oz's involvement:
One fan tweeted that Dr. Oz has a history of sharing misinformation. Another chimed in to called the decision a disgrace:
Those weren't the only strong worded tweets shared in response to the video. This fan issued a formal objection:
Even a former contestant shared their disappointment with the situation:
Dr. Oz isn't the first interim Jeopardy! host to have been scrutinized online. Shortly after it was announced that 74-time winner Ken Jennings would be the first guest host, he had to issue an apology for a series of offensive tweets. After his six week run ended, Katie Couric, who is being replaced by the doctor, faced criticism for her comments on Real Time With Bill Maher.
Since Alex Trebek passed, fans have been clamoring for Star Trek veteran LeVar Burton to appear as a guest host. Instead, it was announced that Big Bang Theory star Mayim Bialik and NFL quarterback Aaron Rodgers would each take over hosting duties for a limited time. CNN anchor Anderson Cooper, Today host Savannah Guthrie, 60 Minutes correspondent Bill Whitaker and CNN medical correspondent Dr. Sanjay Gupta are also set to host later this year.
While fans don't seem to be thrilled by the decision to feature Dr. Oz, it's by no means permanent. He is currently set to host until April 2nd, and will be replaced by Aaron Rodgers on April 5th. Perhaps his signature discount double-check will be enough to win fans back over.
It's certainly no easy task to take over from Alex Trebek. Hopefully these guest appearances will help track down the perfect replacement. And if not, I don't mind seeing a new face every couple of weeks. I'm just holding out for everyone's favorite bartender Austin Rogers to take over hosting duties.
Your Daily Blend of Entertainment News
Into tracksuits by Paulie Walnuts, the Criterion Channel and Robert Eggers.
Your Daily Blend of Entertainment News
Thank you for signing up to CinemaBlend. You will receive a verification email shortly.
There was a problem. Please refresh the page and try again.