Jennifer Love Hewitt Talks 'Inappropriate' Questions She Was Asked About Her Boobs On I Know What You Did Last Summer And More Films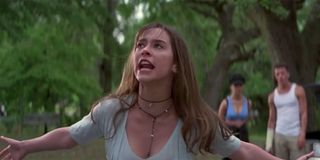 It wasn't long ago that it seemed like every woman in Hollywood was considered a sex symbol and not much else. But times are changing for these actress, and one major sex symbol of the late '90s and into the 2000s, Jennifer Love Hewitt, has recently spoken out about her acting work during that time. In fact, she starred in plenty of notable films during that time, but it's hard not to look back at the beginning of the adult portion of her career and think it may have been a little different if it had taken place in today's social climate. Now, Hewitt has spoken out about inappropriate questions she was asked about her boobs around the time she was promoting I Know What You Did Last Summer.
It's hard to imagine someone asking an 18-year-old about their boobs today, but that's exactly what happened to Jennifer Love Hewitt back in the late '90s. In an interview with Vulture, Love Hewitt opens up about inappropriate questions she used to receive after being scripted to appear in low coverage outfits in films. Here it is in the Ghost Whisperer actress' own words:
Honestly, there are a couple things here we need to unpack. For those of you who have seen Framing Britney Spears that content in combination with this story really highlights how common these questions were at the time. Secondly, it's worth remembering that Jennifer Love Hewitt was only 18 when I Know What You Did Last Summer was released, which (in the eyes of the law) made her a legal adult, but that's still pretty young to be considered a sex symbol. In fact, most older adults would be considered pretty icky if they were to drool over an 18-year-old and I'm sure that was a weird climate to become famous in.
Now that Jennifer Love Hewitt is older and has become a mother, she can definitely look back at how things were back then and cringe. In the same interview, she explains how disappointed she was to have worked so hard on projects, just for the focus to be on her body. This is how she tells it:
While Jennifer Love Hewitt does give kudos to Party of Five for not going all in on the sexual appeal element, if had hit it big these days, it's more likely she would have been surrounded by women speaking out over questions and inappropriate jokes and may have felt supported enough to speak out about any uncomfortable situations that may have cropped up. Meanwhile, I Know What You Did Last Summer is still a good performance if you haven't watched it in a while.
Your Daily Blend of Entertainment News
Thank you for signing up to CinemaBlend. You will receive a verification email shortly.
There was a problem. Please refresh the page and try again.