Concrete Cowboy Ending: What Happened And What's Really Next For Fletcher Street Riders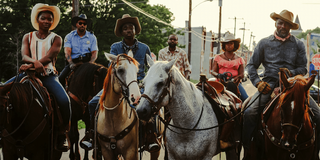 (Image credit: (Netflix))
Netflix's first major April release is Concrete Cowboy, a heartfelt drama starring Idris Elba and Stranger Things' Caleb McLaughlin as an estranged father and son, who bond when Elba's Harp introduces McLaughlin's Cole to his community of North Philadelphia cowboys. The movie, co-written and directed by Ricky Staub, highlights a real group of people who continue to fight to stay afloat in the United States, along with telling a poignant story with its ensemble cast. Let's talk about the Concrete Cowboy ending.
Before we ride further into the story, here's a friendly SPOILER warning for the conclusion of Concrete Cowboy. This article will be delving into major plot points for the film. We'd recommend you check out the highly-praised movie over on Netflix yourself before reading further. Now, it's time to break down what went on at the end of Idris Elba's latest movie:
What Happened At The End Of Concrete Cowboy
The end of Concrete Cowboy is marked by a couple of dramatic incidents. First, Animal Control ends up meddling with the Fletcher Street Urban Riding Club after there are, apparently, reports of malnourishment with some of the horses. The Animal Control officer tells the angry riders that he will have to take some of the horses to their facilities to be accessed. Caleb McLaughlin's Cole has begun to get attached to the community and some of the horses, so he is as upset as the other cowboys.
After that, Cole goes with Jharrel Jerome's Smush on some of his business and he is asked to be a lookout around the corner from the drugstore where he meets with his shady partners. Smush is shot and killed on sight by an unknown figure and dies in the arms of Cole. It's explained to Idris Elba's Harp that Smush likely had a bounty on his head. Harp finds Cole hiding out at the stables, and helps clean him up. Harp and Cole break into the government building holding their horses. They get caught by their police officer friend, who helps them take back their horses.
Concrete Cowboy ends with a funeral for Smush and the riders looking out to see some construction being built over the Fletcher Street Urban Riding Club. Harp gives a speech about how many places before the one they lived in have been rebuilt, but they always have family by their side no matter what. It's said that the cowboys will "ride" to their next physical home like they always have. Cole's mother, who sent him to live with his dad in the beginning, pays them a visit, seemingly ending the past rift he felt in his family.
Who Were The Real Fletcher Street Riders In Concrete Cowboy
An interesting aspect of the Concrete Cowboy ending is the reveal that many of the cowboys we meet in the movie are real Fletcher Street Riders who were used in the film as characters. The character of Paris, who helps teach Cole how to clean the stables was played by a real rider named Jamil Prattis. The other young rider that Cole shares a kiss with at the end of the film Esha, was also played by a real rider named Ivannah Mercedes. At the end of the movie, she speaks about her hopes for more people to learn about the community. Other characters played by real riders were Albert C. Lynch Jr's Al ,and Michael Upshur's Miz.
Concrete Cowboy was filmed on location at and by the Fletcher Street Urban Riding Club. The film's director, Ricky Staub, was living in North Philadelphia and came across the community and wanted to learn more. He has been involved in getting this film made as early as 2011, when he started considering obtaining the rights to the novel it's based on, Ghetto Cowboy. Staub spent years among the community, researching, getting interviews and going to events to get a sense of the cowboy community before getting Idris Elba involved as a producer and the lead.
What Happened To The Black Cowboys?
Another major question that comes out of Concrete Cowboy is the question as to why Black cowboy communities have been erased not only from mainstream media, but their own homes time and time again. The truth is Black cowboys have been around for hundreds of years, but are not often depicted in history or in popular western movies. Black cowboys, reportedly, began working in Texas. Once the sizable slave population (estimated 182,566 per Smithsonian) was freed after the Emancipation Proclamation, many of them found work on cattle ranches, which is when these cowboys emerged.
In today's world, Black cowboys have been hit the hardest by gentrification in places like North Philadelphia, as the film touches upon. As communities around places like the Fletcher Street Urban Riding Club become populated with wealthier people and improved housing, it is tougher for an urban culture such as the Black cowboys to remain where they are. As the movie highlights, a community like the one Cole gets introduced to can help young people in the area join a tight-knit group that can inspire achievement and hard work in impoverished sectors of cities.
What Is Really Next For The Fletcher Street Riders
As Concrete Cowboy points out, the city of Philadelphia is currently developing over the Fletcher Street Urban Riding Club and many of its past inhabitants have been forced to "ride again" and find a new place to settle and preserve their culture. Concrete Cowboy was filmed on Fletcher Street last summer, but is now in need of help to get back on its feet and reestablish itself. There is currently a GoFundMe organized to benefit the Fletcher Street Riding Club, with hopes of raising $100,000 for the nonprofit to once again help young Black inner-city kids and create a home for the urban riding community and their animals.
After checking out Concrete Cowboy, you can see what other 2021 movie releases are heading to streaming and theaters soon.
Your Daily Blend of Entertainment News
YA genre tribute. Horror May Queen. Word webslinger. All her writing should be read in Sarah Connor's Terminator 2 voice over.
Your Daily Blend of Entertainment News
Thank you for signing up to CinemaBlend. You will receive a verification email shortly.
There was a problem. Please refresh the page and try again.