The Best Original Netflix TV Shows, Including Stranger Things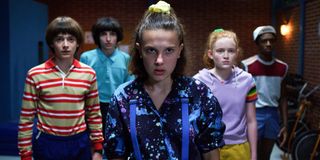 CinemaBlend participates in affiliate programs with various companies. We may earn a commission when you click on or make purchases via links.
There is no way to get around it, there are an insane number of great Netflix TV shows, with something for literally everyone (at least everyone who loves critically acclaimed series from a myriad of genres). Keeping track of them all, however, is a task that is easier said than done.
From entertaining and enchanting sci-fi adventure stories like Stranger Things, to hilarious and disturbing dark comedies like Dead to Me, the library of originals keeps growing by the year, so much so that sometimes we find ourselves forgetting about all the awesome movies on Netflix, which, as we should remember, was what brought us all to the streamer way back when. But, before we get too sidetracked, let's break down the best original Netflix shows. There's a lot, so buckle up…
Stranger Things (2016 - Present)
Whether you're obsessed with all things '80s (the culture, the style, Dungeons & Dragons), a longtime horror-hound, or simply someone who loves superbly written television, Stranger Things is right for you. As we look toward the show's highly anticipated return with Stranger Things Season 4, now is the perfect time to go back and see how it all started for Eleven, Hopper (and how he ended up in Russia), and the rest of the residents of Hawkins, Indiana, and all their adventures.
Stream Stranger Things on Netflix.
The Queen's Gambit (2020)
The 2020 limited series The Queen's Gambit is hands down one of the best shows, not only on Netflix, but anywhere to come out in the past few years. From Beth Harmon's (Anya Taylor-Joy) days learning to play chess in the basement of an orphanage to becoming the top player in the world by the show's fulfilling ending, there isn't a dull moment. Hell, you don't even have to love the game of chess (or know anything about it) to get wrapped up in this binge-worthy drama.
Stream The Queen's Gambit on Netflix.
The Crown (2016 - Present)
There is a reason (multiple reasons, actually) why The Crown is one of the best shows on television right now, but for the sake of brevity we'll only dive into a couple of them here. First, the cast (which has taken home acting awards in each of its four seasons), no matter who's playing whom, has been amazing from the beginning and only continues to get better with each iteration of the royal family. Then you have Peter Morgan's attention to detail and dedication to treating his subjects with respect but also not holding back his portrayal of Queen Elizabeth II and the world around her. Add those together with the music and the show's ability to make the audience care about every single character and you have a recipe for greatness.
Bridgerton (2020 - Present)
There are still plenty of questions after the whirlwind that was the first season of Bridgerton, but the scandalous Netflix period drama, with its fair share of sex, drama, and sexy drama did breathe new life into the genre upon its release in late 2020. With its outstanding ensemble cast that is as talented as it is diverse, the incorporation of modern songs into England's Regency era, and all those fanciful costumes, there are plenty of reasons why Bridgerton grabbed a hold of its audience and never let go.
Mindhunter (2017 - 2019?)
Who knows if we'll ever get to see Mindhunter Season 3, but let's not dwell on things like that right now. Instead, let's look back on the two amazing seasons David Fincher gave us in his drama about the formation of the FBI's criminal psychology department led by Holden Ford (Jonathan Groff), Bill Tench (Holt McCallany), and Wendy Carr (Anna Torv). From engaging personal dramas involving the central cast to all those great interviews with the likes of Ed Kemper (Cameron Britton) to the dramatization of the Atlanta Child Murders, this show has (had?) it all.
Ozark (2017 - Present)
The Netflix family crime drama Ozark is one of the TV shows ending in 2021, with its fourth and final season being split up into two parts. This just means you have a little more time to rewatch the Primetime Emmy Award-winning series or start it for the first time before the final chapter. Anchored by a cast that includes Jason Bateman, Laura Linney, and Julia Garner as people embroiled in criminal enterprises, Ozark is dark, twisted, and no surprise here, a rather enjoyable experience.
Dear White People (2017 - Present)
Anytime an Ivy League university claims to be "post-racial," you know it is going to be anything but, and the characters in Dear White People, the long-running Netflix dramedy know that all too well. Based on the 2014 film of the same name, the show doesn't hold back in its handling of issues such as race, class, and social justice in this gripping and biting critique of the modern educational system. With enough humor to balance out some of the more dramatic elements, Dear White People will have you on an emotional roller coaster throughout.
Stream Dear White People on Netflix.
Russian Doll (2019 - Present)
We're currently living in the golden age of time loop stories, and the Netflix series Russian Doll is proof of that. The show follows Nadia (Natasha Lyonne, who also co-created the show with Leslye Headland and Amy Poehler), a woman who keeps dying and reliving her 36th birthday party as she attempts to make sense of the madness around her. With clever writing, direction, and performances from its central cast, Russian Doll sinks its teeth into its premise from the first scene and doesn't let go until the season finale. Don't worry, there's more on the way.
Stream Russian Doll on Netflix.
The Umbrella Academy (2019 - Present)
Fans of quirky superhero adventure stories will surely love The Umbrella Academy, the Netflix original series about a group of estranged siblings with some truly amazing powers who are brought together by their father's death and end up banding together to save the world. There is already a great deal of speculation surrounding Season 3, so why not go back and start it again so you're more than ready when The Umbrella Academy makes its eventual return.
Stream The Umbrella Academy on Netflix.
GLOW (2017 - 2019)
One of the Netflix cancellations fans were most upset to see go, GLOW was truly something special. One part history lesson about one of the most notorious promotions in the '80s and one part drama about a struggling actress finding a place for herself in the world, the wrestling-based Netflix comedy was a slobberknocker of a good time. The wrestling, writing, acting, and general feel of the show were all top notch, and it's a bummer that we'll never get a proper conclusion for the glorious ladies of wrestling.
Dead To Me (2019 - Present)
Dead to Me Season 3 will the end of the road for this dark comedy about two California women with one hell of a way of bonding, but at least Liz Feldman's series starring Christina Applegate and Linda Cardellini will be going out on its own terms. Over the course of the show's first two seasons, we watched as Jen Harding (Applegate) and Judy Hale (Cardellini) met in a grief support group and form a rather unique bond, considering their situations. Cleverly written and brilliantly acted, this refreshing take on the grieving process is shockingly fun to watch.
Daredevil (2015 - 2018)
Long before Disney+ came around and starting launching a slew of Marvel TV shows, Netflix produced several series centering on some of the comic book publisher's more grounded characters. The first of the bunch, Daredevil, landed in 2015 and brought a level of grit and believability to the genre and introduced its fair share of memorable characters (and spinoffs) along the way. Even though the show was cancelled after only three seasons, it's still one of the best superhero options on Netflix.
Santa Clarita Diet (2017 - 2019)
Zombie shows typically focus more on the horror elements than any humor, but Santa Clarita Diet isn't your traditional show about the undead; hell, it's not even a traditional comedy. Despite that, the horror-comedy starring Drew Barrymore as a suburban real estate agent with an appetite for human flesh and Timothy Olyphant as her husband stuck in the middle of the whole mess, was one of the most clever spins on the genre during it's three-season run on Netflix.
Stream Santa Clarita Diet on Netflix.
Lupin (2021 - Present)
There have been countless adaptations of the classic French thief Arsène Lupin over the years, but the most recent take, Lupin, is honestly one of the best and most inventive of the bunch. Set in modern-day France, the Netflix crime thriller follows Assane Diop (Omar Sy), a man on a mission to get back at a wealthy and well-established family for an injustice they inflicted against his father. With more adventures on the way, now's the perfect time to check out the first five chapters of the remarkable title.
Unbelievable (2019)
Based on the real-life story of a sexual assault victim and the local authorities who didn't buy her story, 2019's Unbelievable is a riveting, if not maddening, drama following a young woman in her darkest moments. One of the best true crime series streaming on Netflix, Unbelievable is a truly remarkable piece of television and should be revisited for its lessons just as much, if not more than the drama that unfolds over the course of its narrative.
Stream Unbelievable on Netflix.
Master Of None (2015 - Present)
One of the best shows you can binge over a single weekend, Master of None is honestly one of the best titles on Netflix. Created by star Aziz Ansari and Alan Yang, the show's two seasons (with more on the way) make for some of the best television in recent memory, including the iconic episode "Thanksgiving" which earned Ansari and co-writer/co-star Lena Waithe a Primetime Emmy in 2017. Seriously, go back and watch that Season 2 barn burner of an episode.
Stream Master Of None on Netflix.
Black Mirror (2011 - 2019)
Being one of the few shows to be praised by Stephen King should be enough to sell anyone on Black Mirror, but some could use more convincing. The long-running anthology horror/sci-fi series literally has something for everyone. From episodes that play out like unused Twilight Zone episodes to those that seem like twisted versions of Star Trek, each installment is amazing in its own, unique way. The show also served as a launching pad for some of today's biggest stars.
Stream Black Mirror on Netflix.
The Narcos Franchise (2015 - Present)
The gritty crime dramas Narcos and Narcos: Mexico are sprawling shows set in Colombia and Mexico, respectively, and follow some of television and history's most notorious drug-lords. Fans of series like Breaking Bad and movies like Sicario will feel right at home with the franchise's unapologetic approach to the subject matter.
Stream Narcos: Mexico on Netflix.
The Haunting Franchise (2018 - 2020)
Mike Flanagan has been making a strong case for being one of the greatest horror minds of all time with Doctor Sleep and his two Netflix supernatural stories The Haunting of Hill House and The Haunting of Bly Manor. Both of these two horror shows gave fans of the genre some of the best scares and family drama in recent memory, making everyone more than excited to see where Flanagan's career goes from here.
Stream The Haunting Of Hill House on Netflix.
Stream The Haunting Of Bly Manor on Netflix
BoJack Horseman (2014 - 2020)
Netflix has had its fair share of hits in the world of adult animation, but few compare to the Raphael Bob-Waksberg's BoJack Horseman and its story about a humanoid horse (Will Arnett) who, despite being one of the biggest sitcom stars of all time, struggles to find a steady gig and his way in life all these years later. Who would have ever thought a cartoon about a self-loathing horse would be this much fun (or so heavy)?
Stream BoJack Horseman on Netflix.
Easy (2016 - 2020)
Created by writer/director Joe Swanberg, Easy was an anthology series focusing on a diverse cast of characters in and around the greater Chicago area. Over the course of three seasons, the oftentimes hilarious, but always real, show touched on some of life's most delicate topics and situations, as told by an all-star cast that included everyone from Dave Franco to Aubrey Plaza. Anyone familiar with Swanberg's previous work (Drinking Buddies, Happy Christmas) knows what to expect here.
Orange Is The New Black (2013 - 2019)
One of the first big Netflix originals, Orange is the New Black broke a lot of ground for the streaming service and its push for original content upon its release in 2013. Over the years, the dramedy about life in a women's prison introduced the world to some of TV's most iconic characters and voices, including Laverne Cox, who stole every scene with her portrayal of Sophia Burset.
Stream Orange Is The New Black on Netflix.
This was just around 20 of the best Netflix original shows you can stream right now and there are plenty more where that came from. With countless other series premiering in 2021, it is only a matter of time before we have make even more additions to this list.
Your Daily Blend of Entertainment News
Philip grew up in Louisiana (not New Orleans) before moving to St. Louis after graduating from Louisiana State University-Shreveport. When he's not writing about movies or television, Philip can be found being chased by his three kids, telling his dogs to stop barking at the mailman, or yelling about professional wrestling to his wife. If the stars properly align, he will talk about For Love Of The Game being the best baseball movie of all time.