Forget Daniel Craig And Chris Evans, Fan Reimagines World Where Paddington Is In Casino Royale And The Avengers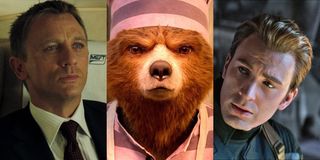 Three figures of cinematic glory haven't graced the big screen for some time now: James Bond, Captain America, and Paddington Bear. With Cap supposedly retired after Avengers: Endgame, Paddington 3 just entering development, and No Time To Die being delayed for over a year, surely there's a way to bring these heroes back to the public, right? Well, a fan has reimagined a world where 007, the Star Spangled Man, and a whole bunch of other movies are now newly enhanced, thanks to fan art that includes Paddington Bear in the action.
It's all thanks to the genius of Reddit user JaytheChou, who has taken it upon himself to photoshop Paddington's star into as many movies as he can. With the goal of producing one new photoshop a day, until he forgets to do so, there's already been 24 movies that have gotten the Paddington treatment. And as you'll see below, this friendly bear has been to some interesting, not so family friendly places:
from r/moviescirclejerk
Kicking things off with Paddington's trip into the world of Casino Royale, our bear friend is in the middle of James Bond and Le Chiffre's poker showdown. And if 007 thought trying to find his adversary's tell was hard, wait until he tries to survive the hard stare of Michael Bond's famous literary cub. Though the world of espionage may be a bit much for a bear, so let's imagine what he'd look like as an Avenger.
from r/moviescirclejerk
With a moral code similar to that of Steve Rogers himself, The Avengers' 2012 kick-off could have surely used a little grizzly assistance. It would have also been kind of cute to see Paddington and Captain America bond over tea, Marmalade, and memories of Peggy Carter. But who's to say his charms are only good for mixing it up with heroes? What if Paddington started hanging out with The Joker?
from r/moviescirclejerk
Dancing down a stairway is exactly the sort of thing Paddington Bear would do, so pairing him with Joaquin Phoenix's Joker performance is an A+ effort. Though circling back to the matter of that hard stare, there's another scenario that it could have really come in handy. Were the Paddington star one of the members of Quentin Tarantino's Inglorious Basterds, they may have been able to save some energy and just used his unique interrogation technique instead.
from r/moviescirclejerk
Ok folks, brace yourselves, as we've saved the best for last. While Godzilla vs. Kong has been breaking records and raking in cash, there's still room for a little bit of movie magic to make it all really pop. What if Paddington was the size of a Titan, and Don Cheadle was somehow included in the overall product? It may sound like a dream, but it's very much a reality in the final featured photo:
from r/moviescirclejerk
Reddit's JaytheChou has done an amazing job with almost a month's worth of Paddington Bear photoshops. And with work like this, we're looking forward to seeing how many more he can do before he forgets. Which, hopefully, won't be any time soon, as there's still plenty of promising prospects for Paddington playtime. Maybe it's time this friend of the Brown family find himself in the action of Mortal Kombat or Nobody. No matter where he shows up next, we'll be there to watch and enjoy!
Your Daily Blend of Entertainment News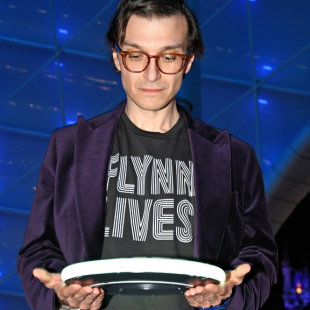 Senior Movies Contributor
CinemaBlend's James Bond (expert). Also versed in Large Scale Aggressors, time travel, and Guillermo del Toro. He fights for The User.