Wait, Tom Hanks And Rita Wilson Haven't Been Vaccinated Yet? She Explains Why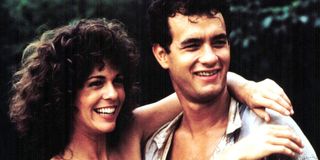 It's sometimes hard to believe that it's been over a year since the COVID-19 pandemic took hold of our world and essentially flipped our realities upside down. After all of the massive changes we've seen as a result of the pandemic, many are starting to feel optimistic as we seem to be on our way to turning a corner. While COVID was already a growing topic before the nationwide lockdown began in March 2020, but the gravity of the situation didn't really seem to hit the public until Tom Hanks and Rita Wilson were diagnosed with the virus. A year later, the two are doing better but still haven't been vaccinated. Now, Wilson is explaining why this is the case.
Rita Wilson and Tom Hanks were originally diagnosed with COVID-19 while Hanks was filming Baz Luhrmann's Elvis Presley biopic in Australia. From there, the two were admitted to a hospital and were later released to quarantine in their temporary residence. After a few weeks, the two began to recover and eventually returned to their home in the states.
Given the COVID ordeal the two experienced, many would likely assume that the two would have been vaccinated by now. But as Rita Wilson explained on The Today Show, there's still an obstacle standing in their way:
Well, it sounds like Rita Wilson and Tom Hanks find themselves in a slightly awkward (and somewhat flattering) situation. It is still good to hear, though, that the famous couple is now on their way to receiving their vaccines.
Both Tom Hanks and Rita Wilson have been incredibly vocal about their COVID experiences since recovering. Hanks, when describing their illness, explains that the virus left him "wiped" and said that Wilson was actually hit by it even harder. With this, the actors have stressed the importance of keeping safe during these times. Hanks, in particular, shared some pretty blunt thoughts for those who choose not to wear masks.
But the two stars have been doing more than just talking during this time, they've also been taking action. Last year, Tom Hanks announced their intention to give plasma to assist in the effort to create vaccines and, sometime after confirming the plans, Hanks provided an update, complete with photos of donated plasma.
This past year hasn't been easy for any of us, as it's unfortunately come with a number of surprises and devastating losses. But even in the midst of all of this, so many people, whether they be first responders, celebrities, or everyday citizens, have come together in a major way to try to try to improve things for the better. And we can all be grateful for that, as we continue to do our own part to improve things for the better.
Covering superheroes, sci-fi, comedy, and almost anything else in film and TV. I eat more pizza than the Teenage Mutant Ninja Turtles.
Your Daily Blend of Entertainment News
Thank you for signing up to CinemaBlend. You will receive a verification email shortly.
There was a problem. Please refresh the page and try again.