Seth Rogen Reacts To Eric Andre's Bad Trip On Netflix And, Yes, There's An F-Bomb Involved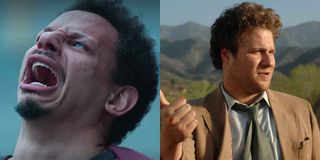 Eric Andre has constantly pushed boundaries. From his wild late night talk show on Adult Swim to his stand-up performances, he knows how to keep his audience's attention. Eric Andre's new prank movie extravaganza Bad Trip on Netflix has gained praise for how hilarious it is, though it would be a tall task to outdo Seth Rogen in his admiration of the movie.
In the past, Seth Rogen is clearly a fan of the prank comedy genre and has not been shy about his love of Borat 2, so it's fitting he responded to Bad Trip and Eric Andre's new entry into the prank movie pantheon. Rogen took to Twitter to rave about Eric Andre's new film citing how wild the movie is and how stunned he was by Eric Andre's performance and commitment to the craft.
If you have seen Bad Trip, you know the level of commitment it takes to pull off something like Eric Andre and his co-stars Lil Rel Howery and Tiffany Haddish did. It's easy to see why someone like Rogen, a comedy star in his own right, responded so passionately about a film in which the cast had a knife pulled on them while filming. The commitment to comedic excellence did not go unnoticed by the Pineapple Express star and newly minted marijuana business owner.
Eric Andre's style is hard to pull off, and even the best-planned pranks can fall apart, so Bad Trip's success can be attributed to a talented cast and an insane visionary like Eric Andre. It's nice to see other comedy giants like Seth Rogen gushing over creators that they respect.
Bad Trip has been one of the most exciting movies released in March, even in a month chock full of new releases. Eric Andre's bold foray onto the big screen has provided the movie world with a much-needed no-holds-barred comedic experience. Hopefully, this means we will see even more ridiculous and boundary-pushing projects in the future.
Your Daily Blend of Entertainment News
Movie and TV obsessive. A good Heist movie is the way to my heart. Enjoyer of everything from Marvel Movies to Rom-coms.
Your Daily Blend of Entertainment News
Thank you for signing up to CinemaBlend. You will receive a verification email shortly.
There was a problem. Please refresh the page and try again.