Where You've Seen The Freaky Cast Before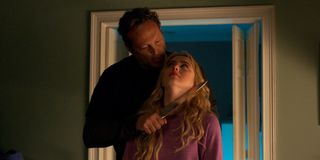 In November, Happy Death Day director Christopher Landon returned with another cheeky addition to the ever-expanding horror-comedy genre with Blumhouse's Freaky, a fun, charming, emotional, and gleefully gory blend of Freaky Friday and Friday the 13th — hell, let's call it a cross-contamination of the two. While it's certainly not easy to replicate the spunky success of his past two movies, Landon co-wrote and helmed another critical darling and winning audience favorite, finding the right balance of punchy pulp and sugary sweetness to create another bubbly and bloody popcorn flick with plenty of laughs, an abundance of slaughter, and a big, beating heart to boot.
Now that the body-swapping slasher genre-bender was made available for audiences everywhere via PVOD, you might be wondering where you've previously seen the Freaky cast members found throughout Christopher Landon's latest. If you're curious to know why you recognize Freaky's cast, which includes Kathryn Newton, Vince Vaughn, and Alan Ruck, along with several newcomers, we're here to help.
Kathryn Newton (Millie Kessler/Blissfield Butcher)
In the role of Millie Kessler, a demure high school student who switches bodies with a vengeful serial killer known as "The Blissfield Butcher," Kathryn Newton played one-half of our dual leads in Freaky. Most notably, Kathryn Newton starred in HBO's Big Little Lies and Netflix's The Society. Additionally, the actress had one of the main parts in CBS' Gary Unmarried, and she was a lead in Paranormal Activity 4, which was also written by Freaky's Christopher Landon. Some of her other film credits include Detective Pikachu, Blockers, Three Billboards Outside Ebbing Missouri, Bad Teacher, Lady Bird, and Ben is Back.
Furthermore, Kathryn Newton played prominent parts in Supernatural and Halt and Catch Fire. She can also be seen in All My Children, Mad Men, Dog with a Blog, and the BBC's Little Women 2017 mini-series. Plus, Newton appears in the music video for Post Malone's "Goodbyes," ft. Young Thug. Next, the actress will star in the fantasy film, The Map of Tiny Perfect Things.
Vince Vaughn (Blissfield Butcher/Millie Kessler)
Playing the part of the Blissfield Butcher, an imposing middle-aged serial killer who finds his body possessed by Millie Kessler's spirit, Vince Vaughn got in touch with his feminine side through his transformative performance in Freaky. Following a handful of supporting performances in the early 1990s, including Rudy, Vaughn became a star thanks to Swingers, a role written for him by co-star Jon Favreau.
Shortly after Swingers' success, he appeared in The Lost World: Jurassic Park, Clay Pigeons, Psycho (1998), The Cell, Made, Anchorman, Starsky & Hutch, and Old School. Additionally, Vince Vaughn frontlined Wedding Crashers, Dodgeball: A True Underdog Story, Four Christmases, Fred Claus, The Dilemma, The Watch, Delivery Man, and Unfinished Business, and he starred in, co-wrote, and produced The Break-Up, Couples Retreat, and The Internship. Also, Vaughn provided standout supporting turns in Into the Wild, Hacksaw Ridge, Be Cool, and Mr. and Mrs. Smith.
Recently, Vince Vaughn has pushed himself into darker and more dramatic territory, departing his familiar comedic roles with Brawl in Cell Block 99, Dragged Across Concrete, Term Life, Seberg, Arkansas, and the second season of HBO's True Detective. Vaughn also starred in Fighting with My Family and Hulu's The Binge. And the actor did voice work for Netflix's F is for Family and played a recurring role in the latest season of HBO's Curb Your Enthusiasm. Currently, Vaughn is filming Queenpins.
Celeste O'Connor (Nyla Chones)
As Nyla Chones, one of Millie's closest BFFs, Celeste O'Connor plays a caring character in Freaky. Prior to this performance, O'Connor gained notice for her standout work in Amazon Prime's Selah and the Spades, which premiered on the service earlier this year. She was also seen in Netflix's Irreplaceable You — her screen debut — and last year's Wetlands. Next, O'Connor stars in Ghostbusters: Afterlife.
Misha Osherovich (Joshua Detmer)
In the role of Joshua Detmer, another one of Millie's best friends, Misha Osherovich played a scene-stealing supporting character in Freaky. Outside of this role, they notably starred in last year's The Goldfinch and they had a recurring role in AMC's NOS4A2. Additionally, Osherovich can also be seen in several episodes of the web series, History. The actor starred in 2017's The Prey, as well as short films like Never Born and E.very D.ay, the latter of which they also wrote and co-produced.
Katie Finneran (Coral Kessler)
Playing the part of Coral Kessler, the alcoholic widower mom of Millie and Char, Katie Finneran has a prominent (if also absentee) role in Freaky. Best known for her Tony-winning Broadway performances in Noises Off in 2002 and Promises, Promises in 2010, respectively, Finneran has a variety of film credits to her name, including 1990's Night of the Living Dead, You've Got Mail, Liberty Heights, Bewitched, Firehouse Dog, and Broken Bridges, as well as Baby on Board, Death to Smoochy, Miss Congeniality 2: Armed and Fabulous, and Movie 43.
Outside of film, Katie Finneran also appeared in several shows, including Wonderfalls, The Michael J. Fox Show, Bloodline, The Looming Tower, Why Women Kill, and Brockmire, which she starred in as recently as this year. Additionally, Finneran made guest star appearances in The Good Fight, Murphy Brown, Blindspot, Elementary, Damages, Royal Pains, Oz, Sex and the City, Frasier, All My Children, and Super Force. She was also seen in several episodes of The Insider, Bram and Alice, and I Hate My Teenage Daughter.
Dana Drori (Charlene "Char" Kessler)
As Charlene Kessler, i.e. "Char," a local police officer and Millie's older sister, Dana Drori played a supporting (and supportive) character in Freaky. While this role is likely her best known, the actress can also be seen in Straight Up, Inside Game, The Price, and Rebel in the Rye. Additionally, Drori appeared in shows like The Affair, Taken, High Fidelity, The Tap, Expecto Patron, Model Woman, and, most recently, Into the Dark. Outside of acting, she was involved in the costume and wardrobe department in last year's short film, Dom.
Uriah Shelton (Booker Strode)
In the role of Booker Strode, a fellow Blissfield Valley High School student and Millie's crush, Uriah Shelton played a romantic character in Freaky. Primarily known for his television work, Shelton starred in A&E's The Glades and played one of the main parts in the web series, Blue. Additionally, he had recurring roles in Girl Meets World, 13 Reasons Why, and Hulu's limited series, Looking for Alaska. He also made guest appearances on Monk, Without a Trace, Ghost Whisperer, R.L. Stine's The Haunting Hour, NCIS: Los Angeles, Instant Mom, The Romanoffs, Last Man Standing, Franklin & Bash, and Kamen Rider: Dragon Knight. Additionally, Shelton can be seen in TV movies like Ring of Death and The Nanny Express.
Outside of television, Uriah Shelton starred in 2010's Lifted, where he also performed several songs. The young actor also appeared in Lower Learning, Opposite Day, Alabama Moon, and The Warriors Gate.
Melissa Collazo (Ryler)
Playing the part of Ryler, a stone-cold bully who meets an icy end, Melissa Collazo plays a short-lived character in Freaky. Most notably, Collazo appeared in several episodes of Stranger Things, as well as a couple episodes of DC Universe's short-lived Swamp Thing. Her other film credits include 2018's The Little Mermaid and an uncredited role in Netflix's Naked. Next, Collazo plays one of the titular characters in Lena and Snowball. She's also set to star in Peacock's upcoming mystery series, One of Us is Lying.
Alan Ruck (Mr. Fletcher)
As Mr. Fletcher, an uncaring woodshop teacher who's particularly resentful towards Millie, Alan Ruck plays one of the key adult characters in the first half of Freaky. Ruck's involvement in this high school-based horror-comedy is a fun nod to his past, as he's primarily known for playing Cameron Frye in John Hughes' Ferris Bueller's Day Off. His other notable roles were found in Spin City, Speed, Twister, 1983's Bad Boys, Young Guns II, and Three Fugitives. Ruck also appears in Cheaper by the Dozen (2003), Star Trek Generations, The Happening, Kickin' It Old School, Ghost Town, I Love You Beth Cooper, War Machine, Gringo, Extraordinary Measures, and Class, as well as Born to Be Wild, Goats, Carnage Park, Sierra Burgess is a Loser, and 2019's Captive State.
Currently, Alan Ruck plays one of the leads in HBO's multi-Emmy-winning dramedy series, Succession. Some of the actor's other television credits include Going Places, The Edge, Greek, Persons Unknown, Bunheads, and Mad About You. Additionally, in 2016, Ruck starred in Fox's The Exorcist.
Zack Shires (Tim Turnipseed)
Playing the part of Tim Turnipseed, a high schooler who messes with the wrong person, Zack Shires has a small-but-distinctly-messy role in Freaky. Recently, Shires starred in Netflix's The Devil All The Time. He also appeared in last year's Richard Jewell, as well as Hot Summer Nights and Netflix's Candy Jar. Additionally, Shires can be seen in Adult Swim's viral sensation, Too Many Cooks, as well as an episode of Wilfred. Next, Shires stars in 2021's Breaking News in Yuba County.
Did you love Freaky? Who's your favorite cast member? Be sure to let us know in the comment section! Also, if you haven't seen it already, check out Freaky on PVOD here.
Will is an entertainment writer based in Pittsburgh, PA. His writing can also be found in The Playlist, Cut Print Film, We Got This Covered, The Young Folks, Slate and other outlets. He also co-hosts the weekly film/TV podcast Cinemaholics with Jon Negroni and he likes to think he's a professional Garfield enthusiast.
Your Daily Blend of Entertainment News
Thank you for signing up to CinemaBlend. You will receive a verification email shortly.
There was a problem. Please refresh the page and try again.