Melissa McCarthy's New Thunder Force Movie Has A Stacked Cast, But The Funniest Person On Set May Surprise You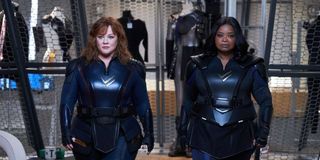 It seems like with each passing year, there's more actors who have an opportunity to play their part in a superhero movie. Whether it's in the ever-expanding MCU, or a one off hit, there's plenty of super stories (and talented actors to star in them) to go around. Melissa McCarthy's new Thunder Force is a perfect example, giving some major actors a chance to work in the growing genre. The upcoming Netflix comedy has a stacked cast of superhero first-timers, but the funniest person on set may surprise you.
During an interview with some of Thunder Force's stars, CinemaBlend's Jeff McCobb asked who the funniest person on set was. Surprisingly, the cast rallied around Pom Klementieff, who comedy veteran Bobby Cannavale was delighted to work with on set. In his own words:
According to Cannavale, who plays Thunder Force villain The King, Pom Klementieff's comedy was not only surprising but also impressive. He went on to compliment the Old Boy star's deadpan. Comedian (and upcoming Thor: Love and Thunder star) Melissa McCarthy also commended the actresses comedic chops:
That's pretty high praise from someone with the comedic talents of Melissa McCarthy. The Thunder Force star complemented Klementieff's performance as Laser, one of The King's super-powered villains. Co-star Octavia Spencer went on to also mention Klementieff's surprisingly impressive deadpan capabilities:
While breaking character and on-set laughs are just part of working with someone as hilarious as Melissa McCarthy, Spencer noted that it was Klementieff's portrayal of Laser that really surprised her on set. The villainous role is a major departure from Klementieff's work as Mantis in the MCU, according to the actress:
Despite the destructive nature of Laser, it sounds like there was still plenty of room for levity. Thunder Force follows former-best-friends-turned-superhero-duo Lydia Berman (Melissa McCarthy) and Emily Stanton (Octavia Spencer) as they fight The King (Bobby Cannavale) and Laser (Pom Klementieff) to protect the city of Chicago. Based on the trailer, it looks like a hilarious take on the mega-block buster superhero flicks of the last decade.
Fortunately, fans don't have to wait to check out Pom Klementieff's comedic capabilities, as Thunder Force is now streaming on Netflix (opens in new tab). The light-hearted superhero flick is a welcome sight, seeing as how a number of major superhero releases have been delayed over the past year. Hopefully Thunder Force can scratch the itch for some fans and squeeze in a few laughs to boot.
Into tracksuits by Paulie Walnuts, the Criterion Channel and Robert Eggers.
Your Daily Blend of Entertainment News
Thank you for signing up to CinemaBlend. You will receive a verification email shortly.
There was a problem. Please refresh the page and try again.