Eternals' Angelina Jolie On The 'Good Crazy' Of Joining The MCU In Her Forties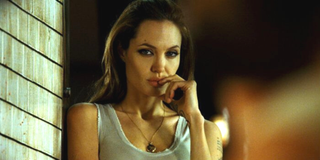 The Marvel Cinematic Universe has grown quite a bit since its inception way back in 2008 when Robert Downey Jr. first donned the iron suit. Over the years there have been a number of huge names that have gotten in on the multi-billion dollar Avengers franchise. One of the latest to join is none other than legendary actress and Hollywood icon Angelina Jolie. She will be making her first appearance in an MCU film for the upcoming Eternals. While quite a few of the franchise's biggest names are on the younger side, Angelina Jolie has no problem getting in on the fun in her forties.
In a recent interview with Vogue, the Maleficent actress described her experience on the set of Eternals and how filming for the Phase 4 film was a bit of a surprise, but a welcome one at her age:
Angelina Jolie explained that she didn't expect to be "running around in a gold bodysuit" in her forties, but isn't necessarily upset by it. I mean hey, after the year we've had, I'd say anything is possible at this point.
Angelina Jolie will play Thena, a powerful immortal warrior, in Eternals. The film is directed by Chloé Zhao and stars some big name talent including Game of Thrones' Kit Harrington and Silicon Valley's Kumail Nanjiani. The film will serve as an introduction for multiple new characters to the Marvel Cinematic Universe.
Eternals follows a group of immortal aliens who have secretly inhabited earth for thousands of years. After the events of Avengers: Endgame they are forced to reunite to combat their sworn enemies, the Deviants. Eternals will be one of four planned Phase 4 entries set to be released in 2021.
The latest era of the franchise will kick off later this year with Black Widow. The Natasha Romanov centered film will take place after the events of Captain America: Civil War and will similarly introduce new characters into the franchise. Midsommar star Florence Pugh and Stranger Things' David Harbour will also be making their MCU debuts.
Even though it's been over a year since the last theatrical Marvel release, they have been keeping fans entertained (and blowing their minds) with WandaVision. The Disney+ exclusive has already changed the game with major implications for upcoming MCU titles.
I have no doubt that the MCU as we know it will look quite different by the time Eternals releases in November. Even though WandaVision is wrapping up and Black Widow isn't scheduled to release until May, Marvel fans will be happy to hear that The Falcon and the Winter Soldier is coming out in March. What lies in store for the remaining Avengers? Only time will tell, but I have a sneaking suspicion we haven't seen the last of some supposedly dead characters. We are talking about a comic book based franchise, after all. And it would be great to see Angelina Jolie have a significant role in everything to come.
Your Daily Blend of Entertainment News
Into tracksuits by Paulie Walnuts, the Criterion Channel and Robert Eggers.