Ryan Reynolds Has A Very Important Question For Fans Of Deadpool 2 And The Suicide Squad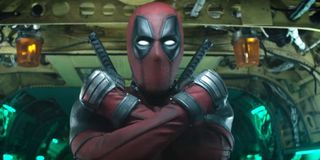 The superhero genre is filled with interesting characters, and the actors who play them can prove to be just as entertaining. This is definitely the case with Deadpool star Ryan Reynolds, who has no problem making jokes about his scarred and profane character or any other hero in the comic book realm for that matter. Like many of us, Reynolds is aware of some of the genre's upcoming films, including James Gunn's The Suicide Squad. And following the release of the film's first trailer, the actor asked a very important question of Deadpool 2 and Suicide Squad fans.
The Deadpool and The Suicide Squad franchises may belong to different comic book universes, but what they have in common is that they're both graphically violent. The Deadpool franchise has more than proven this over the years and, with that red band trailer, James Gunn's upcoming movie proved this to great effect. So after spotting one particular scene in the recent Squad trailer, Ryan Reynolds took to Instagram to hilariously get fans' thoughts on how it compares to a moment from Deadpool 2:
So Ryan Reynolds couldn't help but ask whether The Suicide Squad's King Shark or Deadpool 2's Juggernaut had the better tear. I mean… Reynolds has presented us with a pretty difficult choice here, to be honest. On the one hand, Juggernaut managed to rip Wade Wilson apart in magnificent fashion. But on the other, King Shark just effortlessly tore that guard in half, and the cool factor is upped by the way the scene is shot.
As funny as Ryan Reynolds' post is, it really is a keen observation on his part. Both Juggernaut and King Shark are two of the biggest brutes in the Marvel and DC universes, respectively. So it's only natural that he'd want to compare and contrast their awesome (and incredibly violent) skills.
Juggernaut and King Shark have managed to make quite an impression on viewers. The former initially made his big-screen debut in 2006's X-Men: The Last Stand, though reception to the character was mixed. This left fans hoping for a more comic-accurate version of the character when evidence began to suggest he would appear in Deadpool 2, and the film mostly delivered.
Although King Shark has yet to officially make his debut, the character already seems to be emerging as a fan-favorite, based on the buzz around social media. The first trailer introduced him in a big way (as evidenced by Reynolds' photo), and James Gunn seems to have put a lot of thought into how he wanted to depict him. Let's hope the Sylvester Stallone-voiced character is as cool in the movie as he's been in these early spots.
I don't know about you, but Ryan Reynolds' comparison is only making me want to see these characters cross paths with each other. Any kind of brawl between the two would surely be a bloody and amazing sight to behold.
The chances of such a meeting are probably slim to none, but we can always dream. And while you do that, you can also answer Ryan Reynolds' initial question by voting in the poll down below.
This poll is no longer available.
Your Daily Blend of Entertainment News
Covering superheroes, sci-fi, comedy, and almost anything else in film and TV. I eat more pizza than the Teenage Mutant Ninja Turtles.
Your Daily Blend of Entertainment News
Thank you for signing up to CinemaBlend. You will receive a verification email shortly.
There was a problem. Please refresh the page and try again.