Black Widow Doesn't Need To Worry About Competing With Tom Cruise Anymore, But Now I Have Another Question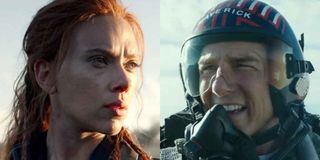 Great news just came down the pipeline for Disney and Marvel's Black Widow this week and neither Disney nor Marvel had to lift a finger to get it. The upcoming movie is expected to come out on July 9, which would have been just a paltry seven days after Paramount unleashed Top Gun: Maverick into theaters on July 2. Now, thanks to the musical chairs sort of shuffling movie release dates have been doing over the past year, it looks as if Scarlett Johansson's starrer is not going to compete with Tom Cruise's vehicle after all. Cool, but now I have another question.
You may have already seen that a whole slew of release dates shuffled on Paramount's schedule. Top Gun: Maverick shifted to November. Mission: Impossible 7 shifted to 2022. A slew of other movies either shifted up or back in the schedule between 2021 and 2023, but given that's not what this particular article is about, I won't rehash all the coming and goings, though we did put together a full rundown of upcoming Paramount release dates for you.
Instead, this is more about Disney and Marvel's decision to shift Black Widow to July 9. That felt like a curious decision for the studio to make one week before Godzilla Vs. Kong fully slayed at the box office opening weekend domestically. At the time, the movie was setting itself up for some major competition from Top Gun: Maverick, which like Widow is also a PG-13 movie with an action fanbase that was going to have the added benefit of actually being in theaters on the Fourth of July. (Now, obviously that's shifted.)
Reports have indicated that given Black Widow's very high budget, shifting the Marvel movie would help to ensure it had a chance at exceeding more than $100 million domestically at the box office. That's a feat that projections estimated would have been difficult to achieve without theaters being fully open -- even with way more theaters in total being devoted to major movies like Godzilla vs. Kong right now.
I'd assume the date shifts are less about Top Gun: Maverick running scared with Black Widow on the horizon and more about Mission: Impossible 7 potentially needing a little more time to get in the can. I feel comfortable saying that given we've heard about all of the issues and delays filming the seventh and eight installments of the M:I franchise have undergone. While I feel like November is less of a "perfect" time to see Tom Cruise and his need for speed back in theaters, there's no doubt that people are interested in the movie, how it will pay homage to its predecessor, and also people are just interested in seeing Tom Cruise back on the big screen again.
I mean really, the last Tom Cruise movie out in theaters was Mission: Impossible - Fallout. That hit screens back in 2018. It feels like a lifetime ago, in more ways than one.
Meanwhile, it looks as if Disney and Marvel hedged its bets and ultimately made a prescient move after all. While more dates can -- and probably will -- change on the movie schedule before Black Widow is out on July 9, now it's look like Black Widow is wide open to dominate for a few weeks until Space Jam 2, the widely anticipated Snake Eyes -- which just shifted up -- and Disney's own Jungle Cruise with Emily Blunt and Dwayne Johnson hit theaters.
In fact, now that Top Gun: Maverick has shifted, I'm almost wondering if Black Widow should actually shift its release date again, this time up to that July 2 slot. I mean SOMEONE NEEDS to take the Fourth of July weekend slot? Right?
This poll is no longer available.
Your Daily Blend of Entertainment News
Reality TV fan with a pinch of Disney fairy dust thrown in. Theme park junkie. If you've created a rom-com I've probably watched it.
Your Daily Blend of Entertainment News
Thank you for signing up to CinemaBlend. You will receive a verification email shortly.
There was a problem. Please refresh the page and try again.