Arlo The Alligator Boy Reviews Have Dropped, Here's What Critics Are Saying About The Animated Netflix Movie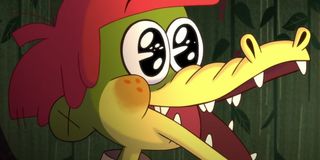 Don't you love it when there's new streaming content to enjoy from your couch? The new animated adventure musical film Arlo the Alligator Boy is available on Netflix now.
In the new animated movie, a young humanoid alligator travels to the big city in hopes of reuniting with his father, meeting a colorful cast of characters along the way. Ryan Crego makes his directorial debut with Arlo the Alligator Boy, and it also has a stacked cast. Former American Idol contestant Michael J. Woodard makes his acting debut as Arlo, and Mary Lambert, Flea, Annie Potts, Tony Hale, and Jonathan Van Ness also star. The movie will be followed by a 20-episode TV series on Netflix titled I Heart Arlo, also premiering this year. Critics have begun sharing their thoughts about the animated musical film, so check out what they're saying.
Let's start with Petrana Radulovic from Polygon. Radulovic thinks Arlo The Alligator Boy feels more like a long pilot episode than an actual movie (which makes sense, as the movie is going to be followed up with the TV show). She commented that the movie set up characters and concepts but failed to fully develop them. Radulovic did enjoy the fantastical designs and musical numbers of the film, as well as the message of celebrating differences, but overall felt it was just designed to introduce the characters and settings for the eventual show.
Kristy Puchko from Pajiba enjoyed that the animated adventure film is about a boy finding himself through community, brought to life in a vibrant and unique way and giving kids "queer representation with empathy, love, and unrepentant joy." Puchko did have some criticism of the film, though. She noted that the songs aren't very catchy, and her biggest qualm with the movie is that it underserves the group dynamic and the inclusion of the supporting characters. But overall, she said:
Arlo The Alligator Boy is definitely taking some heat from critics, who see the project as more of a long pilot episode for the eventual TV series coming to Netflix. Still, the animated movie has been praised for its various musical numbers, as ComicBook's Rollin Bishop put it,
Netflix has put out a ton of family friendly content over the years, and Arlo The Alligator Boy appears to be another winner in that regard. ReadySteadyCut's Daniel Hart praised how audiences of all ages will be able to enjoy the new movie, writing:
The New York Times review by Amy Nicholson was somewhat middling, praising certain aspects of Arlo The Alligator Boy, while highlighting that the pop left something to be desired. In their words,
Well, critics seem to have somewhat middling reviews of Arlo the Alligator Boy. But what will general audiences think? Will kids think the songs are plenty catchy enough? We'll soon find out, as the movie musical is available on Netflix now.
If you're ready to plan your next movie-going adventure after Arlo the Alligator Boy, check out our 2021 movie release guide.
Your Daily Blend of Entertainment News
Thank you for signing up to CinemaBlend. You will receive a verification email shortly.
There was a problem. Please refresh the page and try again.