Arlo The Alligator Boy Cast: Where You've Heard Or Seen The Actors Before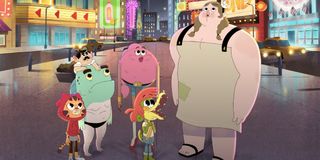 At this point you have either seen or at least heard about Arlo the Alligator Boy, the new animated Netflix movie from Ryan Crego that centers on a half-alligator/half-human who decides to leave the safety of his southern swamp for the hustle and bustle of New York City in order to find his long-lost father. And after watching the delightfully animated and fun-loving adventure story, you may be wondering where you've heard or seen the Arlo the Alligator Boy voice cast, especially after hearing some familiar voices.
There's no need to get in arguments with your kids about Teeny Tiny Tony sounding like a certain Veep and Arrested Development star or if Arlo sounds like a former American Idol contestant or if Furlecia sounds like a certain podcaster and host of Queer Eye. Below is a breakdown of the Arlo the Alligator Boy voice cast and just about everywhere you've seen or heard them…
Michael J. Woodard - Arlo Beauregard
Voicing Arlo Beauregard, the half-alligator, half-human singing swamp-dweller at the heart of Arlo the Alligator Boy is Michael J. Woodard, who is making his acting debut in one of the most anticipated movies on Netflix. Even though this is Woodard's first time acting, it's far from his first experience in the limelight as the young actor and singer made it all the way to the Top 5 on American Idol Season 16 back in 2018 before being eliminated in the penultimate episode. Since his first brush with fame, Woodard has gone on to make brief appearances on Entertainment Tonight, Good Morning America, and The Magnificent Mile Lights Festival. At some point in 2021, Woodard will voice Arlo once more for the Netflix animated series I Heart Arlo.
Mary Lambert - Bertie
Mary Lambert, who portrays Arlo's supportive best friend Bertie in Arlo the Alligator Boy, is another talented singer making their first big splash in the acting world after finding success in the music industry with the Netflix animated musical. Prior to landing this role, Lambert appeared as herself in an episode of MTV's Faking It, as well as the music video from "Same Love" the Macklemore and Ryan Lewis LGBTQ-friendly track in 2012. The singer later joined the duo at the 2013 MTV Video Music Awards following its release. Lambert's music has been featured in episodes of shows like Glee and The Vampire Diaries. Lambert will be reprising her role in I Heart Arlo upon its release later this year.
Haley Tju - Alia
Voicing Alia, the tiger humanoid who joins in on the epic adventure in Arlo the Alligator Boy is Haley Tju, has had a busy career since showing up in a small role a 2008 episode of Hannah Montana (which recently celebrated its 15th anniversary). Since then, Tju has gone on to appear on hit series like Desperate Housewives, Mike & Molly, Bones, and NCIS, while have more prominent voice roles in animated series like Big Hero 6: The Series, Kung Fu Panda: The Paws of Destiny, and more recently on Amphibia. Tju, who will appear on I Heart Arlo later this year, also spends her time on the Nickelodeon animated series The Loud House, where she voices the character Stella in a recurring role.
Jonathan Van Ness - Furlecia
Anyone who spends a lot of time on Netflix and watches the wholesome streaming series Queer Eye will recognize the voice of Jonathan Van Ness whenever the character Furlecia, a pink flamboyant hair creature, appears on screen. When Van Ness is not helping men with all of their hairstyling needs on the popular makeover show where he serves as the grooming expert, he spends his time running the successful weekly lifestyle podcast Getting Curious with Jonathan Van Ness and appearing on a variety of morning, evening, and late night talk shows and digital shorts for outlets like Buzzfeed, Vanity Fair, Vogue, and numerous others. He also served as a series regular on the 2013 Game of Thrones parody series Gay of Thrones and the 2014 pop culture program I Love the 2000s.
Brett Gelman - Marcellus
Marcellus, the fish with legs with a love of martini-like drinks in Arlo the Alligator Boy, is voiced by none other than Brett Gelman, the American actor and comedian who will take on a more regular role on Stranger Things Season 4 after joining the Netflix sci-fi series as Murray Bauman in 2017. When he's not being the show's resident conspiracy theorist and reclusive shut-in, Gelman spends his time absolutely killing it with his unique brand of humor on shows like Fleabag, High Maintenance, Mad Men, Twin Peaks, and literally dozens of other comedies, dramas, and everything in between going back to 2005. As far as movies go, Gelman has appeared in The Disaster Artist and 30 Minutes or Less, and will lend his talents to the upcoming spy thriller Tom Clancy's Without Remorse.
Tony Hale - Teeny Tiny Tony
Teeny Tiny Tony, the rodent-like creature who joins in on the cross-country adventure in Arlo the Alligator Boy, is brought to life with the voice of Tony Hale, who became a star with his portrayal of Buster Bluth on Arrested Development before it was cancelled by Fox in 2006. Before the hilarious comedy series was brought back by Netflix in 2013, Hale landed a starring role as Gary Walsh on the HBO political satire Veep, which earned him two Primetime Emmy Awards and several nominations. In addition to that, Hale has been a part of the Toy Story 4 cast as Forky and event got his own spinoff series of shorts called Forky Asks a Question. Later in 2021 Hale will reprise his role as Teeny Tiny Tony in I Heart Arlo and will voice Chas Finster on the Rugrats reboot series.
Flea - Ruff
Not all of the characters in Arlo the Alligator Boy are human or nice for that matter, and that's where Ruff, a hillbilly who tries to stop the gator-humanoid from reaching New York City, comes into the picture. This is just the latest film for Red Hot Chili Peppers bassist, sock enthusiast, and accomplished actor/musician Flea, who has previously appeared in everything from the two Back to the Future sequels to the 1994 crime comedy The Chase, and more recently in movies like Baby Driver and Boy Erased. The Netflix animated musical isn't the first time Flea has joined the voice cast of a movie as he was the longtime voice actor for Donnie Thornberry on the Nickelodeon cartoon The Wild Thornberrys and its various spinoffs. And just like Tony Hale, Flea lent his voice to Toy Story 4, appearing as the Duke Caboom TV announcer.
Annie Potts - Edmée
Every good coming-of-age story needs a nice, elderly woman who sends the hero on his way after raising him for his childhood, err gatorhood, and that happens to be Edmée in Arlo the Alligator Boy. Voicing the sweet old lady in the swamp is Annie Potts whose filmography goes back decades and covers multiple genres and mediums. To people of a certain age, Potts will always be Janine Melnitz, the Ghostbusters' secretary in the 1984 classic and its 1989 sequel Ghosbusters II. To others, however, Potts is best remembered as the voice of Bo Peep in Toy Story as well as its 1999 and 2019 sequels. And to others, she is "Meemaw" on Young Sheldon. And this isn't the last we'll see of Potts this year as she will be reprising her role of Janine Melnitz in the upcoming Ghostbusters: Afterlife.
Jennifer Coolidge - Stucky
One of the other hillbillies trying to capture everyone's favorite reptilian-humanoid in Arlo the Alligator Boy is Stucky, voiced by the great Jennifer Coolidge. The list of credits attached to Coolidge's name consist of some of the most iconic movies from the late 1990s and early 2000s with everything from American Pie (she played Stifler's mom) and its sequels to Legally Blonde with dozens of other films since then. Coolidge is also an accomplished voice actor having lent her talents to series like The Loud House, American Dad!, Gravity Falls, and King of the Hill over the years. And we couldn't talk about Coolidge without mentioning her contributions to Christopher Guest's mockumentary films including Best in Show and A Mighty Wind, to name only a few.
Vincent Rodriguez III - Ansel Beauregard
Ansel Beauregard, the New York City bigshot Arlo believes to be his father is voiced bypass Vincent Rodriguez III. Prior to landing the role of a human who somehow gave birth to an alligator, Rodriguez made a name for himself as Josh Chan The CW's comedy romantic comedy series Crazy Ex-Girlfriend before making brief appearances on Designated Survivor and Adam Ruins Everything. You may have also seen Rodriguez on the 2021 NBC sitcom Kenan where he gave a one-off appearance.
Those are all the members of the Arlo the Alligator Boy cast and where you seen or heard them before they appeared in one of the most family friendly 2021 Netflix movies. After giving the animated film for a spin why not check out CinemaBlend's list of upcoming 2021 movie premiere dates for everything coming out later in the year.
Your Daily Blend of Entertainment News
Philip grew up in Louisiana (not New Orleans) before moving to St. Louis after graduating from Louisiana State University-Shreveport. When he's not writing about movies or television, Philip can be found being chased by his three kids, telling his dogs to stop yelling at the mailman, or yelling about professional wrestling to his wife. If the stars properly align, he will talk about For Love Of The Game being the best baseball movie of all time.
Your Daily Blend of Entertainment News
Thank you for signing up to CinemaBlend. You will receive a verification email shortly.
There was a problem. Please refresh the page and try again.