The Rock Says He May Need To Hand Aquaman A 'Whuppin' After Love For Jason Momoa Gets Real In His House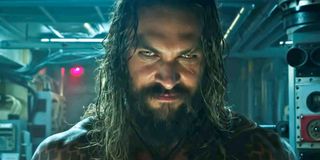 Dwayne Johnson is one of the biggest movie stars in the world, and been one of the highest paid (and busiest) actors in Hollywood for years. He's been part of numerous successful franchises that have made billions of dollars. And yet, his own children are apparently just obsessed with Jason Momoa's Aquaman. At first, it seemed like The Rock was cool with his kids loving Aquaman, but now, it looks like the most electrifying man in all of entertainment might be getting a bit jealous. Johnson is promising that if this continues, Black Adam is going to take Aquaman down.
A couple days ago, Dwayne Johnson revealed that, since his three-year-old daughter loves Aquaman, he asked star Jason Momoa to record a special birthday message to the young lady (in character) as a birthday present. The kid clearly loved the video and so you'd think that would have made Johnson dad of the year. However, it seems the Aquaman love has only gotten more powerful since then, and dad is now drawing pictures of Aquaman for his daughter.
While it's obvious that Dwayne Johnson loves his daughter, considering all the wonderful things he does for her, it seems like Tia is keeping her father on his toes. This is the same kid who has never believed that her dad is Moana's Maui, even when he sings her "You're Welcome." At some point, this kid is going to discover just who her dad is and it's going to absolutely blow her mind.
As far as the battle between Black Adam and Aquaman goes, who know? Maybe we'll see it one day. While we understand that Black Adam is going to predate the modern DC film universe by centuries, these are superhero movies, and anything is certainly possible. As far as we know Black Adam does take place in the same universe as Aquaman, just a long time beforehand. And the expectation is that, at some point, we will see Black Adam and Shazam together, and that will likely require Black Adam making it into the modern day somehow.
And once that happens, anything else is on the table. Dwayne Johnson has been making noises about wanting to see Black Adam go up against Superman, so maybe he'll just work his way through the entire Justice League. Of course, in the end even if Black Adam did lay the smackdown on Aquaman, the only person who would probably be happy about that is Black Adam. I'm guessing Dwayne Johnson's daughter would actually not become a huge Black Adam fan if he beat up Aquaman, so maybe The Rock should try a different strategy.
Eventually, dads tend to become their daughter's hero, or so I've been told (still waiting for that myself) so I'm guessing Dwayne Johnson doesn't have much to fear from Aquaman. Maybe she'll decide she's a big fan of his Jungle Cruise skipper when that movie comes out later this year.
CinemaBlend's resident theme park junkie and amateur Disney historian. Armchair Imagineer. Epcot Stan. Future Club 33 Member.
Your Daily Blend of Entertainment News
Thank you for signing up to CinemaBlend. You will receive a verification email shortly.
There was a problem. Please refresh the page and try again.