The Sandlot's Ham Just Made Me Sad With His TikTok On Celebrity Life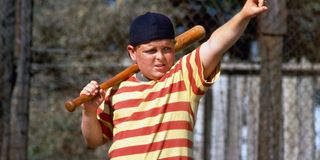 If you're like me, bedtime is a slow wind-down that ends in an hour of seemingly infinite TikTok videos. (TikTok isn't just for Gen Z, okay!) Occasionally, you may come across a long-lost childhood hero in the mass of lol syncing and stitched videos, and the latest child star to make an appearance is that of Patrick Renna, who you may know better as Ham from The Sandlot. It's not all sunshine and daisies post-Sandlot though, and Renna sure knows how to pull at our heartstrings. That's because his viral TikTok video about celebrity life is super sad!
Recently the Sandlot star posted a video to his TikTok account that had him playing out a scene to the tune of Justin Beiber's "Lonely." It appears that the experience he is depicting is far too familiar to Patrick Renna, which makes it even more sad. Really, Renna is either just that good at acting or he really is crestfallen about the all-too-common situation. Take a look for yourself:
As you can see in the video, Patrick Renna is standing by himself acting out a fan recognizing him and asking for his autograph. The fan then asks him if he says his iconic line from The Sandlot, "You're killing me, Smalls!" Renna also complies to this request, and then the fan leaves. After the interaction, Renna is left alone and in an awkward state.
The Sandlot star's video really calls out what it is like for a celebrity when they interact with fans. It appears that what Patrick Renna is trying to say is that most people only see worth in him if it's related to Sandlot. Don't be mistaken, Sandlot is cool and everything, but the actual people behind the movie are more important than a film could ever be.
Patrick Renna is overwhelming known for playing Ham in The Sandlot, and it doesn't help matters that even over 20 years after the release of the childhood favorite film, he still looks a lot like the character we see in the classic film. I can definitely imagine him having interactions like those in his video often, even daily.
Over 20 years of interactions like that, it's no wonder Patrick Renna would resonate with Justin Beiber's "lonely." After all, it is about a celebrity who received the bulk of his fame when he was just a child. Honestly, I've never counted myself more lucky to be a non-celebrity.
Hopefully Patrick Renna's TikTok will make fans think twice rather than to put him in the same situation he has seemingly been in for over 20 years, and his time out around fans will improve. At the very least, we hope he doesn't feel so lonely all the time! We're here for you, Renna, and our hearts are filled with sadness from that peek into celebrity life!
Constantly thinking about books, coffee, and the existential dread I feel from Bo Burnham's Inside. While writing I'm also raising a chaotic toddler, who may or may not have picked up personality traits from watching one too many episodes of Trailer Park Boys.
Your Daily Blend of Entertainment News
Thank you for signing up to CinemaBlend. You will receive a verification email shortly.
There was a problem. Please refresh the page and try again.