Ahead Of Thor 4, Tessa Thompson Talks 'Crazy Dream' Of Getting To Play Valkyrie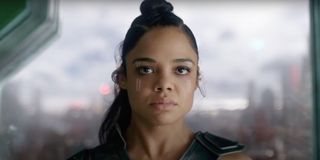 Thor: Ragnarok made waves when it premiered in 2017. Directed by New Zealand native Taika Watiti, it revitalized the Thor franchise and gave MCU audiences a much-needed dose of humor. One of the highlights of the film was Tessa Thompson playing Valkyrie, a legendary Asgardian warrior-turned-alcoholic scavenger on the planet Sakaar.
The road to Thor: Ragnarok wasn't easy for Tessa Thompson. In a recent Instagram post, she shared a look back at her first stunt training sessions, which she described as "clumsy." I, for one, am glad she persevered. Take a look at what the actress posted on social media:
In the post, we see several behind-the-scenes Easter eggs. In the mirror photo, we see a drawing of Valkyrie's face - possibly as a reference for the makeup artists - and another sheet that reads "Two fingers between teeth," which goes on to list what are presumably vocal exercises (as someone with acting experience, I can certainly vouch for the weird sounds we use to warm up our voices). Tessa Thompson also included a video of her combat training and showed off one of the custom daggers Valkyrie uses in battle. These are just glimpses into Thompson's world, and they can only hint at the work she must have put into her character. They imply hours of both physical and vocal training.
What's even more interesting are the sketches of Valkyrie as she appears in the comic series Exiles and King in Black: Return of the Valkyries. These images display a decidedly different Valkyrie, especially compared to her original blonde itineration from the printed page.
This really speaks to the quality of Tessa Thompson's performance, especially when you consider that the artists didn't just change Valkyrie's hair color or her outfit - they completely revamped her to match the actress. I don't blame them, as it's hard to imagine anyone other than Thompson playing the sardonic hero who came to Thor's aid in his fight against Hela. Valkyrie's dry humor masked a sharp inner turmoil, which Thompson played with surprising nuance for a film some had billed as a comedy. Although reluctant at first, she eventually reclaims the mantle of her ethereal heritage and ends up ruling New Asgard in Thor's stead, as we saw at the end of Avengers: Endgame.
Valkyrie will return in Thor: Love and Thunder, the fourth film in the Thor series and the 29th installment in the Marvel Cinematic Universe. Taika Watiti returned to direct and also co-wrote the script with Jennifer Kaytin Robinson. Along with Valkyrie and Thor, we'll also be reuniting with Natalie Portman's Dr. Jane Foster. Thor's ex-love did not appear in Ragnarok, but she will play a featured role in Love and Thunder by assuming the mantle of The Mighty Thor.
Other Thor: Love and Thunder cast members include Jaimie Alexander (Lady Sif) and the Guardians of the Galaxy gang, such as Chris Pratt (Peter Quill, a.k.a. Star-Lord), Karen Gillan (Nebula), Dave Bautista (Drax the Destroyer) and Pom Klementieff (Mantis). It's unclear how the Guardians crew will figure into the plot of Love and Thunder, but more clues might reveal themselves in the coming months. There are several Marvel film releases to go before Love and Thunder premieres in 2022, such as Black Widow, Shang Chi and the Legend of the Ten Rings, Eternals and Spider-Man: No Way Home. Perhaps one or more of these films might lay the groundwork for Thor and the Guardians to cross paths again.
Tessa Thompson has also expressed her desire to see a new character in the MCU - more specifically, a queen for Valkyrie. Makes sense, right? After all, if you're going to be crowned king of New Asgard, you should have a queen to rule by your side. Either way, I'll be tuning in for more Tessa Thompson.
Your Daily Blend of Entertainment News
Actor, singer, and occasional dancer. Likes: fashion, books, old buildings. Dislikes: cilantro, the NJ Turnpike, sneaker wedges.
Your Daily Blend of Entertainment News
Thank you for signing up to CinemaBlend. You will receive a verification email shortly.
There was a problem. Please refresh the page and try again.