Someone Added Schitt's Creek's Alexis To Star Wars And Dan Levy Approves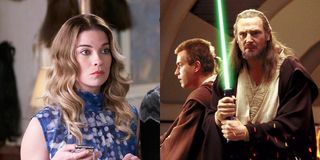 It's been just over a year since the last season of Dan Levy's Schitt's Creek aired, and a few months shy of a year since its release blew up Netflix. Although there doesn't seem to be any plans to reunite the Roses anytime soon, the lack of their flair for dramatics really has fans aching for more of Levy's brilliantly created and hilarious characters - so much so that fans are just creating their own content. Someone added Alexis Rose to the Star Wars franchise, and they actually have Levy's approval.
If you were expecting a dolled-up Alexis to be strutting around the Death Star or Millennial Falcon in her high heels and her classic Alexis hand gestures, you're out of luck. At the same time, though, you may actually be a little luckier, because someone put the sound bites of her famous "Ew"s to the various Star Wars characters turning on their lightsabers, and it's an instant classic. Dan Levy seems to think so too, because he actually shared the product of the series crossover on his Twitter, and you can check it out below:
Dan Levy seems to always know just the thing to say, and he does it again here without saying a word. Instead, he just captions the share of the hilarious video with a skull emoji. For all you Gen Xers out there, that just means the video has left the Schitt's Creek star, writer and showrunner dead... figuratively speaking. It's so funny that he is deceased - and so am I.
Even though I have been in mourning for the past year about the loss of a future with new Schitt's Creek episodes, I have still immensely enjoyed all of the fan-made content and memes the show has spurred on long after its ending. The fan-favorite siblings may just be two of the jewels of the show, but they certainly are the most meme-worthy. Alexis' "Ew, David" meme has been continued on long after the show's been over, but I am nowhere close to tired of it.
You don't have to wait long after logging onto social media before seeing a mention of Schitt's Creek. I've seen Dan Levy's face on mugs and t-shirts, as well as wall art with Alexis' famous "Ew, David" slogan. True, maybe that just speaks more to me and the Schitt's Creek-filled algorithm my internet habits have created. But this just means all kinds of people and businesses are creating these products, and there are plenty of fans out there like me who never tire of seeing that kind of content on their feed.
I may just be speaking for myself, but I hope this trend never ends. My wallet might not be happy about the new Star Wars/Alexis Rose mug I'm about to add to my Schitt's Creek collection, though.
Your Daily Blend of Entertainment News
Thank you for signing up to CinemaBlend. You will receive a verification email shortly.
There was a problem. Please refresh the page and try again.