Schitt's Creek: The Best David And Alexis Moments From The Series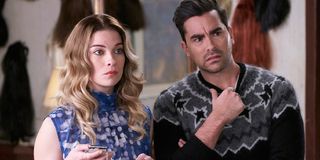 With six seasons, a finale, and plenty of hijinks along the way, Schitt's Creek has made its way into our hearts as one of the most iconic sitcoms out there, this is especially true of last year, when everyone seemed to be binge-watching the Rose family. Through hardships and heartbreaks, the Roses somehow got through their tough times, but not without some ridiculousness along the way.
One of the key dynamics of the series belonged to Alexis and David, Moira and Johnny's spoiled adult children. From the very moment they stepped on screen, their chemistry shined and they made fans laugh their pants off throughout every season. These are some of the best moments between Alexis and David Rose.
When They Fought Over The Motel Beds
This was one of the first moments in Schitt's Creek that made me love their relationship. They had just arrived at the motel in Schitt's Creek and were fighting over which bed to take, because whichever one was closest to the door would end up getting murdered first. Watching them fight over their stuff on each side of their beds was hysterical.
When They Both Dragged Each Others Boyfriends
Later on in Schitt's Creek, David began dating Patrick seriously while Alexis was with Ted, two relationships that neither thought would last, considering Alexis and David tended to go pretty quickly from short romance to short romance. But, for a time, they both had boyfriends.
Of course, even with them being happy, they were still making fun of each other. When Alexis comments that a life of stability was never one for David, he makes the comment, "You're dating a vet who irons his polo shirts," making fun of her own move into romantic stability. It was all in good fun, though.
When David Gave Alexis A Much-Needed Pep Talk
In Season 6, towards the end of Schitt's Creek, when Alexis was having a bad day – wearing sweatpants, binge-eating yogurt, and crying over a dead potted plant that Ted had given her – David decides to give her a much-needed pep talk, saying, "Look, I never thought I'd have to say this, but there is only space in this family for one unstable sibling, and I have held that title for a very long time, so you are going to have to get it together."
Even though these two do fight and have bad days, David and Alexis genuinely care about each other and want their sibling to be happy and not lose themselves – even if they say it in a funny way.
When David Revealed He Really Does Care For His Sister
Back in Season 3 of Schitt's Creek, when Alexis took David to get his driver's license, there was a roller coaster of emotions that came as the two worked through some issues.
David revealed that while Alexis was off gallivanting around the world with guy after guy, he was at home worried about her, and said that he's not the killjoy she believes him to be. He's just a brother who was worried about his sister, and it brings a smile to her face. Most certainly a turning point in their relationship.
When Alexis Caught David Red-Handed
I mean, if you have a sibling, everyone has experienced this at one point. At one point on Schitt's Creek, all Alexis wanted was some yogurt after her workout, only to find that it was gone. She turns around and catches David right there, openly standing there while eating her yogurt as if he hadn't committed the worst sin of all.
As someone who grew up with an older brother, I can relate on several levels, and this only shows the realness of their relationship.
When Alexis First Said "Ew, David."
One of the most iconic lines from Schitt's Creek is said by Alexis, often following the word 'Ew,' and ending in 'David,' because she finds many of the things her brother does to be a bit out there and gross in her eyes. But, the first time she ever said it, in the Season 1 episode "Allez-Vous," it was right after a party, and David had zeroed in on a product that was promoted during said event. He says, "Alexis, you'd like this product. It's all about aging and dried skin." Of course, Alexis responds with "Ew, David!"
But, at the same time, the way in which she delivers the line feels so lifelike and how someone would actually respond to their brother. Often just hearing her say 'David!' brings a smile to my face.
When David Learns How To Ride A Bike
In Season 2 of Schitt's Creek, David reveals that he never learned how to ride a bike, so Alexis decides to teach him. The moment is hilarious, filled with commentary from both Moira and Johnny on how they expect him to hurt himself, only for David to be triumphant in the end and actually ride the bike, albeit a little clumsily.
It might have been small at first, but it was a sweet moment that showed Alexis wanted to help her brother, even if the task was as small as helping him learn how to ride a bike.
When David Was The Biggest Ted/Alexis Shipper Out Of All Of Us
In Schitt's Creek, we all knew that Ted was most certainly the best option for Alexis, but after multiple mistakes in the past, Ted was reluctant to give her another chance. In the Season 4 finale, "Singles Week," David was actually the one who stood up for his sister, and told Ted that Alexis had changed.
He could have just turned away and ran because he doesn't like confrontation, but David didn't, and he and Ted become closer because of it. He's most one of the best matchmakers out there and shows his sibling love in that moment.
When Alexis Unknowingly Wore A White Dress To David's Wedding
Well, maybe "unknowingly" isn't the right word. She insisted, on the Schitt's Creek series finale, that it was just a "long, white gown" but we all know what that sounds like when going to a wedding. With David and Alexis' relationship and the love-hate they have going on, it really is hilariously on-brand for her to do something like this. David was horrified, of course, but in his own David way.
It's good she opted out of the veil though – oh wait, headdress, I mean. It most certainly would have caused some hands to fly at this wedding.
When Alexis Walked David Down The Aisle At His Wedding
Now, this makes up for wearing the white dress! Keep in mind that David had caused some drama earlier in the season by asking Stevie to be his maid of honor rather than Alexis, but he surprises her at the last minute by asking his sister to walk him down the aisle – a vision of closeness we never would have witnessed before from David and Alexis at the beginning of Schitt's Creek.
As part of the series finale, it really wraps up exactly what kind of relationship they have. Even through all the bickering and biting comments, David still loves his sister and Alexis loves him in return – even if she did walk down the aisle in a wedding gown. It's the perfect ending to their relationship.
If you haven't watched Schitt's Creek, I suggest you go on Netflix as soon as possible and stream it. You won't regret it. Besides, we can all use a little bit of David and Alexis in our lives.
Big nerd and lover of Game of Thrones/A Song of Ice and Fire. Will forever hate season eight. Superhero and horror geek. And please don't debate me on The Last of Us 2, it was amazing!
Your Daily Blend of Entertainment News
Thank you for signing up to CinemaBlend. You will receive a verification email shortly.
There was a problem. Please refresh the page and try again.