Dave Chappelle Talks How A Hollywood Social Climber Totally Used Him To Meet Denzel Washington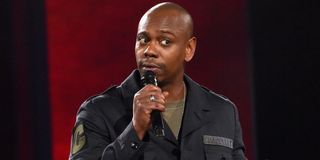 Comedian and actor Dave Chappelle has seen and been through a lot in the entertainment industry. From his stand-up career to his iconic sketch series Chappelle's Show to his resurgence with Netflix and all the forgotten TV and movie appearances he's made, Chappelle has seen it all. The comedy legend has a seemingly infinite amount of stories he could tell, like how he could have been in Clueless, among many others. And just recently, Chappelle shared a story about how a Hollywood social climber totally used him to meet Denzel Washington.
Chappelle told the story of his first time meeting Denzel Washington during his appearance on The Joe Rogan Podcast. Rogan and Chappelle, who have a long history together, went back and forth about some of the perks of fame, like being able to skip the lines at clubs and how regular people respond to that type of fame. They then go on about people trying to latch on and use their approximation to famous people to their advantage. Chappelle tells a story of exactly that, recalling being used by someone trying to get close to Denzel Washington, saying:
Dave Chappelle tells Joe Rogan a guy came up to him asking if he would like to meet Washington. Chappelle, like anyone in his position, jumped at the opportunity. Who wouldn't want to meet Denzel Washington if they had the chance, right? The guy introduces Chappelle to Denzel and then proceeds to introduce himself to Denzel, and Chappelle realized he was just being used so this random guy could get close to the Malcolm X and Training Day star.
Joe Rogan went on to admit there's a real craft to the social climbers in Los Angeles, as they are truly skillful at what they do. Dave Chappelle said he thinks people like that are the reason why he initially moved to Ohio from L.A, to get away from all the people itching for a piece of him.
At present, Dave Chappelle seems to be enjoying his partnership with Netflix, even despite the controversy of his show being available and then removed from the service last year. Chappelle's appearances on SNL have been appointment viewing, and fans are still holding out hope for a new Chappelle Show series on Netflix. Luckily, fans get to occasionally hear hilarious stories like this Denzel Washington tale while they wait on the comedian's next big project.
Movie and TV obsessive. A good Heist movie is the way to my heart. Enjoyer of everything from Marvel Movies to Rom-coms.
Your Daily Blend of Entertainment News
Thank you for signing up to CinemaBlend. You will receive a verification email shortly.
There was a problem. Please refresh the page and try again.