Venom 2: Is Another Badass Symbiote Being Introduced In Let There Be Carnage?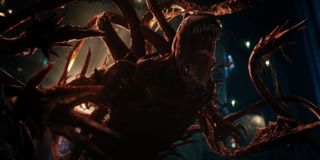 Ever since Woody Harrelson cameoed in the Venom mid-credits scene as Cletus Kasady, we've been waiting for the serial killer to transform into Carnage. That will finally happen this fall, with the aptly-named Venom: Let There Be Carnage seeing Cletus fighting Tom Hardy's Eddie Brock. But with so many symbiotes that have been introduced in Marvel lore over the years, naturally fans are wondering if any other symbiotes could appear in Let There Be Carnage, and the chances of this happen have quite possibly increased significantly now that we know who The Irishman star Stephen Graham is playing in the movie.
Stephen Graham (whose resume also includes two Pirates of the Caribbean movies, Hellboy, Boardwalk Empire and Taboo) was announced to be boarding what was once simply Venom 2 back in December 2019, although no details were provided on how he fit into the sequel. That mystery was finally solved yesterday, as while he was breaking down the first Venom: Let There Be Carnage trailer with IGN, director Andy Serkis revealed that Graham is playing Detective Patrick Mulligan, the detective who's investigating Cletus Kasady and is "waiting for news" from Eddie Brock about where the remains of Kasady's victims are located. If Mulligan's name doesn't ring a bell, maybe this one will: Toxin.
In the main Marvel Comics universe, Toxin is the offspring of Carnage, who felt nothing but disdain for his "son" and resolved to kill him right as he was born. Venom, Carnage's own "father," was determined to protect Toxin, but once the new symbiote was born, Carnage bonded him to Detective Patrick Mulligan, who was struggling in both his professional and personal lives. Carnage thought that by bonding Toxin with a host after he was born, it would be a piece of cake killing the newborn. Luckily, Venom swooped in to save his "grandson" from being murdered, and eventually Toxin matured enough to manifest itself as a "costume" around Mulligan.
Carnage tried to kill Toxin a few more times, but he managed to survive thanks to forming a temporary truce with Venom and later being aided by Spider-Man. It was also clear that Patrick Mulligan had a strong moral compass, and Spidey inspired him to fight off the Toxin symbiote's more monstrous urges and use his new powers to help others. Mulligan subsequently left his old life so he could properly handle being bonded with Toxin, and eventually he and the symbiote came to an understanding as they battled villains. However, Mulligan was later murdered by Ghost Rider adversary Blackheart, and after bonding with Eddie Brock during a time when he was no longer Venom, Toxin is now joined with a teenager named Bren Walters.
Now that you're caught up to speed on Patrick Mulligan and Toxin's backstory from the comics, what does all this mean for Venom: Let There Be Carnage? Well, first off, it needs to be noted that as of right now, it hasn't been confirmed that the Toxin symbiote will appear in the sequel. Quite frankly, with Carnage being heavily featured, maybe including Toxin would feel like overkill to the filmmakers. On the other hand, Toxin being thrown into the mix could make for a cool third act twist, even if it would be a little weird for Carnage to give birth so soon after being born himself.
It's also possible that even if the Toxin symbiote isn't in Venom: Let There Be Carnage, that doesn't mean we won't see Patrick Mulligan empowered by a symbiote. There's a quick moment in the trailer, as seen below, where the Venom symbiote is hopping from a host who's definitely not Eddie Brock over to Mulligan. Perhaps like what happened with Anne Weying in the first Venom movie, circumstances arise where the Venom symbiote needs to bond with another individual temporarily in an effort to reunite with Eddie Brock.
Unfortunately, I fear that Venom: Let There Be Carnage might be the only shot we have at seeing Patrick Mulligan getting to symbiote it up one way or another. Since he's the detective on the Cletus Kasady case, it's easy enough to imagine Kasady targeting Mulligan once he becomes Carnage. Maybe Venom manages to save Mulligan at the last minute, and his transformation into Toxin will be saved for Venom 3. But on Let There Be Carnage's list of potential casualties, the odds of Mulligan biting the dust seem fairly strong, at least for now.
We'll learn what's in store for Patrick Mulligan when Venom: Let There Be Carnage opens in theaters on September 24. You're welcome to browse through our upcoming 2021 movies schedule to learn what other highly anticipated feature films will arrive later in the year.
Your Daily Blend of Entertainment News
Connoisseur of Marvel, DC, Star Wars, John Wick, MonsterVerse and Doctor Who lore. He's aware he looks like Harry Potter and Clark Kent.