Those Who Wish Me Dead Reviews Have Arrived, Here's What Critics Are Saying About The Angelina Jolie Movie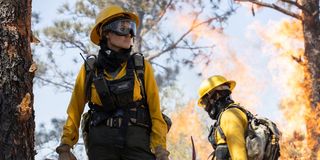 Angelina Jolie's latest film is almost here. She stars in Those Who Wish Me Dead, an action thriller directed by Taylor Sheridan, who also co-wrote the screenplay along with Michael Koryta and Charles Leavitt. The movie also features Finn Little, Aidan Gillen, Tyler Perry, and Nicholas Hoult, and is based on Koryta's novel of the same name.
In Those Who Wish Me Dead, a teenager who witnessed a murder finds himself pursued by assassins in the Montana wilderness with a survival expert tasked with protecting him – and a forest fire threatening to consume them all. The Jolie-led thriller will be released in theaters this Friday, May 14, and simultaneously on HBO Max for 30 days. Critics have started releasing their reviews of the film, so let's check out what they have to say.
CinemaBlend's own Sean O'Connell rated Those Who Wish Me Dead 2 out of 5 stars. He expected a lot from Sheridan's latest blockbuster, as Sheridan has made a name for himself after numerous standout films like Sicario, Hell or High Water (both of which he served as a screenwriter) and Wind River (which he directed). But O'Connell argues that this thriller is not so thrilling, criticizing many aspects as totally unbelievable, from Jolie's too-pristine appearance to the CGI flames. He continued, saying:
Ann Hornaday of The Washington Post was also relatively disappointed with the movie, rating it 1 out of 4 stars. Though she does commend Angelina Jolie for her commitment to her role, she compares Those Who Wish Me Dead to other features, particularly focusing on Taylor Sheridan's filmography. Hornaday argues that the supporting cast is underutilized and that the actual disasters in this disaster flick are too cliche. Overall, she said:
Chris Evangelista of SlashFilm enjoyed the thriller a bit more, noting that its simplicity was somewhat refreshing. However, he calls out the film for being a bit too predictable, and criticizes it for eventually becoming so simple that it's pointless. Evangelista says of Those Who Wish Me Dead:
Leah Greenblatt of Entertainment Weekly thought the action film was a bit too reminiscent of others in the genre, and criticized several "silly" choices by Taylor Sheridan, from Angeolina Jolie's hair, to the music, to the fascination with wildfire. Overall, Greenblatt called Those Who Wish Me Dead a misfire, saying:
Richard Lawson of Vanity Fair commends Angelina Jolie's commitment and determination to her character, though he points out that this is weirdly a smaller role for such a huge star. Nonetheless, he applauds her ability to truly dive in to her performance. He does, however, offer some criticism of the film, like how the plot hurries along too quickly and seems to be missing an act in the middle. Lawson said:
It would seem that critics overall have somewhat middling to negative opinions of Those Who Wish Me Dead. But will audiences feel the same way? We'll soon find out when the film releases in select theaters on May 14 and correspondingly on HBO Max for 30 days.
If you're wondering what other movies are coming out on HBO Max this year, check out our release guide.
Your Daily Blend of Entertainment News