Dwayne Johnson Offers New Jungle Cruise Clips While Responding To The Movie's Release On Disney+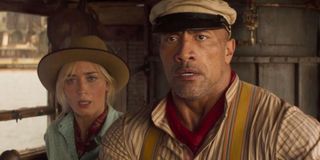 The amount of upcoming movies Dwayne Johnson has on his schedule is ridiculous. He is finally entering the DC Universe with Black Adam, which promises to be different than other superhero films, and he is always linked to the Fast and Furious franchise. Before those two projects though, The Rock's Jungle Cruise is finally coming out this year, and Disney is preparing for a big hit, even giving the Disneyland ride a big makeover in anticipation of the new movie. Now, Johnson has offered new Jungle Cruise clips while responding to the movie's release on Disney+.
It has been announced that Jungle Cruise will be released this summer to Disney+ in addition to its theatrical debut. Movies have been in flux during the global pandemic, but normalcy seems to be on the horizon, and releasing a highly anticipated film like Jungle Cruise to a streaming service and theaters has been a standard move for studios during an abnormal time. Dwayne Johnson took to Instagram to share the announcement and some clips from the upcoming film:
In the video, Dwayne Johnson lays out plans for the film quite clearly. Things may not have panned out the way he would've imagined but, based on his comments, he's just ready for the world to see the highly anticipated Disney film:
Needless to say, Dwayne Johnson is excited for the release of Jungle Cruise on July 30th and is happy that it is releasing in both theaters and Disney+, which will allow many more people to watch around the world while also giving people the chance to go out to a theater as the pandemic slows down. Like many of us, Johnson is ready to go back to theaters and is glad that we are slowly turning the corner in the pandemic as normalcy slowly returns.
After the announcement, Dwayne Johnson told a story about sneaking into a theater to see himself in The Scorpion King, one of his first starring roles and seeing the Pirates of the Caribbean trailer for the first time, hoping one day he could lead a movie based on an iconic Disneyland ride. The Rock also joked about how his performance in The Scorpion King meant he had a long way to go before he could make that dream come true.
But today, Dwayne Johnson is a man with many incredible movies, and he has to stay as fit as possible at all times. Fans can't wait for Jungle Cruise, a fun film for the whole family, and comic book fans are just as excited for Black Adam as the stars of the movie. The Rock isn't slowing down anytime soon, which means that as audiences slowly make their way back to theaters, they'll have plenty of movies waiting for them when they arrive.
Your Daily Blend of Entertainment News
Movie and TV obsessive. A good Heist movie is the way to my heart. Enjoyer of everything from Marvel Movies to Rom-coms.