Dwayne Johnson's Black Adam Co-Star Explains How The DC Film Differs From Other Superhero Movies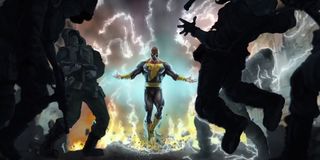 Dwayne Johnson is gearing up to enter the wide world of superheroes with Black Adam. A role years in the making, The Rock recently celebrated the first official day of production on Black Adam, a role he can't stop working out for. Now, his co-star, Quintessa Swindell, explains how the upcoming DC film differs from other superhero movies.
The unique nature of Dwayne Johnson's Black Adam as a character, being more of an anti-hero than a straight-up good or bad guy, has always differentiated the character from his peers in the comics. Quintessa Swindell remarked on how Black Adam has a level of creative freedom other superhero properties don't have, telling NME:
The team behind Black Adam uses the creative freedom Quintessa Swindell describes as a way to explore Dwayne Johnson's titular Black Adam in new and exciting ways. One of the ways in which the film will expand the DC Extended Universe is that it will introduce the Justice Society, giving the team its big-screen debut in the process. Building off the foundations of the character to elevate Black Adam to new levels seems to be a goal for the filmmakers and Johnson himself. Doing something different in the superhero genre is difficult but, if they can pull it off, it can make the titular character stand out in a saturated market.
In addition to Quintessa Swindell, Black Adam's cast is stacked and has added Pierce Brosnan as Dr. Fate and Aldis Hodge, who, like Dwayne Johnson, can't stop working out for his role as Hawkman. The anticipation and hype for Black Adam will continue to grow and now that production is finally underway, expect it to ramp up immensely throughout the year.
Meanwhile, Dwayne Johnson has a superhero competition with Aquaman himself, Jason Mamoa, whose amazing birthday gift to Johnson's daughter is the reason he isn't the number one hero superhero in his household yet. So Johnson has plenty of motivation to knock Black Adam out of the park and get one over on Aquaman.
Based on what we've heard about the film thus far, all signs point to a unique take on the DC comic book character that will cement Black Adam's place in the superhero movie pantheon. We'll see how things pan out when the film hits theaters on July 29, 2022.
Your Daily Blend of Entertainment News
Movie and TV obsessive. A good Heist movie is the way to my heart. Enjoyer of everything from Marvel Movies to Rom-coms.