Fast And Furious Video Shows The Badass Women Of F9 Including Cardi B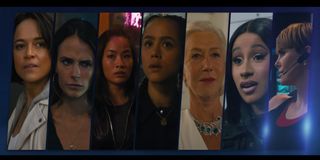 The Fast and the Furious hasn't shied away from getting women behind the wheel. Hit up Michelle Rodriguez's Wikipedia page and you'll find a lengthy list of the various cars her character Letty Ortiz has driven throughout the action series, similar to male lead Vin Diesel. And in the upcoming ninth installment in the iconic Fast & Furious franchise, aptly titled F9, women are taking the lead. A new video is hyping this up, including the debut of Cardi B.
A new promo video for F9 posted to Youtube shows just how badass the women of Fast & Furious can be. Check it out below:
Badass indeed. The footage shows multiple F9 actresses crashing cars, blowing things up, and generally wreaking havoc in true action movie fashion. The Fast franchise is known for its action, and clearly the women of the cast are getting in on the fun.. Let's break down what we're being shown here.
We see some familiar faces: Michelle Rodriguez returns as the aforementioned Letty Ortiz, as well as Jordana Brewster as Mia Toretto. Michelle Rodriguez is well-known in the stunt circuit, having also appeared in films like Resident Evil with fellow badass Milla Jovovich and Battle: Los Angeles with Aaron Eckhart.
Dame Helen Mirren and Charlize Theron are also reprising their roles as Magdalene Shaw (you may remember "Queenie" as the mother of Deckard Shaw, a.k.a Jason Statham) and cyberterrorist Cipher, respectively. The gang's all here, although filmmaker Justin Lin still made room for some new blood.
Charlize Theron is a seasoned action hero, with past roles including David Leitch's Atomic Blonde and Gina Prince-Blythewood's The Old Guard (which, seriously, deserves all the sequels). Meanwhile, despite her elegant persona, Helen Mirren isn't an action newbie: she's been in both RED movies alongside genre mainstay Bruce Willis.
As if this savage line-up of women wasn't already mind-blowing, we're getting a new character played by the one and only Cardi B. You know, the Grammy Award-winning rapper and songstress who consistently breaks the Internet. No big deal. Whether Cardi B will be jumping into the action fray herself is unclear, but hopefully we'll get a killer soundtrack.
Jordana Brewster said that the women of Fast & Furious are "unique," and the rest of the cast seems to agree. Michelle Rodriguez said:
In an often male-dominated genre, Michelle Rodriguez's words ring true. While she initially had to give the male writers a bit of a reality check when it came to female perspectives, it seems that her tradition has continued throughout the Fast & Furious films. Most female characters, while maybe sporting a bit of eyeliner, get just as down and dirty as their male counterparts.
What makes the women of F9 so different? In the same video, Oscar winning actress Charlize Theron explained:
After all, there's no room for holding back. I think Cardi B sums it up best:
F9 is scheduled to be released in theaters June 25. If you feel the need for speed before then, you can catch up on HBO Max and Amazon Prime.
Your Daily Blend of Entertainment News
Actor, singer, and occasional dancer. Likes: fashion, books, old buildings. Dislikes: cilantro, the NJ Turnpike, sneaker wedges.