Upcoming Vin Diesel Movies: What's Ahead For The Fast And Furious Star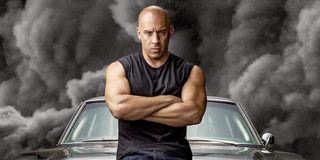 Since breaking out as a bonafide action star in 2001's The Fast and the Furious, Vin Diesel has remained one of the most successful and versatile action stars of his generation, and 2020 originally looked like it would be another landmark for the franchise star of XXX, The Chronicles of Riddick, and The Guardians of the Galaxy. But when when the COVID-19 pandemic brought a premature and abrupt end to Bloodshot's theatrical run and forced the ninth movie in the Fast and Furious series, F9, to be delayed by more than a year, Diesel's box office reign was was put on ice.
Fear not, because the tough guy with a heart of gold and a successful pop song isn't going to let a global public health crisis hold him down anymore than it should, and he looks to bounce back starting in 2021. And by the looks of it, Vin Diesel isn't going to slow down anytime soon. With more Fast and Furious movies, a role in the upcoming Avatar sequel, and a return to his biggest franchises, here's everything ahead for Vin Diesel.
F9 (Fast And Furious 9) - June 25, 2021
We were all originally supposed to see Vin Diesel's Dominic Toretto go head-to-head with his long-lost brother, Jakob, played by John Cena in F9 (also called Fast & Furious 9), but the film's May 22, 2020 release date was pushed back twice after the COVID-19 pandemic caused the widespread closure of theaters around the world. But honestly, as badass as this movie sounds, we shouldn't mind waiting until we can see this one on the biggest screen possible surrounded (in a safe manner) by other fans of the Fast & Furious franchise. In case you forgot what the movie is about, F9 will follow Dom and crew as he takes on Jakob, who is working with the crew's foil from the previous movie, Cipher, played once again by Cipher. But this time, it's personal.
By all accounts, production on F9 is over and done with, and director Justin Lin and the rest of the film's producers are just waiting until theaters are a little safer for everyone and people feel like venturing out to their local cinema once again. Original set to be released in May 2020, F9 became one of the first major pictures shifted after the COVID-19 pandemic began and was given an April 2, 2021 release, but that was later shifted several times before moving to June 25, 2021. It looks like we still have some waiting to do before we find out the identity of that mystery character…
Avatar 2 - December 16, 2022
For the longest time it looked like the world would never get to see James Cameron's Avatar sequels, but now it looks like we'll watching these movies for the rest of our natural born lives, this time with more Vin Diesel. Back in April 2019, Diesel, who is no stranger to successful big-budget action franchises, posted a video to his Instagram appearing alongside Cameron on the set of Avatar 2, 3, 4, and 5, some of which haven't even been officially announced. It still remains unclear how Diesel will fit into the upcoming Avatar 2, or if he'll actually be in the three subsequent sequels, but either way, but hopefully he's one of the Na'vi and teams up with his Guardians of the Galaxy co-star Zoe Saldana, who is returning as Neytiri from 2009's Avatar.
Avatar 2 is a project that has been in the works for quite some time, and by the time it is released on December 16, 2022, it will be 13 years since the fist movie in the franchise shattered nearly every box office record at the time. And judging by how badass some of the story elements and stunts performed on set sound, Avatar 2 will surely be worth the long wait and all of those extended delays and reshuffled release dates. And with the science-fiction sequel's release date more than two years away at this point, everything should hopefully be back to normal and we don't see even more delays.
Guardians Of The Galaxy Vol. 3 - TBD
The road to Guardians of the Galaxy Vol. 3 certainly has been rockier and more interesting that any other entry in the Marvel Cinematic Universe, considering the firing and subsequent rehiring of writer-director James Gunn, who is also working on a number of DC Comics projects, but it looks like we're finally one step closer to seeing how the gang navigates life in a post-Endgame galaxy. That being said, we still have some major questions about the upcoming third installment in the comedy-action series, like if Thor will be involved, how the Gamora situation will be handled, and what Vin Diesel meant by his "Alpha Groot" comments.
And although production has yet to begin on Guardians of the Galaxy Vol. 3, James Gunn did provide a quick update in November 2020 stating that he had finished the script and hired production heads. However, it still remains unclear as to when shooting will actually begin, especially when you consider Gunn's ongoing involvement with The Suicide Squad and Peacemaker HBO Max series starring John Cena. Vin Diesel has previously suggested that the Guardians of the Galaxy will be involved with Thor: Love and Thunder in some capacity, and if that ends up being true, we can probably expect to see Guardians of the Galaxy Vol. 3 at some point after that film's 2022 release.
Fast & Furious 10, 11 - TBD
Vin Diesel has long said there would be at least ten Fast & Furious movies, and while it's still unknown if the tenth installment in the high-octane franchise will be split into two parts, we do know that Fast & Furious 10, or whatever the name ends of being (I nominate "FasTEN Furious" as the title), is in fact happening, as well as an eleventh movie following Dom Toretto and crew around the world and beyond. According to Deadline, Justin Lin, who has directed a total of five Fast & Furious movies including the upcoming F9, will once again step into the director's chair for the tenth and eleventh movies, but when those movies come out and what they're about remain to be seen.
We are still months out from the release of F9, so don't expect to hear anything about Fast & Furious 10 or its sequel until at least sometime after the events of next summer's thrill ride. Whatever Vin Diesel, Justin Lin, and the rest of the creative team behind the successful franchise have in store for audiences will certainly be ridiculous and awesome.
Bloodshot 2 - TBD
Vin Diesel's March 2020 R-rated comic book adaptation Bloodshot didn't really get a chance to spread its wings before its theatrical run was cut short at the start of the COVID-19 pandemic, but the action-packed tale of a former marine revived with superpowers looks like it will be getting a sequel at some point in the future. In a conversation with Comic Book Resource in November 2020, Dan Mintz, DMG Entertainment's (Valiant Comics' parent company) Creative Head revealed that the film ended up being a success because of its VOD run after theaters closed their doors. Mintz was so impressed with the film's success, he plans on continuing with his original plans of making this a franchise.
With the way Bloodshot ended, not to mention to series of comics on which it is based, there's plenty are plenty of directions the movie could take. Be on the lookout for more on Bloodshot 2 in the near future.
Riddick 4: Furya - TBD
Vin Diesel has been a part of The Chronicles of Riddick longer than any of his other franchises at this point, appearing in three movies starting 2000's Pitch Black. There have been two sequels — 2004's The Chronicles of Riddick and 2013's Riddick — released since then to varying levels of success, but now it appears Diesel will be returning for a fourth go at the badass mercenary with surgically altered eyes. The project was most recently teased by Vin Diesel in a May 2020 Instagram post (via Digital Spy) in which he wrote that the latest script was to come in the following week. The movie, which has a working title of Riddick 4: Furya, has been on Diesel's radar for some time now, but there still isn't any word on when the shooting will commence or what the story is even about.
XXX 4 - TBD
It has been 18 years since Vin Diesel first introduced the world to Xander Cage and his ridiculous and hard-to-believe feats in 2002's xXx. And while he didn't return for the 2005 Ice Cube-led sequel, XXX: State of the Union, the legendary action icon did bring Xander back from the dead for 2017's XXX: Return of Xander Cage. And it looked like Diesel would be returning for a fourth installment shortly after the third was released, but an ongoing lawsuit tied to the financing of the franchise has made things a little more complicated recently. And depending on how the suit plays out, it looks like we'll have to wait some time before we enter the Xander Zone once more.
That about catches us up with all things Vin Diesel and his many upcoming projects. Let's just hope that the XXX 4 lawsuit is wrapped up sooner rather than later so we can see Xander drink Sobe, wear fur coats, and make things explode all over again.
Philip grew up in Louisiana (not New Orleans) before moving to St. Louis after graduating from Louisiana State University-Shreveport. When he's not writing about movies or television, Philip can be found being chased by his three kids, telling his dogs to stop yelling at the mailman, or yelling about professional wrestling to his wife. If the stars properly align, he will talk about For Love Of The Game being the best baseball movie of all time.
Your Daily Blend of Entertainment News
Thank you for signing up to CinemaBlend. You will receive a verification email shortly.
There was a problem. Please refresh the page and try again.