Upcoming Vin Diesel Movies: What's Ahead For The Fast And Furious Star
The Fast and Furious Marvel Star Has Quite A Road Ahead Of Him.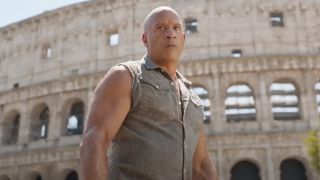 (Image credit: Universal Pictures)
Since breaking out as a bonafide action star in 2001's The Fast and the Furious, Vin Diesel has remained one of the most successful and versatile action stars of his generation, playing all kinds of badass characters like Dom Toretto, Xander Cage, Richard B. Riddick, and the different versions of one of the best characters in the Marvel Cinematic Universe, Groot.
In the coming weeks, months, and years, Diesel will revisit each of those roles in one form or another, as well as some other exciting projects featuring new characters. With the upcoming releases of movies like Guardians of the Galaxy Vol. 3 and the highly anticipated Fast X, we're going to be seeing a lot of the action star in the near future. Here are all of Vin Diesel's upcoming film and TV projects.
Guardians Of The Galaxy Vol. 3 - May 5, 2023
All good things have to come to an end at some point, and it appears that's now the case for James Gunn's Guardians of the Galaxy franchise, which will conclude its nearly 10-year journey with a third and final installment this spring. The long-awaited Guardians of the Galaxy Vol. 3, which was originally supposed to come out years ago, will surely be a defining moment for its fan-favorite characters, and the Marvel Cinematic Universe as a whole.
Still reeling from the effects of Thanos' snap in Avengers: Infinity War, the team led by Peter Quill (Chris Pratt) will embark on what could be their most dangerous mission yet when they confront the sociopathic scientist known as The High Evolutionary (Chukwudi Iwuji). As seen in the multiple trailers released so far, which include some incredible shots of the new and improved "Alpha Groot" (Vin Diesel), we'll experience a thrilling and emotional journey when Guardians of the Galaxy Vol. 3 premieres May 5th.
Fast X - May 19, 2023
It seems like it was just yesterday that Dom Toretto (Vin Diesel) was showing Brian O'Conner (Paul Walker) the ropes and the way of the road in 2001's The Fast and the Furious, but here we are, staring at what could be the final quarter-mile of the popular franchise. Over the years, the Toretto family has gone on its fair share of white-knuckle adventures, facing off with formidable enemies all over the world.
The franchise's penultimate installment will follow a similar path, this time facing off against Dante Reyes (Jason Momoa), the charismatic, vengeful, and connected son of Fast Five villain, Hernan Reyes (Joaquim de Almedia), who is coming at the Toretto gang with everything he has. We'll find out what it's store for the central family, and the franchise as a whole, when Fast X opens May 19th.
Ark: The Animated Series - 2023
Vin Diesel has a long history in the video game universe, whether it's the multiple games based off his biggest film franchises or original titles featuring the action star. Well, at some point in the near future, Diesel, along with a massive list of other A-list talent, will appear on Ark: The Animated Series, a long-awaited project based on the 2017 video game, Ark: Survival Evolved. As reported by Deadline back in 2020, the series will explore the story of Helena Walker, a paleontologist who awakens in a mysterious location that is teeming with dinosaurs and other massive creatures.
According to the show's official trailer, Ark: The Animated Series will be released at some point in 2023, though a platform has yet to be announced. Be on the lookout for this project that also stars Academy Award winner Michelle Yeoh, Elliot Page, Jeffrey Wright, and many others.
Fast And Furious 11 - TBD
Not a lot is known about Fast and Furious 11 (including its official title), but what we do know is that the 11th main installment in the franchise will also be its last and that it will pick up after the events of the soon-to-be-released Fast X. When speaking with Empire Magazine (via MovieWeb) in 2023, director Louis Leterrier, who stepped in after Fast X director Justin Lin left the franchise, revealed that the 11th installment will be "gigantic, in terms of action, scope, and emotion," adding that "tears will roll."
There is no word on when Fast and Furious 11 will enter production, or when it will be released, but be on the lookout following the premiere of Fast X this May.
Bloodshot 2 - TBD
Vin Diesel's March 2020 R-rated comic book adaptation, Bloodshot, didn't really get a chance to spread its wings before its theatrical run was cut short at the start of the COVID-19 pandemic, but the action-packed tale of a former Marine revived with superpowers looks like it will be getting a sequel at some point in the future. In a conversation with Comic Book Resource in November 2020, Dan Mintz, DMG Entertainment's (Valiant Comics' parent company) Creative Head, revealed that the film ended up being a success because of its VOD run after theaters closed their doors. Mintz was so impressed with the film's success, he plans on continuing with his original plans of making this a franchise.
With the way Bloodshot ended, not to mention the series of comics on which it is based, there are plenty of directions the movie could take. Be on the lookout for more on Bloodshot 2 in the near future.
Riddick: Furya - TBD
Vin Diesel has been a part of The Chronicles of Riddick longer than any of his other franchises at this point, appearing in three movies starting 2000's Pitch Black. There have been two sequels — 2004's The Chronicles of Riddick and 2013's Riddick — released since then to varying levels of success, but now it appears Diesel will be returning for a fourth go at the badass mercenary with surgically altered eyes.
The upcoming Riddick: Furya has been teased by Diesel multiple times over the years, including a May 2020 Instagram post in which he wrote that the latest script was in the works. But the movie was made official in February 2023, when Diesel revealed that he and longtime writer/director David Twohy were officially working on the project, announcing that the movie will center on Richard B. Riddick as he discovers other Furyans taking on a new enemy that could wipe out their very existence.
XXX 4 - TBD
It has been 21 years since the star first introduced the world to Xander Cage and his ridiculous and hard-to-believe feats in 2002's xXx. And, while he didn't return for the 2005 Ice Cube-led sequel, XXX: State of the Union, the legendary action icon did bring Xander back from the dead for 2017's XXX: Return of Xander Cage. It looked like Diesel would be returning for a fourth installment shortly after the third was released, but an ongoing lawsuit tied to the financing of the franchise has made things a little more complicated in recent years. Depending on how the suit plays out, it looks like we'll have to wait some time before we enter the Xander Zone once more.
Muscle - TBD
At some point in the near future, the actor will re-team with The Fate of the Furious director F. Gary Gray for an action-comedy called Muscle. As revealed by Deadline back in June 2021, the movie from the Friday, Straight Outta Compton, and The Italian Job director will see Diesel's yet-to-be-named fugitive character go on the run with a wanted man in what sounds like a high-octane buddy action-comedy.
Though the movie's rights were picked up by German distributor Leonine shortly after the project was announced, and it was slated to enter production in late 2021, there hasn't been any word on the status of Muscle since.
That about catches us up with all things Vin Diesel and his many upcoming projects. He has a lot on his plate the next couple of years, but with someone like him, expect even more movies and shows to be added to his plans. While we wait for updates on some of his more mysterious projects, take a look at the 2023 movie schedule to check out the dates for all the big movies coming to theaters later this year.
Your Daily Blend of Entertainment News
Philip grew up in Louisiana (not New Orleans) before moving to St. Louis after graduating from Louisiana State University-Shreveport. When he's not writing about movies or television, Philip can be found being chased by his three kids, telling his dogs to stop barking at the mailman, or yelling about professional wrestling to his wife. If the stars properly align, he will talk about For Love Of The Game being the best baseball movie of all time.