Take Out Girl Star On Why The Film Is Important For the Asian American Community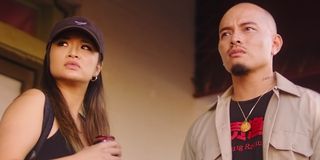 People around the world are currently celebrating Asian American and Pacific Islander Heritage Month. Streaming platforms like Netflix and Hulu have curated movie and TV selections to highlight the AAPI community right on their homepages. Take Out Girl should be on the list for anyone looking to celebrate and/or experience the culture, and the star of the film has explained why it's particularly important.
Drama/thriller Take Out Girl, the latest from Hisonni Johnson, follows Tera (Hedy Wong), a 20-year-old Asian girl who parlays her Chinese food delivery expertise into a profitable drug hustle to give her family a chance at a better life and save her family's failing restaurant. I spoke with Hedy Wong for an interview with CinemaBlend, and she shared the following about why she feels the film is important for the Asian American community:
Take Out Girl is a passion project for Hedy Wong as she not only stars in the film but also co-wrote it with director Hisonni Johnson. The story of Take Out Girl is at its core about a child's love for their mother. Wong's character Tera is motivated by a need to provide more help to her family's restaurant, pay her mother's medical bills, and ultimately allow her mother to stop working and live comfortably. She resorts to desperate measures that will have viewers questioning just how far they would go if presented with the same circumstances.
Just as no two humans are not the same, no two belonging to the same group will have the same experience. Cognizant of this, Hedy Wong wanted to make sure Take Out Girl represented her personal experience. Here's what she shared about the specific characters that appear in the film:
The character Hedy Wong mentioned, Saren, is the brother of Wong's character Tera and is played by Lorin Alond Ly. Saren is tough, rough around the edges, but driven by the same motives as his sister when it comes to their mother. Throughout the film it's interesting to see the decisions the siblings make and how their choices overlap in some ways despite their vastly different personalities.
1091 Pictures will release Take Out Girl on VOD and Digital May 18. The official trailer will have you on the edge of your seat. Check out our watchlist to continue celebrating AAPI history, heritage and culture.
Your Daily Blend of Entertainment News
Obsessed with Hamilton and most things Disney. Gets too attached to TV show characters. Loves a good thriller, but will only tolerate so much blood.