Why Tig Notaro Replaced Chris D'Elia In Army Of The Dead, And How They Did It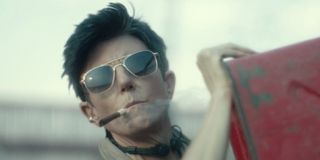 Zack Snyder's second zombie movie, Army of the Dead, is generating a considerable amount of buzz for a myriad of reasons including but not limited to its amazing opening title sequence, its dreamlike visuals, and all that bloody and gory action we've come to expect from the genre and visionary director. One of the biggest stories surrounding the Netflix zombie-heist film is the performance by Tig Notaro in Army of the Dead who was added in a little more than a year after he co-stars, and the actor she replaced, had started and completed their work on set.
Below is a complete breakdown of why Tig Notaro was added to the Army of the Dead cast, replacing Chris D'Elia, and how director Zack Snyder and the rest of his team went about completing the groundbreaking reshoots in the middle of a global health crisis. There's more to unpack here than in the Army of the Dead ending, so let's get started.
Chris D'Elia Was Accused Of Sexual Misconduct In June 2020 And Removed From Army Of The Dead
After spending more than a decade trying to get Army of the Dead off the ground, it looked like Zack Snyder was in the final stretch of completing his sprawling zombie epic in the summer of 2020. Production on the Netflix action-thriller, which largely took place in Atlantic City and New Mexico, had been wrapped for close to a year and the filmmaker was well into the post-production process when the unthinkable happened: Chris D'Elia, one of the main characters in the movie, was facing serious sexual misconduct accusations.
The decision to replace Chris D'Elia following the June 2020 accusations was "pretty instantaneous" said Zack Snyder while speaking with Uproxx in 2021 in an interview in which he talked about the process. Not long after, the decision was made to replace D'Elia, which would be no easy task considering all of his scenes had already been filmed and included in a working cut of the movie.
Zack Snyder Sent Tig Notaro A Near-Complete Cut Of Army Of The Dead To Consider The Role
By the time Zack Snyder got around to offering the role to Tig Notaro, a near-complete cut of Army of the Dead was already made with only editing, CG effects, and sound needing to be touched up, per a Vulture story on the making of the film. Instead of storyboards, basic outlines, and other information about the movie, Snyder sent the future Army of the Dead star a copy of a screener (which still included Chris D'Elia's performance) along with notes laying out the directors plan of attack.
Tig Notaro was admittedly shocked when she received the offer to appear in Army of the Dead, especially considering she's not exactly known for action movies, as she noted both in the Vulture piece and during an interview with Zack Snyder on her Don't Ask Tig podcast.
Netflix Spent At Least 'A Few Million' Swapping In Tig Notaro For Chris D'Elia
Shortly after Tig Notaro agreed to come on and Netflix announced her casting in August 2020, Zack Snyder and a small crew got started on what would prove to be no easy task: digitally adding in the comedian and making it appear as if she was appearing alongside her co-stars.
In a May 2021 interview with Vanity Fair, Snyder said Netflix spent "a few million" on the round of reshoots and the hours of digital work that would be required, though his wife and co-producer Deborah Snyder compared the reshoots' cost to the budget of the upcoming Army of the Dead prequel Army of Thieves. Deborah Snyder also said Netflix did the right thing and "put their money where their mouth is" in regards to devoting resources to making this work.
To Ensure Everything Lined Up, Tig Notaro Had To Stick To A Strict Script
Since Tig Notaro's performance was being added to a nearly finished film, the comedian had to stick to a very strict script during the September 2020 reshoots, especially when her character was supposed to be speaking to her on-screen teammates, as noted in the Vulture piece on how it all come about. In order to ensure the back-and-forth with someone like Dave Bautista's Scott Ward, Notaro had to avoid ad-libbing and any deviations from the written material.
The tedious work wasn't restricted to dialogue as Tig Notaro had to look at old footage on monitors, use greened-out props, tennis balls, and even laser pointers to make sure sight-lines matched up whenever her character was on screen.
Filming Tig Notaro's Army of the Dead Scenes Was Further Complicated By The COVID-19 Pandemic
When it came time to film Tig Notaro's reshoots in Army of the Dead in September 2020, the entertainment industry was still largely shut down and the sets that were open were taking a very conservative approach in terms of safety. This meant only key people could be on set each day, which consisted of large greenscreens and the aforementioned props. Speaking with The Hollywood Reporter in 2021, producer Deborah Snyder recalled the following when asked about the project:
Aside from a half-day shoot with co-star Ana de la Reguera, Tig Notaro was acting on her own each and every day of the two-week shoot.
To Make It Appear Like Tig Notaro Was With He Co-Stars, A CG Scan Was Added To Group Shots
During the September 2020 reshoot, the Army of the Dead visual effects team created a computer-generated scan of Tig Notaro's body that they could then use to insert into the various group shots that make up a fair chunk of screen time at the start of the ambitious heist at a Las Vegas casino. When speaking with Vulture, Zack Snyder revealed these group shots were actually some of the trickiest to get down due to Notaro having a different perspective as the rest of the cast. This process of making everything match up took months to make it seamless before the film's May 2021 release.
Tig Notaro And Dave Bautista Still Haven't Met Each Other Despite Sharing Multiple Scenes In Army Of The Dead
Tig Notaro and Dave Bautista's characters share more than their fair share of scenes together in Army of the Dead, but even after all this time (or at least May 2021), they still have yet to meet. This is something that both stars addressed in the lead-up to the film's release. During an interview with Vulture in May 2021, Bautista explained that while the movie doesn't miss a beat he's still bothered by the fact he hasn't yet got to meet his co-star and tell her how amazing she is in it.
When appearing on The Late Show with Stephen Colbert just days before the release of Army of the Dead, Tig Notaro said she has never met Dave Bautista and only worked with of her co-stars before stating the next time she makes a movie she wants to be on set with people.
While watching Army of the Dead streaming, I completely forgot Tig Notaro was added in after the fact and completely forgot about the whole saga of her late addition, which says a lot about her performance and the way Zack Snyder and his effects team handled it all in one of the most exciting 2021 movies so far.
This poll is no longer available.
Your Daily Blend of Entertainment News
Philip grew up in Louisiana (not New Orleans) before moving to St. Louis after graduating from Louisiana State University-Shreveport. When he's not writing about movies or television, Philip can be found being chased by his three kids, telling his dogs to stop yelling at the mailman, or yelling about professional wrestling to his wife. If the stars properly align, he will talk about For Love Of The Game being the best baseball movie of all time.
Your Daily Blend of Entertainment News
Thank you for signing up to CinemaBlend. You will receive a verification email shortly.
There was a problem. Please refresh the page and try again.