Army Of The Dead Cast: Where You've Seen The Stars Before, Including Dave Bautista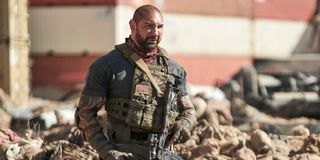 Just a few months ago, Zack Snyder fans were treated to the hugely anticipated "Snyder Cut" when Zack Snyder's Justice League made its way to streaming. And now we have Army of the Dead to watch from the comfort of our homes -- or a theater near you, if it's available. The zombies have arrived!
Army of the Dead is streaming on Netflix, as of May 21, 2021. The story following a team of thieves who want to break into a casino in a closed-off, zombie-filled Las Vegas. The premise already sounds like a lot of fun, but the Army of the Dead cast behind it is truly what makes me want to watch this movie.
From some known names like Dave Bautista to fresh faces in the American film scene, Army of the Dead is packed to the brim with talent – let's just all hope they don't all get eaten by the end! Here is where you might have seen the starts of this zombie flick before.
Dave Bautista (Scott Ward)
As the leading man, Scott Ward, in Army of the Dead, it's not a surprise that you've most likely seen Dave Bautista on TV or at the movies. If you're a fan of Marvel, since 2014, Dave Bautista has had the role of Drax the Destroyer in several Marvel movies, which include the Guardians of the Galaxy franchise, as well as both Avengers: Infinity War and Avengers: Endgame. If you're thinking, "no, I've definitely seen him somewhere else before," there are plenty of other options.
You may recognize Dave Bautista from one of the most recent James Bond adaptations, Spectre, where he played Mr. Hinx. Bautista also had a role in Blade Runner 2049as Sapper Morton, where he played the same role in the short film that came before it, 2048: Nowhere to Run. If you're thinking you haven't seen him in films, you're right on that too. Prior to becoming an actor in Hollywood, Dave Bautista had an epic career in the WWE, as Batista, before branching out to acting in films.
Bautista has plenty lined up in the future, with appearances in the highly anticipated Dune, coming out later this year, and the fourth Thor movie, Thor: Love and Thunder. So be sure to keep an eye out for this busy actor. These Dave Bautista movies just keep coming out.
Ella Purnell (Kate Ward)
Ella Purnell may be a bit younger than some of her Army of the Dead castmates, but that doesn't mean she hasn't been just as busy, prior to playing the role of Kate Ward.
From a young age, she took on roles in films. Some of the most notable roles that you might have seen her in were when she played a young Maleficent in the 2014 hit Maleficent and played a young Jane Foster in the movie The Legend of Tarzan. Purnell also had a role in Kick-Ass 2, where she played Dolce. Another bigger part for the rising star was Emma in the film adaptation Miss Peregrine's Home for Peculiar Children. She also had a role in the film, Churchill.
However, Ella Purnell has also had roles in television as well. She played Megan in the Lifetime original movie, Cyberbully, and has had a couple of lead roles in TV shows, most notably Sweetbitter on Starz.
Omari Hardwick (Vanderohe)
Playing the character Vanderohe, Omari Hardwick has been around for some time in Hollywood and has plenty of credits in projects where you might have seen him before. Hardwick was probably one of the best choices for a movie like Army of the Dead, as he has had some practice in a couple of action films before this, namely hits like Kick-Ass and The A-Team. Hardwick also has some comedy chops in him, because in 2018 he had a main role in the dark comedy film Sorry to Bother You, where he co-starred alongside plenty of other famous faces like Lakeith Stanfield and Tessa Thompson.
In terms of TV, Omari Hardwick has done a lot. He was part of the main cast of Dark Blue, an action crime drama, had a main role in the American drama miniseries Being Mary Jane, and played James "Ghost" St. Patrick on the popular American crime drama Power for six years. Even so, for someone who has so much practice in so many dramas, I'm excited to see him in this killer action film.
Ana de la Reguera (Maria Cruz)
While you might not recognize her name instantly, playing Maria Cruz in Army of the Dead, Ana de La Reguera has been around for a long time in the acting industry. If you're familiar with international film, Reguera has had plenty of starring and supporting roles, such as Por la libre and Paraiso Travel.
However, when it comes to American films, Ana de la Reguera has done plenty. She had a role in the action sci-fi film Cowboys & Aliens back in 2011, as well as the voice role of Carmen Sanchez in The Book of Life, as well as the role of Maddy's nurse in the drama film, Everything, Everything. Reguera will also have a role in the upcoming The Forever Purge, the fifth sequel to The Purge movie, so keep an eye out for this awesome actress.
Theo Rossi (Burt Cummings)
If you're a TV fan, particularly of Sons of Anarchy, there's a good chance you'll recognize Theo Rossi in Army of the Dead. Playing Burt Cummings in Army of the Dead, Theo Rossi has had plenty of film roles, from the monster film Cloverfield as Antonio to the popular heist film Vault. However, Theo Rossi is known the most for this main role in the hit FX television series, Sons of Anarchy, where he played Juan Carlos "Juice" Ortiz.
However, even though Sons of Anarchy ended, Theo Rossi kept himself busy after that, taking on a main role in the popular Netflix Marvel series, Luke Cage, where he played Hernan "Shades" Alvarez. While Rossi did have a recent film come out in Ghosts of War in 2020, it's exciting to see him take on a role in Army of the Dead.
Matthias Schweighofer (Ludwig Dieter)
Matthias Schweighofer has done so much prior to his appearance as Ludwig Dieter in Army of the Dead, mainly in the German film scene. Schweighofer has had roles in several German films and TV shows, such as Night Train and 12 Paces Without a Head.
Matthias Schweighofer also had a main role in a German TV series, You Are Wanted, an Amazon original that was produced and directed by him, and was the first international Amazon Original series to be released globally. Schweighofer also had voice roles in both The Little Prince and Playmobil: The Movie, both in the German versions. Army of the Dead is a great opportunity to give American audiences a better look at his talents, and I can't wait to see what audiences think of Ludwig Dieter and all his safe-cracking skills.
Nora Arnezeder (Lily)
Now we move onto Nora Arnezeder, a French actress who's been working in the industry for a little bit over a decade and plays Lily in Army of the Dead. Arnezeder has had plenty of roles in both American and French films. Her first major role was in Faubourg 36, a French romantic drama film. From there, Nora Arnezeder had appearances in plenty of different movies, such as the psychological horror film Maniac alongside Elijah Wood, and the action thriller film Safe House, starring Denzel Washington and Ryan Reynolds.
Nora Arnezedar has also had some time on TV as well. The actress had a role in Mozart in the Jungle for a couple of seasons, as well as a lead role in the drama and science-fiction show Zoo as Chloe Tousignant. In 2018, Arnezedar also had a main role in the science-fiction TV series Origin, which premiered on YouTube Premium. The zombie genre is definitely something new for this actress, so it'll be intriguing to see where she goes from here.
Hiroyuki Sanada (Bly Tanaka)
Hiroyuki Sanada has been around for decades. And I do mean that when I say it. It's not a surprise that Zack Snyder wanted to pull in an acting veteran like him for Army of the Dead. Sanada's acting credits go as far back as 1966, so you know that he's been in several films. While Sanada has made appearances in plenty of Japanese movies and TV shows, he's also popped up in several films that you might recognize his name from.
Sanada has played parts in the comedy Rush Hour 3, the superhero film The Wolverine as Shingen Yashida, Dumo the Sumo in Minions, Akikiko, a part of the Shogun Warriors in Avengers: Endgame. However, Hiroyuki Sanada has had a role as recent as 2021, playing the famous Scorpion in the new adaption Mortal Kombat. With the action skills that this famous actor has, a zombie movie feels like a perfect fit for him.
Garret Dillahunt (Martin)
Playing the role of Martin, Garret Dillahunt has been in the business for years, and has plenty of famous roles up on his resume, from films to TV. In regards to movies, Dillahunt has appeared in movies such as the action film Looper, the Academy Award-winning drama 12 Years A Slave as Armsby, and the heist thriller film Widows as Bash O'Reilly.
With television, that's where Garret Dillahunt really shined. Besides having several guest roles in multiple television shows, Dillahunt also had a variety of main and recurring roles. These include, but are not limited to, playing Jack McCall and Francis Wolcott on Deadwood, Matthew Ross on The 4400, Burt Chance on the sitcom Raising Hope, Dr. Jody Kimball-Kinney on the popular comedy The Mindy Project, and John Dorie on the AMC spinoff series, Fear the Walking Dead. Good lord, now that's a lot of TV. It seems that he already has some training in killing zombies though (or, well, walkers in this case), so let's see how well he does in Army of the Dead.
Tig Notaro (Marianna Peters)
Tig Notaro has been a comedy great for years. If you haven't seen her, you've most likely heard her amazing comedic specials, so it's no wonder Zack Snyder got her for Army of the Dead for that great charismatic charm.
Besides her comedy work, Notaro has had plenty of guest appearances on TV shows, as well as a couple of recurring roles, such as playing Denise "Jett" Reno on Star Trek: Discovery, and Barb in the Amazon original series, Transparent. Her film credits include Instant Family, Walk of Shame and Lucy in the Sky. She's also had a couple of comedy specials out as well, like Tig Notaro: Boyish Girl Interrupted, so if you haven't watched her yet, I advise you to do so soon. Your laugh box won't regret it.
Raúl Castillo
Playing sharp-shooter influencer Mikey Guzman, you may recognize Raúl Castillo for his role as Richie Donado Ventura in the HBO series Looking. He's also no stranger to Netflix, having played the recurring role of Nick in Atypical. And he was a regular on the series Seven Seconds.
On the big screen, Raúl Castillo played the role of Sam in Guy Ritchie's recent thriller, Wrath of Man. He played a cop in Knives Out and took on the role of Jacob in Steven Soderbergh's Unsane. When he isn't acting, Raúl Castillo is a playwright, having penned plays including Border Stories and Between Me, You, and the Lampshade.
Out of everyone, who were you the most excited to see in Army of the Dead? If you want to watch this new zombie flick, here's how to see Army of the Dead streaming.
Big nerd and lover of Game of Thrones/A Song of Ice and Fire. Will forever hate season eight. Superhero and horror geek. And please don't debate me on The Last of Us 2, it was amazing!
Your Daily Blend of Entertainment News
Thank you for signing up to CinemaBlend. You will receive a verification email shortly.
There was a problem. Please refresh the page and try again.